Long COVID cures may need to go beyond vaccines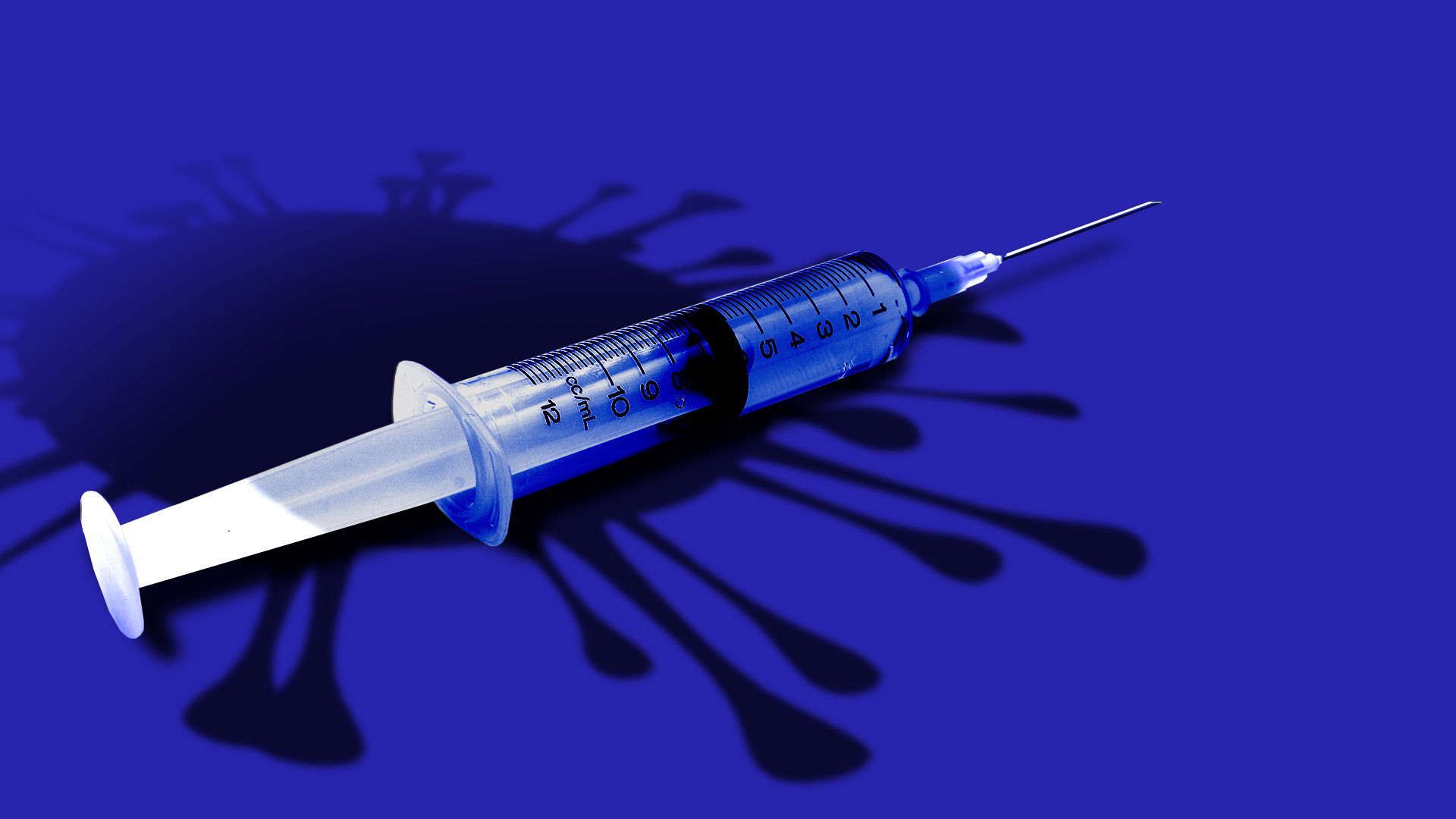 New research casting doubt on vaccines' ability to protect against "long COVID" suggests that as the virus itself becomes endemic, its lingering aftereffects aren't going anywhere without new treatments or vaccines.
Why it matters: Long COVID is emerging as the next phase of the global health care crisis. However, it's still unclear how many more people will come down with serious health aftershocks as variants continue to evolve and the population continues to develop more immunity.
Driving the news: A Department of Veterans Affairs study of almost 34,000 vaccinated people who had breakthrough infections in 2021 found the shots only cut the likelihood of long COVID by about 15%.
Researchers examining patients for up to six months after testing positive didn't find a difference in the severity or range of symptoms between vaccinated and unvaccinated people.
The risk of long COVID is higher in people with breakthrough infections than in people with seasonal influenza.
The study in Nature Medicine is believed to be the most comprehensive effort to get at how likely people with breakthrough infections will develop long COVID and comes after the U.S. logged 83.8 million cases.
The research didn't cover the Omicron wave, and experts say it's still unclear if the high contagious variant is as likely to cause long COVID as earlier strains.
What they're saying: "We're literally solely reliant, now almost exclusively, on the vaccine to protect us and to protect the public," lead author Ziyad Al-Aly of the VA St. Louis Health Care System told Nature. "Now we're saying it's only going to protect you 15%. You remain vulnerable, and extraordinarily so."
Yes, but: The study has limitations and relied on electronic records that may not get at the underlying cause of a doctors visit.
"How do you know that a doctors visit for a headache is related to prior COVID?" said Angela Rasmussen, a virologist at the Vaccine and Infectious Disease Organization. "You don't just based on billing codes."
A UK study this year found the odds of having symptoms for 28 days or more after a breakthrough infection were approximately halved by having two vaccine doses.
What we're watching: The VA findings come as drugmakers like GlaxoSmithKline, Vir Biotechnology and Humanigen are beginning to train their sights on treatments that target long COVID, Reuters reports.
With comparatively few clinical trials underway, scientists are trying to learn more about the underpinnings of the condition, which can give rise to hundreds of different symptoms.
Smaller drug companies and biotechs without approved products also are eyeing possible combination therapies and other treatments to test in long COVID patients, an Endpoints News review of SEC filings showed.
Go deeper: Medical research is uncovering more evidence that long COVID is a serious, chronic disease whose symptoms shouldn't be dismissed, even if they can't always be ideally documented.
Almost 25 million Americans may have experienced neurological issues, cognitive difficulties, breathing problems and organ damage associated with long COVID.
Recent studies found that half of hospitalized patients have at least one persistent symptom two years after infection, and that some patients with reduced physical capacity have a fourfold higher risk of abnormal blood clotting.
The medical system remains ill-equipped to deal with chronic conditions on this scale, and many patients who develop symptoms wind up paying out of pocket for care because of gaps in unemployment and disability coverage.
Our thought bubble: With mask mandates and social distancing largely in the rearview, the findings are a sobering reminder that we're relying almost entirely on vaccines with limited protection to keep the public safe.
Go deeper