Palestinian officials say Israeli forces deliberately shot Al Jazeera journalist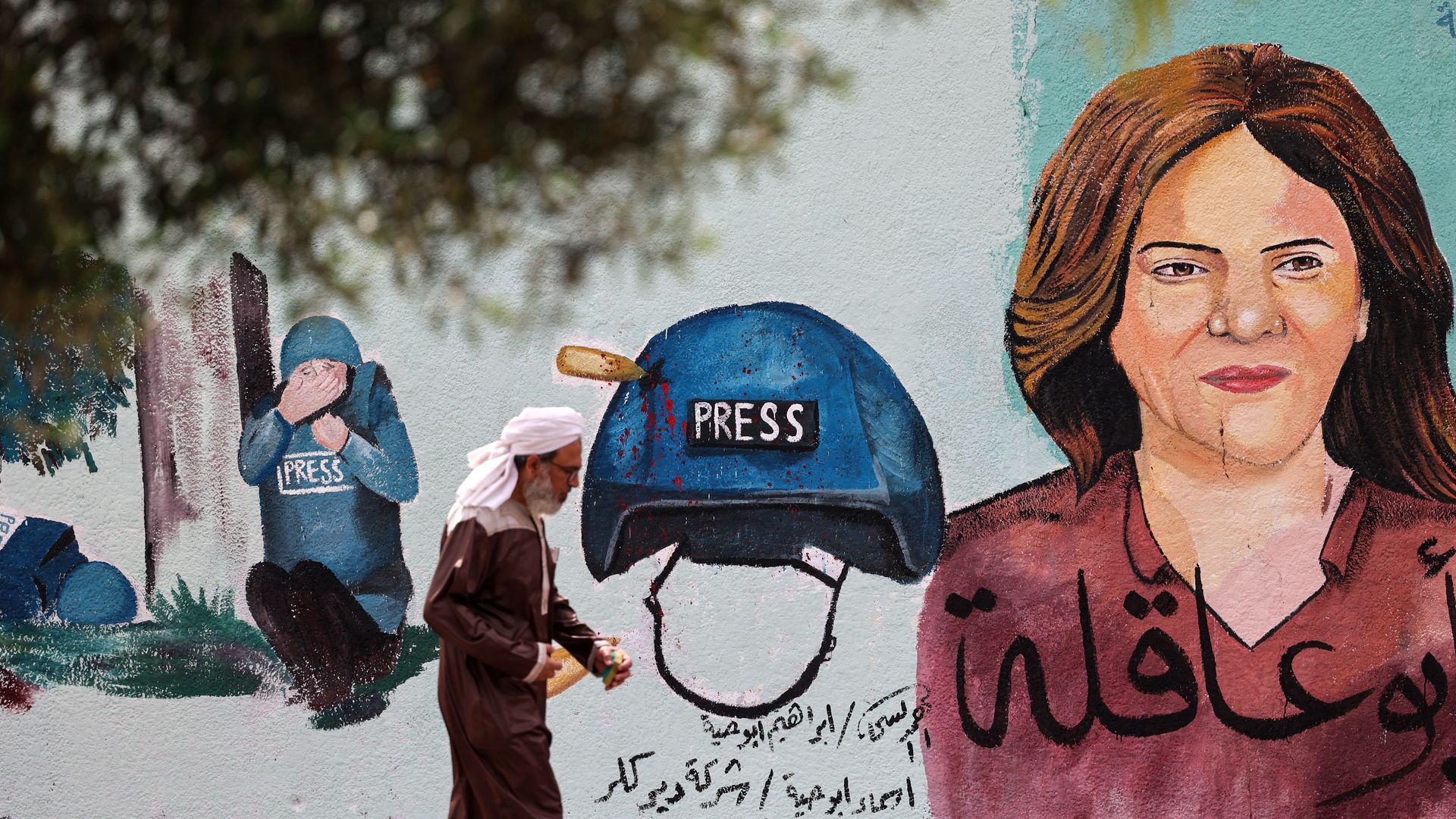 The Palestinian Authority on Thursday said its investigation found Israeli forces deliberately shot Palestinian American Al Jazeera journalist Shireen Abu Akleh, who was killed this month while covering an Israeli raid in the occupied West Bank city of Jenin.
State of play: Israel rejected the findings and reiterated earlier comments that "only a ballistic analysis of the bullet ... and the soldiers' guns can determine who fired the fatal shot."
The big picture: The 51-year-old veteran journalist's death sparked outrage across the Middle East and beyond.
Palestinians, witnesses and Al Jazeera have said the Israeli military shot and killed Abu Akleh, who wore a helmet and a bulletproof vest marked "press."
Israel said she was killed during a gun battle between Palestinian militants and Israeli soldiers, and it was impossible to know from whose fire she was hit without examining the piece of the bullet removed from Abu Akleh's body, which the Palestinian Authority holds.
What they're saying: "It was clear that one of the [Israeli] occupation forces … had fired a bullet that hit journalist Shireen Abu Akleh directly in her head," Palestinian Attorney General Akram al-Khatib said at a press conference Thursday.
"The only shooting was by the occupation forces, with the aim of killing," al-Khatib said, adding the investigation concluded there no Palestinian militants in the immediate area of where Abu Akleh was killed.
Al-Khatib also said Abu Akleh was hit with an armor-piercing bullet, per Reuters.
Israeli Defense Minister Benny Gantz in a statement Thursday said "any claim that the IDF intentionally harms journalists or uninvolved civilians, is a blatant lie."
"The IDF is conducting an ongoing investigation into the matter in order to reveal the truth," Gantz added. "Investigations and briefings are not carried out at press conferences, but rather in closed rooms, and while transmitting information."
Gantz repeated that the PA has refused Israel's offer to hold a joint investigation. Palestinian authorities have previously said they do not trust Israeli authorities to conduct a joint probe.
The Biden administration has called for a thorough investigation and accountability.
"We have made clear to both Israeli and Palestinian authorities that we expect the investigations to be transparent and impartial — a full thorough accounting into the circumstances of the killing of Shireen Abu Akleh," State Department spokesperson Ned Price said Wednesday.
"We do expect full accountability for those responsible for her killing."
What to watch: Palestinian officials have said they will share the results of their probe with the International Criminal Court, AP reports.
The PA told the Anadolu news agency Monday it had "submitted a file" about Abu Akleh's killing to the ICC prosecutor.
The Al Jazeera Media Network said Thursday that it would also refer the killing to the ICC. "The Network vows to follow every path to achieve justice for Shireen, and ensure those responsible for her killing are brought to justice and held accountable in all international justice and legal platforms and courts," Al Jazeera said.
Go deeper: Israeli police beat Palestinian mourners at Shireen Abu Akleh funeral
Go deeper