Monkeypox is not another COVID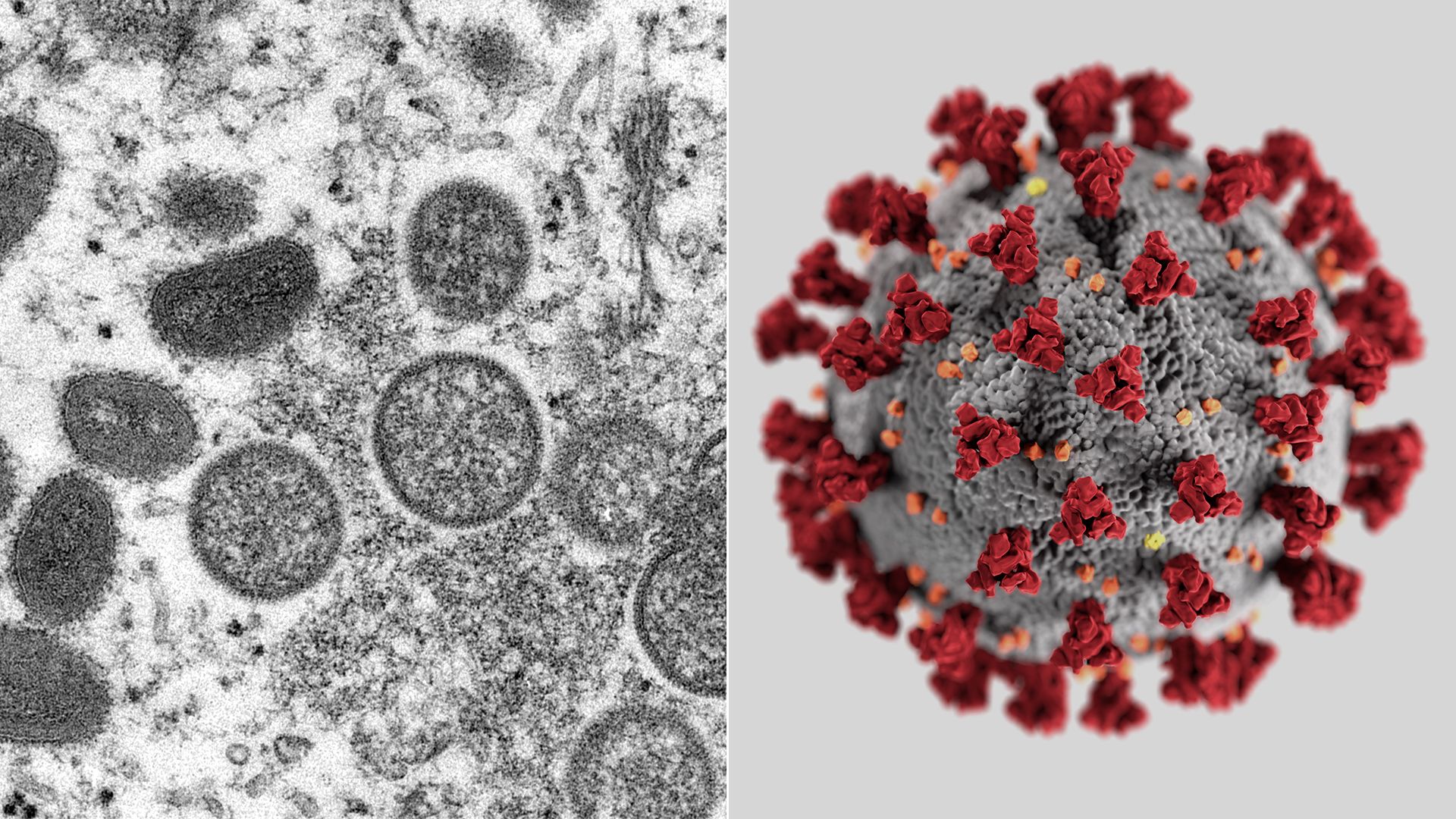 The growing monkeypox outbreak may appear alarming to people — potentially triggering bad memories of the rapid spread of COVID over the globe — but it does not contain the same threat level as a pandemic, experts tell Axios.
The big picture: How monkeypox is spreading around the world — with nine U.S. cases confirmed so far — is "new and certainly concerning" but the virus isn't behaving completely unexpectedly, says the CDC's poxvirus epidemiology team lead, Andrea McCollum.
"This is definitely not like COVID. ... We are still in a framework where this is controllable," McCollum tells Axios.
"People are seeing these cases every day pop up on multiple continents, and this feels very much like the early days of COVID," says Jennifer Nuzzo, director of the Pandemic Center at Brown University's School of Public Health.
But, "what made COVID so incredibly challenging is the fact that people could be infected and have no knowledge of it and then go on to spread it to others — there's much less of a chance it will happen with this virus," Nuzzo says.
What's happening: Monkeypox patients typically develop flu-like symptoms and a blistering rash.
But, initial reports about how this strain is affecting the body are slightly unusual — and that's always a bit of a concern, says David Freedman, president-elect of the American Society of Tropical Medicine and Hygiene. People are reporting not feeling as ill at the start of an infection as is normal and the blistering rash may not be spreading on the body as much.
"That's what's a bit mysterious about this and why they are doing all this genetic sequencing to see if there's something unique about this particular strain of the virus," Freedman adds. More definitive genetic insights will take at least several weeks, he adds.
Another unusual aspect is that a majority of these recent cases have been linked to sexual contact during mass gatherings or festivals, with more reports of genital lesions than seen in prior outbreaks, Nuzzo says.
Between the lines: Some symptoms may be unusual but the way the virus is spreading between people is "very consistent with what we know about monkeypox," McCollum says. It is being transmitted through close, prolonged contact with an infected individual. "I don't know if we'd say that it's spreading more effectively [than normal] in terms of viral transmission."
Lesions tend to be the biggest concern, McCollum says, as they "are chock-full of the virus," remaining infectious through all of their stages including once a scab falls off. A closely related virus, smallpox, has shown scabs can contain live virus for 13 years or more under certain conditions.
The "larger risk to the overall community is extraordinarily low" and respiratory transmission is not seen as its primary method of transmission, but McCollum says "COVID precautions make a lot of sense for a lot of things," such as wearing a mask and not sharing clothing or bedding.
Be smart: Scientific knowledge of monkeypox is relatively small. "The number of cases documented in the literature since 1970 are like a few thousand," Freedman says.
And, the COVID pandemic has taught us all that viruses can quickly change.
"I'm in Team Cautious," Virginia Tech aerosol expert Linsey Marr recently told The Atlantic. "We can't use what happened with previous monkeypox outbreaks to make sweeping statements. If we've learned anything from COVID, it's to have humility."
What's next: It's unknown when the spread will become contained and case numbers can be expected to drop, even though awareness among doctors has been raised.
McCollum says the U.S. plans to work with other countries to gather fine-scale data that will allow forecasting models to "get a better sense of what we should be expecting moving forward and when we'll start seeing declining numbers instead of increasing numbers."
Patients are expected to stay in isolation for three weeks, and efforts should be made for contact-tracing and to possibly give smallpox vaccinations to those directly exposed and at highest risk.
The CDC plans to start tracking and updating cases in the U.S. on a daily basis on their website soon, McCollum says.
Go deeper:
Go deeper