Bipartisan gun group hyper-focused on realistic legislation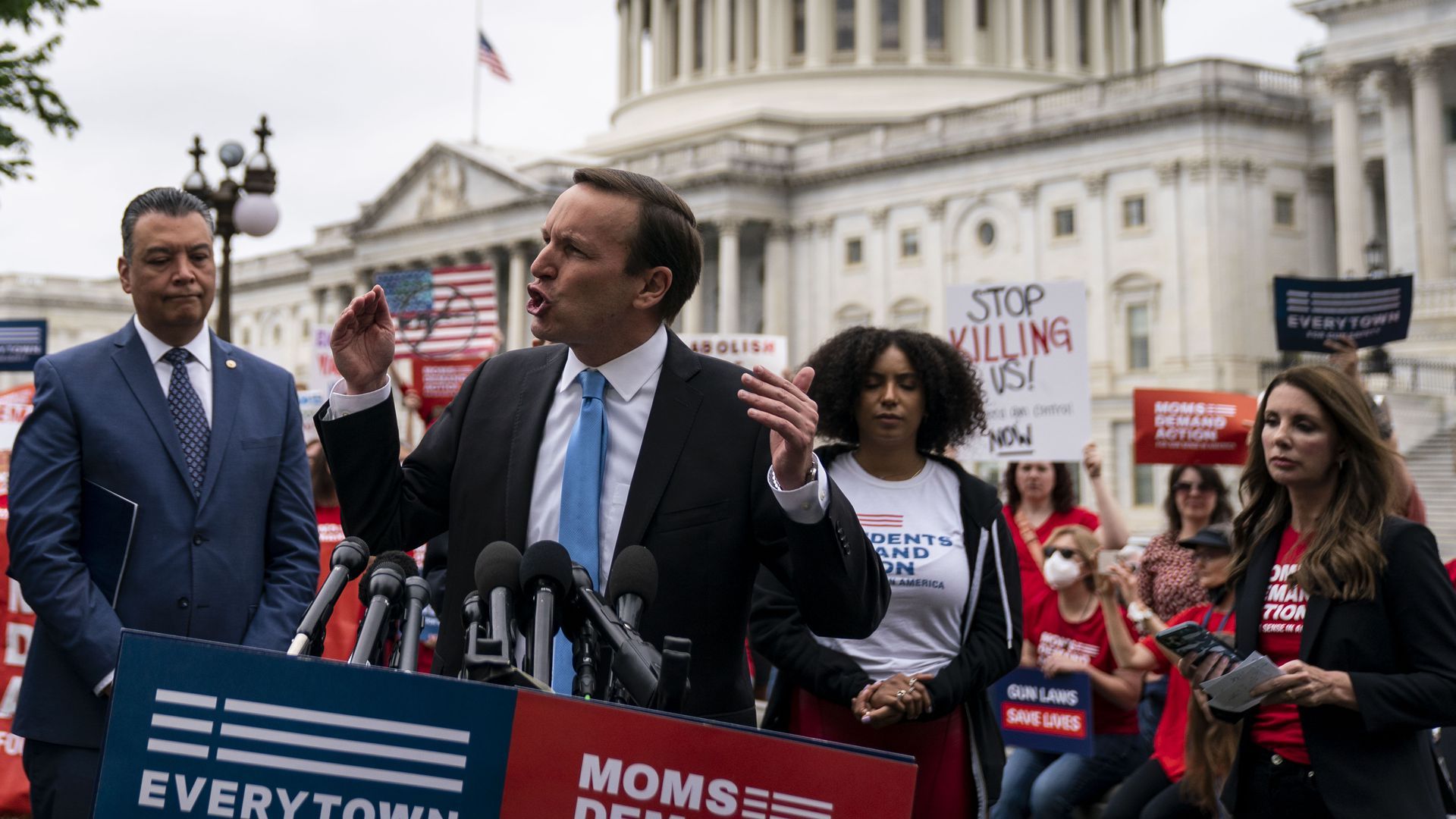 A new bipartisan Senate group on gun control is hyper-focused on operating in the realm of what's possible, even if the end result is a deal that falls short of what many Democrats want, sources familiar with its meeting on Thursday tell Axios.
Why it matters: The five Democrats and four Republicans involved in the talks have agreed to work toward something narrowly focused — not a political messaging bill — that can win over 10 Senate Republicans by the time Congress returns from recess on June 6.
Sen. Chris Murphy (D-Conn.), who hosted the group in his office Thursday, signaled he'll take virtually any deal.
"I am so willing to bend over backward to find a compromise. … I need a vote that just shows progress," he said. "I'm perfectly willing to let the good prevail over the perfect."
The latest: Members of the group left the Capitol on Thursday more hopeful than they've been in years about the possibility of a compromise.
Notably, even Senate Minority Leader Mitch McConnell (R-Ky.) gave the negotiations his blessing, and encouraged Sen. John Cornyn (R-Texas) to get involved in the talks.
As Axios previously reported, senators in both parties had hoped Cornyn — who serves in the state where elementary kids were gunned down — would be a point person for bipartisan negotiations.
Details: Sen. Chris Murphy (D-Conn.) hosted Sens. Kyrsten Sinema (D-Ariz.), Joe Manchin (D-W.Va.), Richard Blumenthal (D-Conn.), Martine Heinrich (D-N.M.), Lindsey Graham (R-S.C.), Susan Collins (R-Maine) and retiring Sen. Pat Toomey (R-Pa.) for an in-person meeting on the Hill earlier today.
Sen. Bill Cassidy (R-La.) phoned in.
Nearly all of these members have been involved in key gun reform proposals in the past. Many also successfully worked together on the bipartisan infrastructure bill that passed into law last year.
Murphy also met with Cornyn and Sen. Rick Scott (R-Fla.) — who told Axios he's open to a federal red flag law — separately on Thursday.
What they're saying: Sinema, who is leaning heavily on her background as a licensed social worker, told reporters this week: "There's some shared agreement on red flag, which I think might be a place to start conversations to actually get something done for real that would make a difference to people."
"I can stay true to my Second Amendment convictions, but at the same time work to have a proactive solution that if somebody seems to be at risk ... let's investigate," Cassidy, referring to a potential red flag law, told reporters following the meeting.
Manchin told reporters that in 2013, following the Sandy Hook massacre, it was incredibly difficult to get any Republicans to participate in talks.
"And we had, what, about four or five Republicans in the room [on Thursday]. It's encouraging to see people say there's a pathway forward," he added. "This feels different right now."
"As long as I've been advocating a red flag statute, I've never seen this level of support," Blumenthal said.
Yes, but: Despite the newfound optimism, the majority of lawmakers are still pessimistic this time will be any different.
The big fear shared by many members is whether the palpable urgency to act will lose momentum over the 10-day recess.
Go deeper