Erdoğan doubles down on threat to reject Finland and Sweden's NATO bids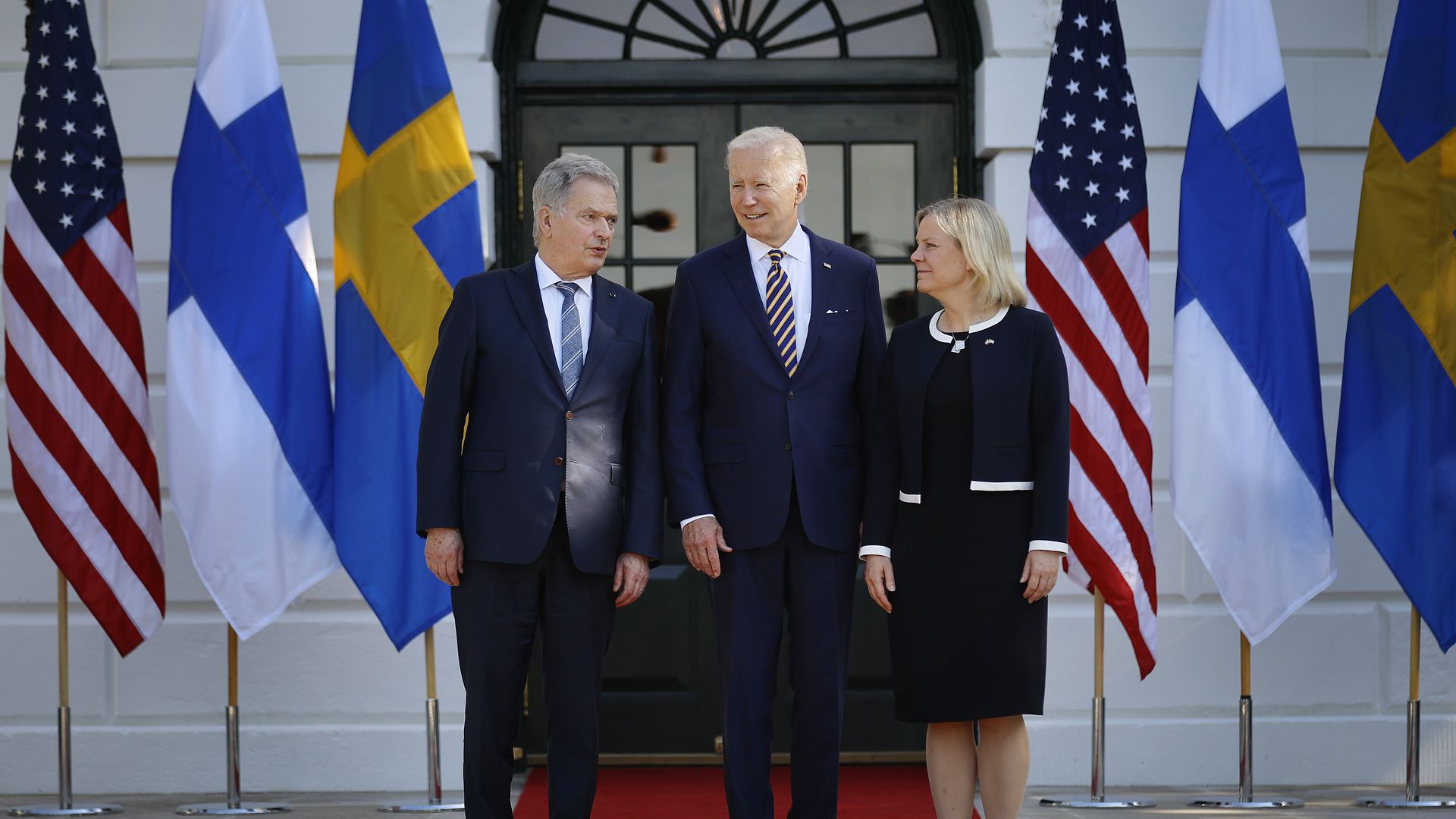 A White House visit by the leaders of Finland and Sweden threatened to be overshadowed Thursday by Turkish President Recep Tayyip Erdoğan's renewed threat to reject the Nordic countries' applications to join NATO.
Why it matters: President Biden celebrated the "historic" applications — spurred by Vladimir Putin's invasion of Ukraine — as "a victory for democracy in action." But all 30 NATO allies must agree to the enlargement of the alliance, giving Erdoğan significant leverage to extract concessions before lifting his objection.
Driving the news: Erdoğan said in a video posted to Twitter Thursday that Turkey told allies it will reject Finland and Sweden's applications over their alleged support for Kurdish militants that Ankara considers terrorists.
At a ceremony in the White House Rose Garden, meanwhile, Finland's President Sauli Niinistö and Sweden's Prime Minister Magdalena Andersson said they're engaged in dialogue with Turkey to address its concerns.
"As NATO allies, we will commit to Turkey's security just as Turkey will commit to our security," Niinistö said. "We take terrorism seriously and we condemn all forms of terrorism."
NATO Secretary-General Jens Stoltenberg said he was "confident" that an agreement could be reached, calling Turkey an "important ally" whose security concerns deserve to be taken seriously.
Biden did not address Turkey's objections in his remarks, but hailed NATO's "open door policy" and insisted that Finland and Sweden "meet every NATO requirement and then some."
What they're saying: "Standing together today, we reject the bloody creed that 'might makes right,' and we declare a more powerful creed — 'all for one, and one for all,'" Biden declared, flanked by Niinistö and Andersson.
"Because what makes NATO strong isn't just our enormous military capacity, but our commitment to each other, to its values. NATO is an alliance of choice, not coercion," he continued.
"Finland and Sweden are seeking to join NATO because their citizens demanded it. And their elected leaders heard them. That's how it works when leaders derive their power for the consent of the government."
What to watch: Biden said his administration is already submitting reports to Congress on Finland and Sweden's NATO accession so that the Senate "can efficiently and quickly move" on ratifying their membership.
Go deeper: Why NATO formed and why Finland and Sweden want to join the alliance
Go deeper