What to know about controversial GOP Pennsylvania Senate candidate Kathy Barnette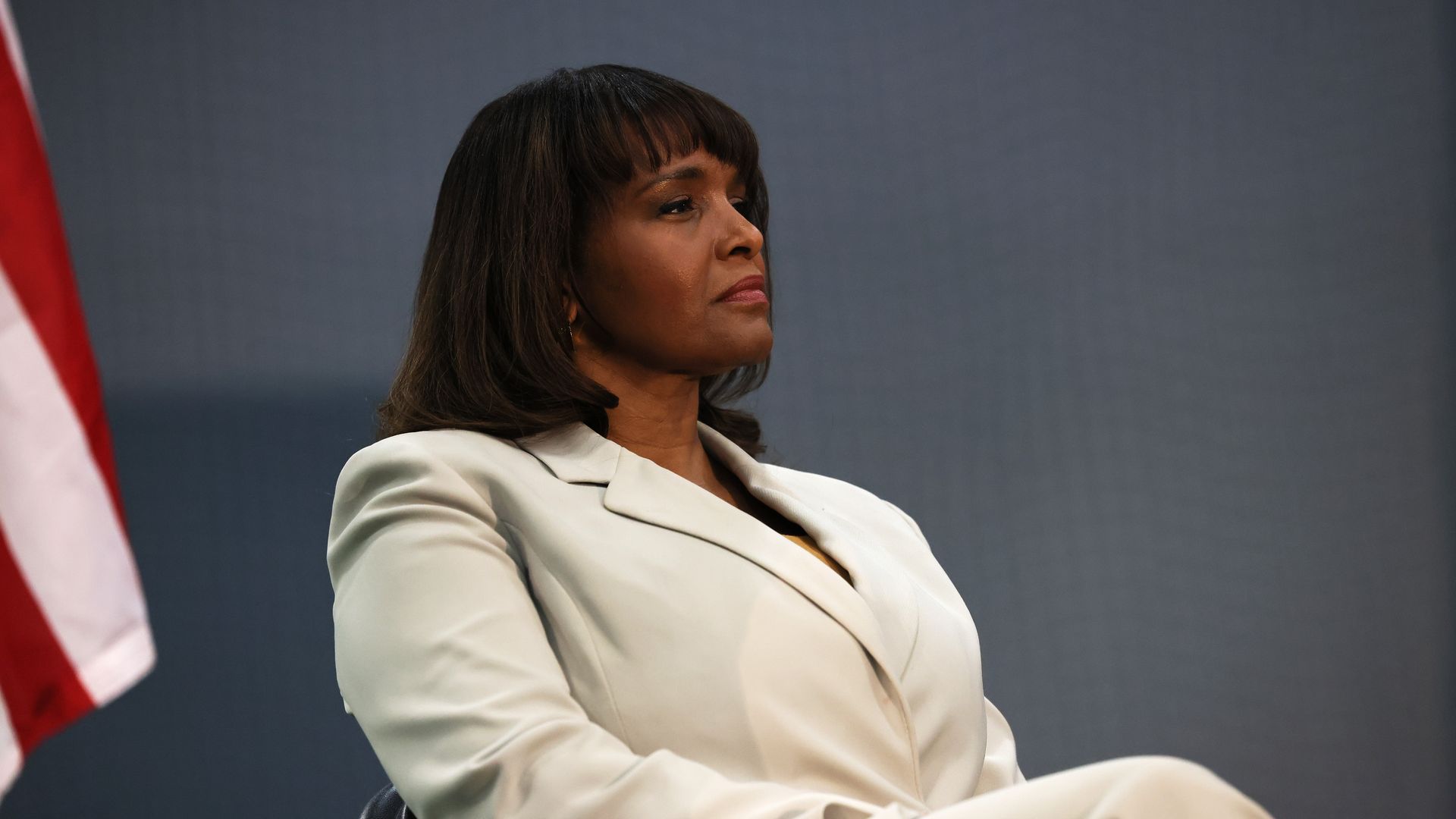 Kathy Barnette, a Republican Senate candidate in Pennsylvania, is soaring in the polls and gaining traction among the GOP base ahead of the closely watched contest for the state's Senate primary.
Driving the news: Trump on Thursday put out a statement questioning details of Barnette's past, saying there are many things that have "not been properly explained or vetted" and warned against Pennsylvania Republicans nominating her in next Tuesday's primary.
Her quick rise has triggered a belated "oh s--t" moment among influential Republicans in Washington and the party elite, Axios' Jonathan Swan, Lachlan Markay and Andrew Solender previously reported.
"People are hearing my story," Barnette told one voter this week, according to the Philadelphia Inquirer. "The momentum has been amazing."
Trump has backed celebrity TV doctor Mehmet Oz but said he would support Barnette in the future if she was able to explain discrepancies about her past.
Kathy Barnette's story — what we know:
Barnette was born in southern Alabama in a "very rural, one-stop sign town," she says in a personal video.
"Pig farm. Alabama, in a home with no insulation, no running water," Barnette said of her upbringing at a candidate forum this week, the New York Times reports.
"Outhouse in the back and a well on the side," she added.
Barnette, in the video, also talks about how her mother was raped when she was 11 years old. "It wasn't a choice. It was a life," she says.
She cites her personal experience as guiding her strong views opposing abortion. "You can see I am not a lump of cells. My life has value," she said during a candidate debate, according to Lancaster Online.
Barnette was in the Armed Forces Reserves for 10 years, per her website.
The Republican candidate claimed she became a commentator on Fox News during the Obama administration, according to her website.
But Fox News spokesperson Caley Cronin said she was a "guest" commentator on the network and wasn't paid for her on-air appearances. Barnette also wrote 10 op-eds for the network's website.
Barnette, who is Black, is also the author of "Nothing to Lose, Everything to Gain: Being Black and Conservative in America."
She's the mother of two children whom she homeschooled for six years, which she started "after reviewing her daughters' school curriculum," she says on her website.
Barnette, who ran for and lost a U.S. House seat in 2020, echoed former President Trump and pushed baseless claims about the results of her own election and the 2020 presidential election.
She refused to concede her loss in the 2020 House race.
"The reason she has struck a chord is she NEVER conceded her House race loss," Trump ally Steve Bannon told Axios previously. "Pennsylvania is MAGA v. ULTRA MAGA."
Barnette is also close to the pillow entrepreneur and "Stop the Steal" leader Mike Lindell, Axios reported.
Between the lines: Some of the early details of Barnette's life are kept outside the public's purview, a reality that her campaign manager says is intentional.
"Kathy keeps her early life as private as possible, as I am sure you can understand why," her campaign manager told the Washington Examiner and did not answer basic questions about her hometown or work history.
Yes, but: Her story — and how she shares it — has resonated with some Republican voters.
"She's very addictive," Eric Fasci, 49, told the Times. "She's pure. She's honest. She's direct."
Go deeper ... GOP panics over 'ultra-MAGA' Pennsylvania Senate wild card
Editor's note: This story has been updated to note that Fox News said Barnette wasn't paid for on-air appearances.
Go deeper