Food delivery needs tech support in some neighborhoods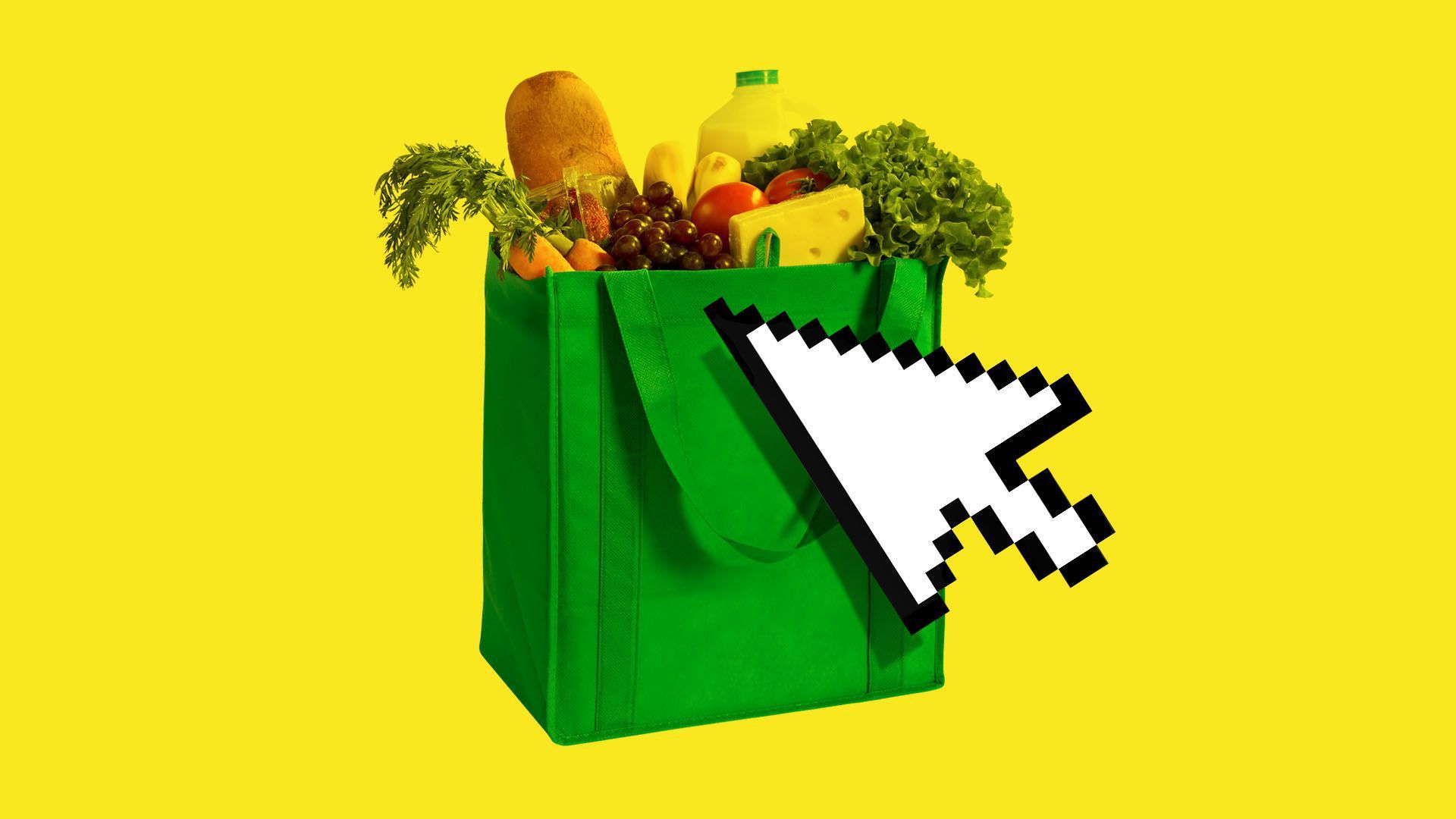 Internet-based food delivery services have the potential to transform the lives of people who live in "food deserts" — but only if broadband becomes more widely available there, according to a new Brookings Institution report.
Why it matters: Access to healthy food is closely tied to economic security and public health. And while lots of low-income neighborhoods don't have great local supermarkets, they do have access to the four most prominent food delivery platforms: AmazonFresh/Whole Foods, Instacart, Uber Eats and Walmart.
What's happening: Brookings found that 93% of Americans have access to "rapidly-delivered fresh groceries or prepared foods" through at least one of the four providers, including 90% of food desert residents.
But the services — which could be life-changing — tend to be costly.
And without reliable broadband service and the skills and devices to order food online, many people are unable to use them.
"Delivery services are not a panacea," Adie Tomer, a senior fellow at Brookings Metro, tells Axios.
Rather, the potential for these services to improve the lives of low-income people should "push policymakers to modernize their approach to a whole range of related issues, from the price of delivery services and broadband to measuring how well small businesses can compete on digital platforms."
Details: The mismatch between access to food delivery and broadband coverage is most acute in certain urban areas.
In one Chicago neighborhood where delivery is readily available, only 30.2% of households have broadband subscriptions, Brookings found.
In all, 863,000 Chicagoans could have better access to food if they had mobile or broadband service, the researchers said.
In Detroit, food insecurity could be addressed for nearly 600,000 people with better broadband service; in Atlanta, it's more than 1 million.
Methodology: Researchers studied data on the delivery zones shared by the "big four" delivery platforms to map the availability of online ordering.
They compared those delivery zones to 10,126 low-income census tracts that the U.S.D.A identifies as "food deserts" because residents live far from supermarkets or don't have transportation.
Roughly 44.3 million people — 13.6% of the country's population — live in those food-challenged neighborhoods.
While 90% of them have at least one option for food delivery, the household broadband adoption rate across the U.S. is only 86%.
Before the pandemic, roughly 17 million American households did not have mobile or in-home broadband service, according to Brookings.
At the same time — in 2019 — more than one-tenth of all U.S. households and 8.3% of households with an elderly individual faced food insecurity.
The bottom line: The pandemic changed how Americans shop for food in the digital age. Food comes to us — but only if we have a broadband connection, a smartphone or computer, digital literacy skills and the money to pay for it all.
Go deeper: How the pandemic changed how we eat
Go deeper