Scoop: Israeli official says West should stop pressing Egypt on human rights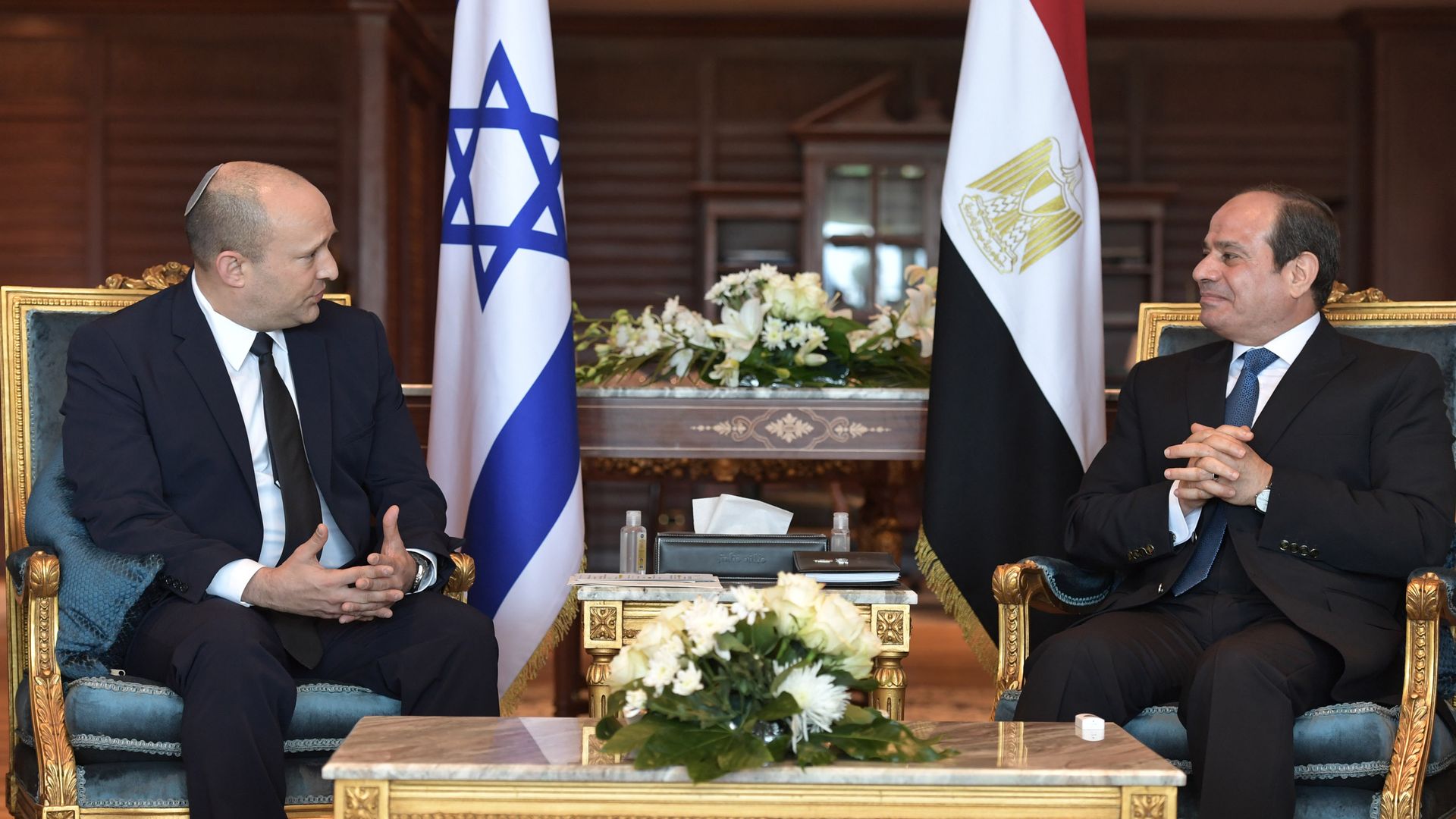 Israeli national security adviser Eyal Hulata said in a closed lecture to the board of governors of Tel Aviv University on Thursday that Western countries should stop pressuring Egyptian President Abdel Fattah al-Sisi on human rights, a source who attended the remarks tells Axios.
Why it matters: In putting increased focus on human rights and democracy, President Biden has kept his distance from the leaders of countries like Egypt and Saudi Arabia. Israel sees those countries as central to regional security and countering Iran.
What he's saying: Hulata said Sisi has more women in his cabinet than many democracies, "and he is still being attacked for being abusive to his people and on issues of civil rights."
Context: The U.S. canceled $130 million in security assistance for Egypt in January after previously freezing the aid due to human rights concerns, including over the jailing of hundreds of government critics, activists and journalists.
An annual human rights report from the State Department, released in April, found a litany of abuses from the Egyptian government or its agents, including extrajudicial killings, forced disappearances, arbitrary detention, torture and restrictions on free speech.
Both Israel and the U.S. view Egypt as a key security partner, and the Israeli government thinks that relationship should be prioritized over human rights concerns.
Flashback: During the Arab Spring, the Israeli government privately lobbied the Obama administration not to call on then-President Hosni Mubarak to resign, warning it would lead to a takeover by the Muslim Brotherhood.
The latest: U.S. national security adviser and White House Middle East coordinator Brett McGurk visited Cairo this week to meet with Sisi and his advisers.
They discussed "a broad range of global and regional security challenges," and also raised "the importance of tangible and lasting human rights progress in Egypt," the White House says.
Hulata, who rarely speaks on the record, also addressed Iran during his comments at Tel Aviv University.
He said Israel had no intention of "dragging ourselves, the region or the U.S. into a military conflict with Iran," adding that the nuclear issue "can be resolved otherwise" and "we are working on it."
Hulata said Israel did not see war with Iran as a "solution" to the nuclear issue, but contended that reaching a good deal with Tehran would be more likely without first returning to the 2015 deal.
Efforts to revive that deal are currently in limbo amid an eight-week "pause" in the Vienna nuclear talks.
Yes, but: Experts who favor a return to the deal argue that without it, there could be further escalation in the region.
Meanwhile, the Biden administration, its European allies and Israel have expressed concerns that Iran will continue to advance its nuclear program while the talks are stalled.
The Israeli Prime Minister's Office did not respond to a request for comment.
State of play: Enrique Mora, the EU mediator in the indirect nuclear talks between the U.S. and Iran, arrived in Tehran on Tuesday for meetings with Iranian chief negotiator Ali Bagheri in an effort to salvage the nuclear deal.
In the meantime, Israel and the U.S. have been discussing ways to put more pressure on Iran in a scenario in which the talks collapse without a deal, a senior Israeli official told me.
Go deeper: Israel hopes U.S. will mend ties with Saudi Arabia
Editor's note: This story has been corrected to reflect the U.S. canceled $130 million in security assistance for Egypt, not Israel.
Go deeper