Tensions flare between Israel and Russia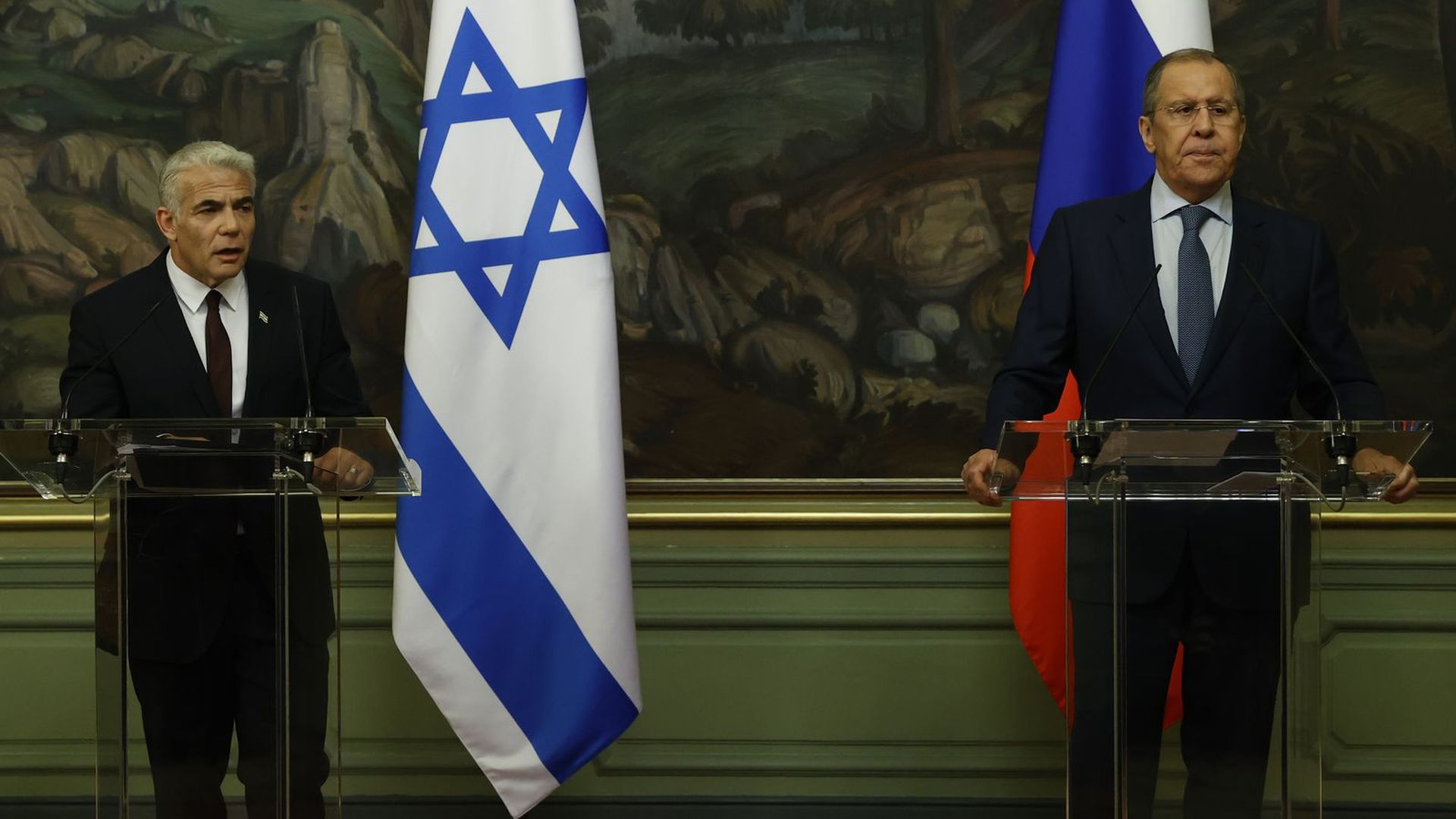 Relations between Russia and Israel are at one of their lowest points in years after the Russian foreign minister falsely claimed Adolf Hitler had "Jewish blood," which he used to justify calling Ukrainian President Volodymyr Zelensky a Nazi.
Why it matters: Israel condemned the Russian invasion of Ukraine and accused Moscow of committing war crimes, but for more than two months, it has taken a careful approach to the war in Ukraine to ensure military cooperation with Russia in Syria continues.
However, recently there's been a shift in Israel's policy, with more public criticism of Russia — including a strong condemnation of Lavrov's comments this week — and more willingness to support Ukraine.
Catch up quick: Lavrov made his comments in an interview with an Italian TV channel on Sunday, when asked how Russia can be "de-Nazifying" Ukraine — a stated goal of its invasion — if the leader of the country is Jewish.
On Monday, the Israeli government reacted to Lavrov's remarks in an unusually strong way. President Isaac Herzog, Prime Minister Naftali Bennett and Foreign Minister Yair Lapid called the comments "lies," "racist" and "oozing antisemitism."
It was the first time Israel publicly condemned the Russian claim that Zelensky is a Nazi.
The Russian ambassador was summoned to the Foreign Ministry in Jerusalem for what Israeli officials called "a very difficult conversation."
State of play: The Russian Foreign Ministry doubled down on Lavrov's statements on Tuesday, saying Lapid's statement contradicts history and falsely claiming the current Israeli government "supports the neo-Nazi regime" in Kyiv.
Two Israeli officials told me they were upset about the Russian Foreign Ministry's reaction but said no further action would be taken until after tomorrow's Israel independence day holiday.
Meanwhile, a Hamas delegation arrived in Moscow today for a surprise visit that Israeli officials see as another form of retaliation by Russia.
Flashback: Russia-Israel relations have been relatively good in the nearly four years since a major crisis between the two countries erupted in September 2018, when a Russian military plane was downed by Syrian anti-aircraft fire during an Israeli airstrike.
Russian officials blamed Israel for not coordinating its strike with them.
What to watch: Putin has yet to weigh in on the current tensions, and it is unclear whether the Russian president will continue down this line and escalate the crisis or tell his foreign minister to walk back his statements to calm things down.
The big question is whether the tensions will lead to any change in the Russian military's behavior toward Israeli airstrikes in Syria.
Go deeper