Trevor Reed's release fuels new push for Biden to act on hostages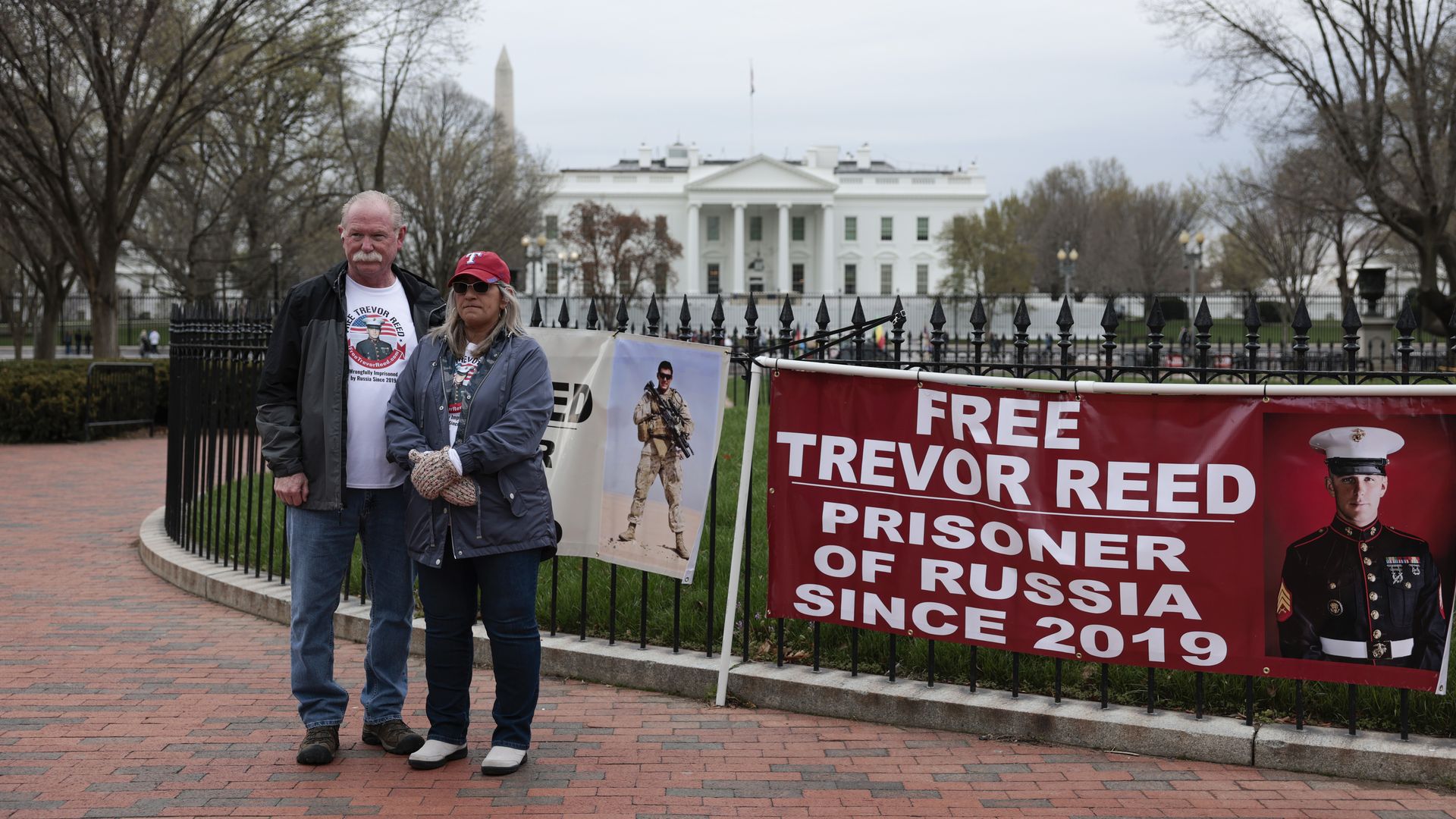 The surprise prisoner exchange that led to Trevor Reed's release from Russia is emboldening the families of other hostages to apply new pressure on the Biden administration to make deals for their loved ones.
Driving the news: More than a dozen families of American hostages and wrongful detainees will appear in front of the White House on Wednesday morning — some remotely and others in person — to demand to meet with President Biden and share their proposals.
The family of Reed, a former Marine, plans to attend the launch of the "Bring Our Families Home Campaign" alongside the sister of Paul Whelan, another former Marine who's been detained in Russia since 2018.
While Reed hasn't yet appeared publicly, family spokesman Jonathan Franks tells Axios he's been "laser-focused" since walking free on the need to advocate for Whelan's release.
The campaign organizers believe at least 16 of 55 Americans known to be held abroad could be freed through a prisoner exchange.
Between the lines: Three key factors played a role in the agreement to trade Reed for convicted Russian drug smuggler Konstantin Yaroshenko, says Mickey Bergman, a hostage expert whose work with former New Mexico Gov. Bill Richardson has led to a number of high-profile releases in recent years.
Reed's deteriorating health: His family believed Russian authorities were failing to treat him for tuberculosis, and feared he could become "the next Otto Warmbier."
Joey and Paula Reed's relentless pursuit of a meeting with Biden: They protested outside the White House and waited for the president's motorcade for hours in the cold during his visit to Fort Worth, Texas — before eventually meeting with the president on March 30.
A secret visit Bergman and Richardson made to Moscow on Feb. 23 at the invitation of Russian leadership: Bergman said it demonstrated a deal was still possible, even during a time of war.
What they're saying: "Trades are difficult and seem unjust, but sometimes they're the right thing to do for our fellow Americans, their families and our nation," Bergman told Axios in an interview.
Bergman said he and Richardson presented a framework for a trade involving Yaroshenko to the Biden administration in June 2020 and again after returning from Moscow in February.
"Is it worth insisting that criminals, like Konstantin Yaroshenko, serve their full term under U.S. protection and care at the cost of an innocent American rotting in foreign jail? That's the question," Bergman said.
Zoom in: Bergman and Richardson had worked on Reed's case for two years and Paul Whelan's for even longer, but only Reed came home last week.
Elizabeth Whelan told Axios she received a call from the State Department notifying her of Reed's release 40 minutes before the news hit the airwaves, sending her scrambling to tell her elderly parents.
She said the experience left her feeling "sick" on a day she wished she could be celebrating with the Reed family — even moreso when she learned Paul Whelan was first told of the news by his fellow Russian inmates. "He was so upset. And his first words were, 'Why was I left behind?'"
Whelan said she holds Secretary of State Antony Blinken, national security adviser Jake Sullivan and other officials who work on hostage issues in high regard but wants to meet with Biden himself. Her requests have, so far, gone unanswered.
"I do want to know from the president, what made him suddenly decide to do this?" Whelan asked, noting that the names Yaroshenko and Viktor Bhout had been floating around for years as possible trades for her brother.
For the record: A White House official told Axios the administration is "in regular touch with the families," and "will continue to pursue all avenues" to secure the release of their loved ones.
"That said, every case is unique and every case is very difficult and we understand the frustration and heartache these families must feel," the official added.
What we're watching: Mark Frerichs is the last American believed to be held hostage in Afghanistan. His captors, the Taliban, have been seeking to exchange Frerichs for Afghan drug lord Bashir Noorzai, but Biden has not acted on the proposal, nor did former President Trump.
Alexandra Forseth, whose father, Alirio Zambrano, and uncle Jose Luis Zambrano are part of the "Citgo 6" detained in Venezuela, tells Axios she views Reed's release as a "case in point" of how the Biden administration's "pattern of indecision" has left many families in bureaucratic limbo.
"The Reeds stood out in the rain, got the Biden administration to feel bad enough to invite them in and now Trevor's home," she said.
Debra Tice, whose son, Austin Tice, was abducted while reporting in Syria in 2012, hailed Reed's release as a potential watershed moment.
She met with Biden at the White House on Monday, after Austin's case was raised during a speech by CBS journalist Steven Portnoy at the White House Correspondents' Dinner the president attended.
"Trevor walking free means Austin can walk free," Tice told Axios. "Because all of the things that I've been told that cannot be done obviously can be done. And now, I expect that they will be done."
Go deeper