Harris: "Time to fight for women" after SCOTUS leak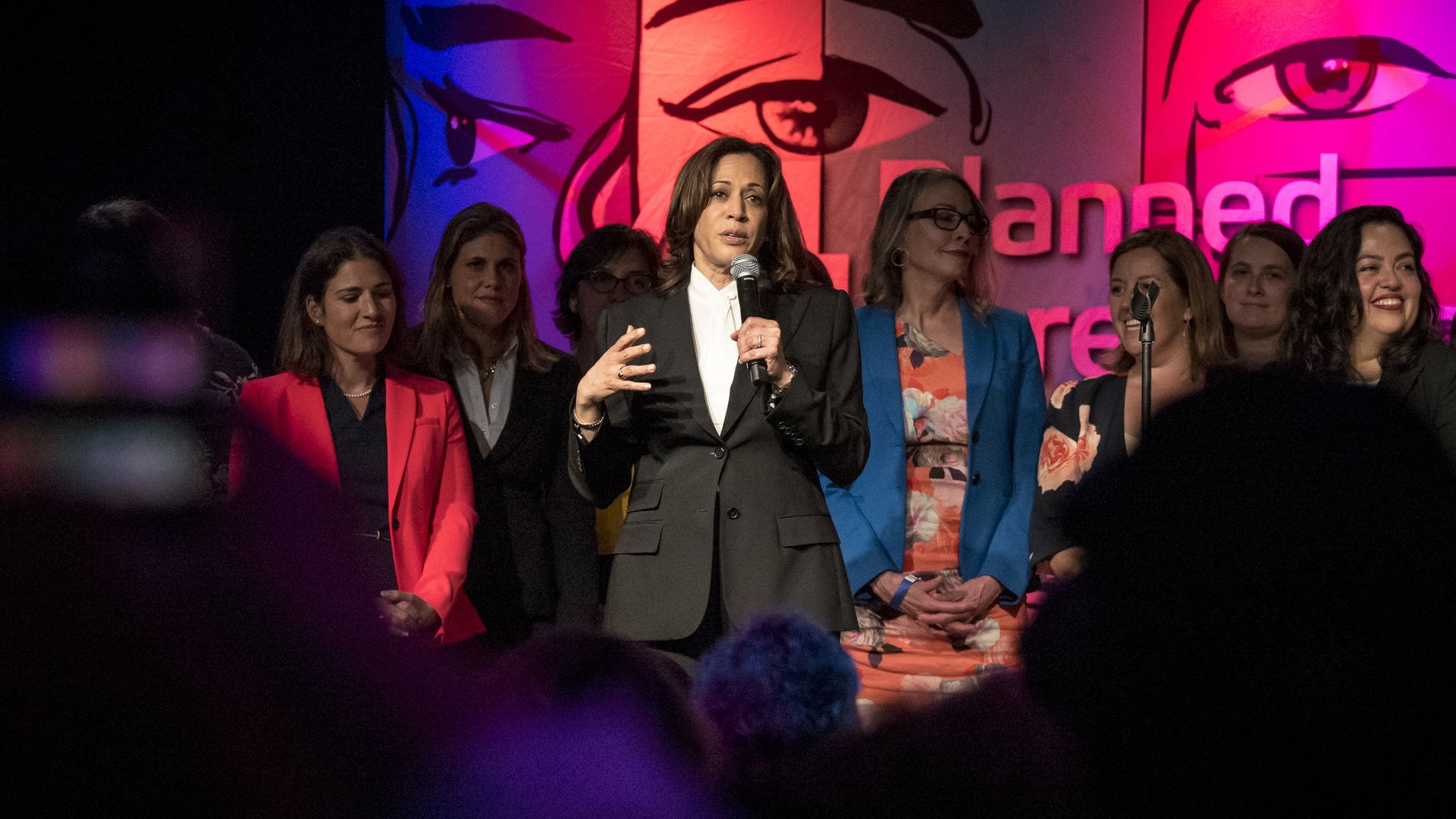 "The rights of all Americans are at risk," Vice President Kamala Harris said in a statement on Tuesday in response to the leaked U.S. Supreme Court draft ruling that would spell the end of Roe v. Wade.
Driving the news: "If the right to privacy is weakened, every person could face a future in which the government can potentially interfere in the personal decisions you make about your life," Harris said in reference to the Politico story from Monday night.
President Biden on Tuesday said that if the decision comes to pass, it will put into doubt other Supreme Court rulings that expanded the right to privacy.
"It would mean that every other decision related to the notion of privacy is thrown into question," Biden said, specifically referring to the decision in the 1965 case Griswold v. Connecticut, which determined that the right to privacy prevents states from making the use of contraception by married couples illegal.
What she's saying: "This is the time to fight for women and for our country with everything we have," the vice president added.
"What is clear is that opponents of Roe want to punish women and take away their rights to make decisions about their own bodies. Republican legislators in states across the country are weaponizing the use of the law against women," Harris said.
She added at an event Tuesday evening that "if the court overturns Roe v. Wade, it will be a direct assault on freedom, on the fundamental rights of self-determination to which all Americans are entitled."
"At its core, Roe recognizes the fundamental right to privacy … When the right to privacy is attacked, anyone in our country may face a future where the government can interfere with personal decisions. Not just women, anyone."
"We are not going back," she added. "Let us fight for our country and for the principles upon which it was founded, and let us fight with everything we have got."
Worth noting: Harris has been previously scheduled to speak at the 30th annual Emily's List gala on Tuesday evening.
Catch up quick: Chief Justice John Roberts confirmed the authenticity of the leaked draft opinion, which he said was not the final version. He also called for an investigation into the leak.
Go deeper:
Editor's note: This article has been updated with Harris' comments at Tuesday evening's event.
Go deeper