"Ukraine's finest hour": Johnson echoes Churchill in speech to Ukraine's parliament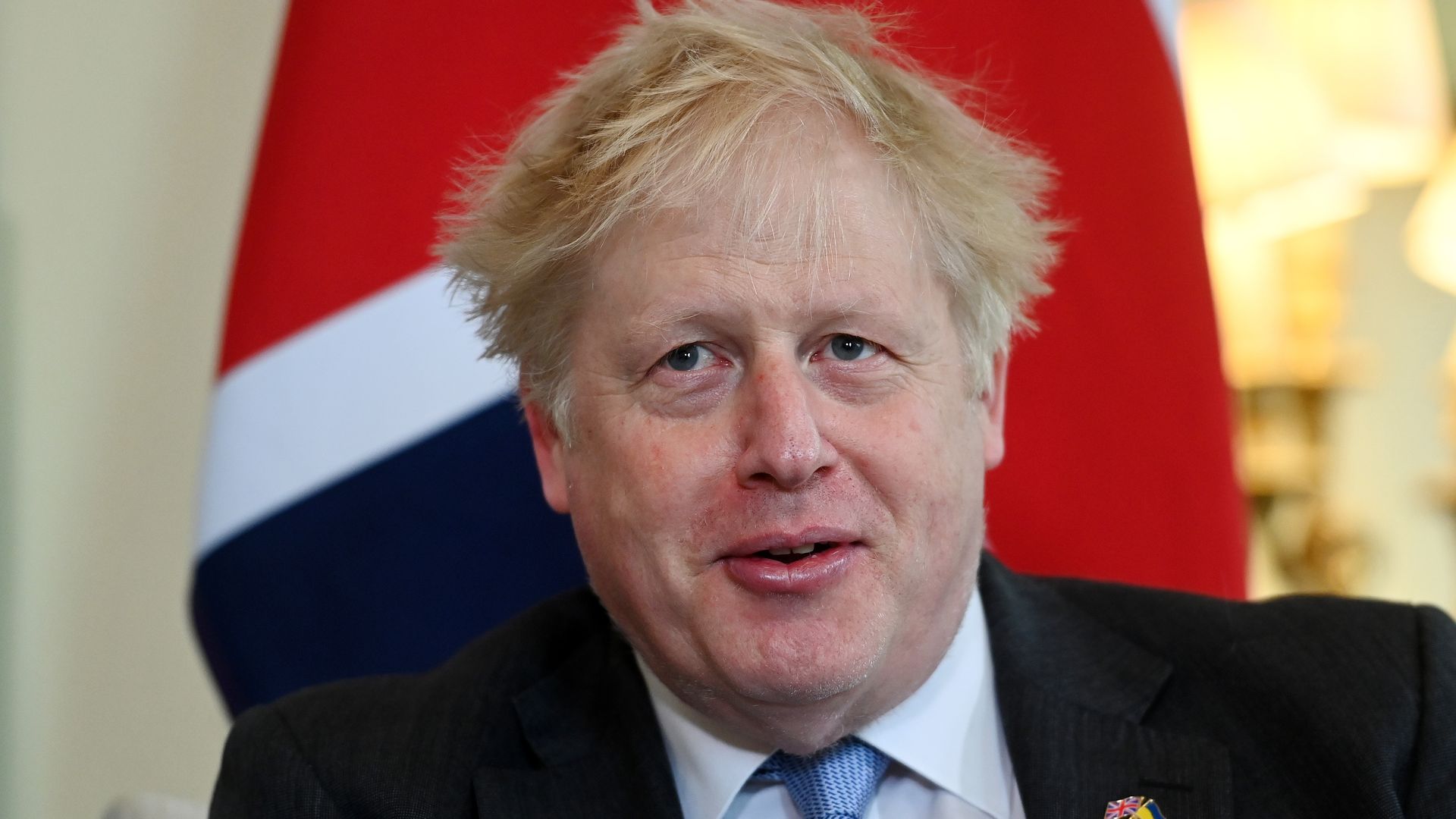 U.K. Prime Minister Boris Johnson told Ukrainian lawmakers Tuesday that their country's defense against Russia's aggression is its "finest hour," echoing Britain's wartime Prime Minister Winston Churchill.
The big picture: Johnson, in the the first address to Ukraine's parliament by a Western leader since Russia's invasion began, predicted "Ukraine will win. Ukraine will be free."
What he's saying: "You have exploded the myth of [Vladimir] Putin's invincibility and you have written one of the most glorious chapters in military history and in the life of your country," Johnson said in the video address to the Ukrainian parliament, known as the Verkhovna Rada.
"The so-called irresistible force of Putin's war machine has broken on the immoveable object of Ukrainian patriotism and love of country," he added
"This is Ukraine's finest hour, that will be remembered and recounted for generations to come," he said, echoing the famous speech Churchill delivered on June 18, 1940, as Britain faced the threat of a Nazi invasion.
"Your children and grandchildren will say that Ukrainians taught the world that the brute force of an aggressor counts for nothing against the moral force of a people determined to be free."
Flashback: Ukrainian President Volodymyr Zelensky echoed Churchill in early March when he became the first foreign leader to virtually address the U.K.'s House of Commons.
"We will not give up, and we will not lose. We will fight till the end — at sea, in the air, we will continue fighting for our land whatever the cost. We will fight in the forests, in the fields, on the shores, in the streets," Zelensky said at the time, channeling Churchill's famous June 4, 1940, speech following the miraculous evacuation of Allied troops from Dunkirk.
Zelensky and Johnson have developed a strong bond since the war began, with the British leader visiting Kyiv last month.
The big picture: Johnson on Tuesday announced that U.K. will provide additional weapons and other aid to Ukraine as part of a new $375 million package, including "radars to pinpoint the artillery bombarding your cities, heavy lift drones to supply your forces, and thousands of night vision devices."
In the coming weeks, the U.K. will also send Brimstone anti-ship missiles and Stormer anti-aircraft systems, Johnson told the Ukrainian lawmakers.
The U.K. leader said the the West was "too slow to grasp" the threat Russia posed when it annexed Crimea in 2014. "We cannot make the same mistake again."
The bottom line: "We will carry on supplying Ukraine, alongside your other friends, with weapons, funding and humanitarian aid until we have achieved our long-term goal, which must be so to fortify Ukraine that no one will ever dare to attack you again," Johnson concluded.
Go deeper