Updated Mar 30, 2022 -

World
U.S. believes Russia's pullback near Kyiv is "repositioning," not "withdrawal"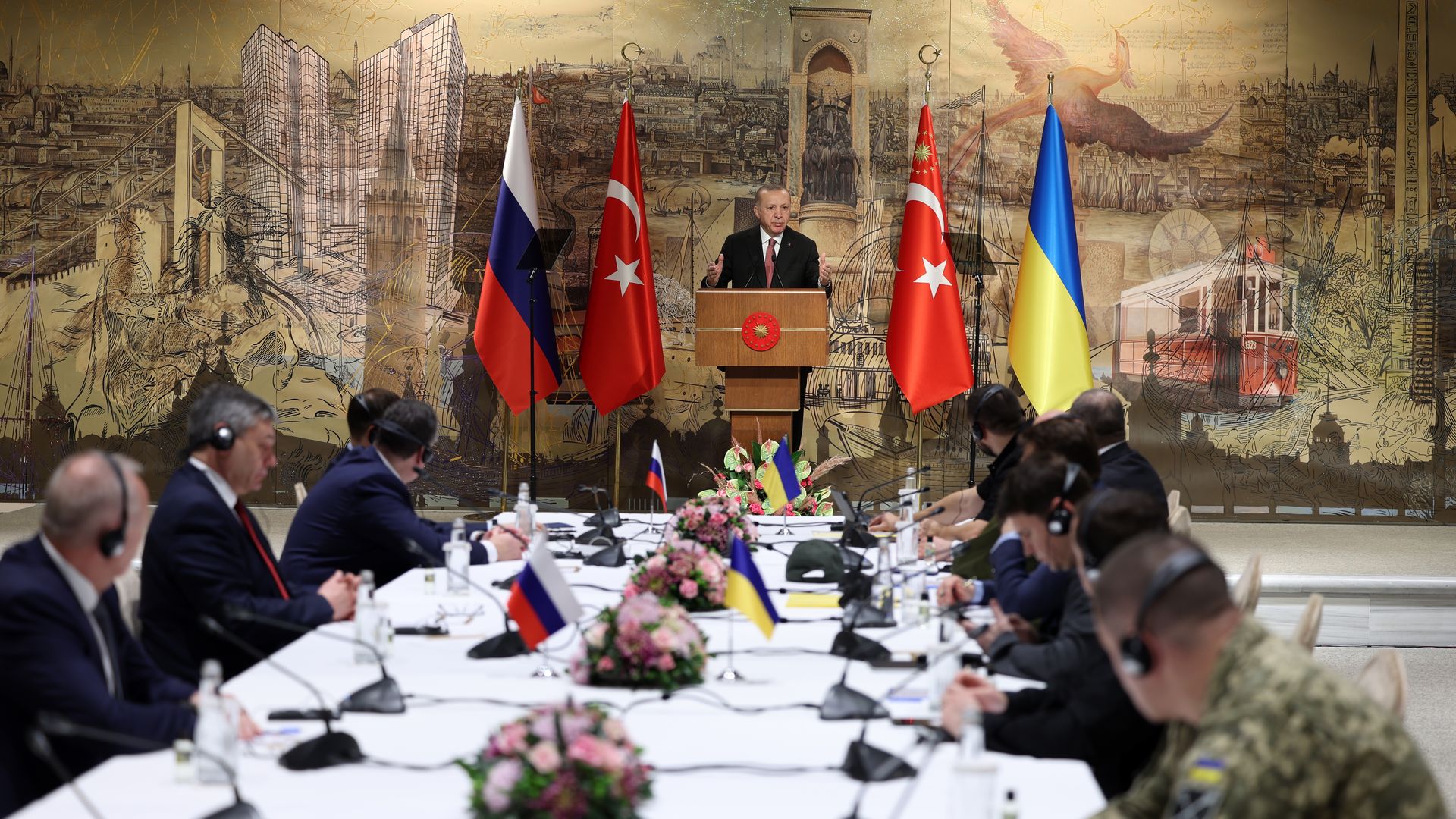 Russia's defense ministry said Tuesday it would drastically scale back military operations near the Ukrainian capital Kyiv and the northern city of Chernihiv in order to "increase mutual trust" for a potential peace deal with Ukraine — though advances on both cities had already stalled.
The latest: U.S. and British officials cast doubt on the claims. Pentagon press secretary John Kirby said the U.S. had seen a "small number" of Russian forces moving away from Kyiv, but it's "too early" to tell if the pullback will be significant. Russian units were reorganizing and resupplying in Russia and Belarus due to heavy losses, per a U.K. intelligence update Wednesday.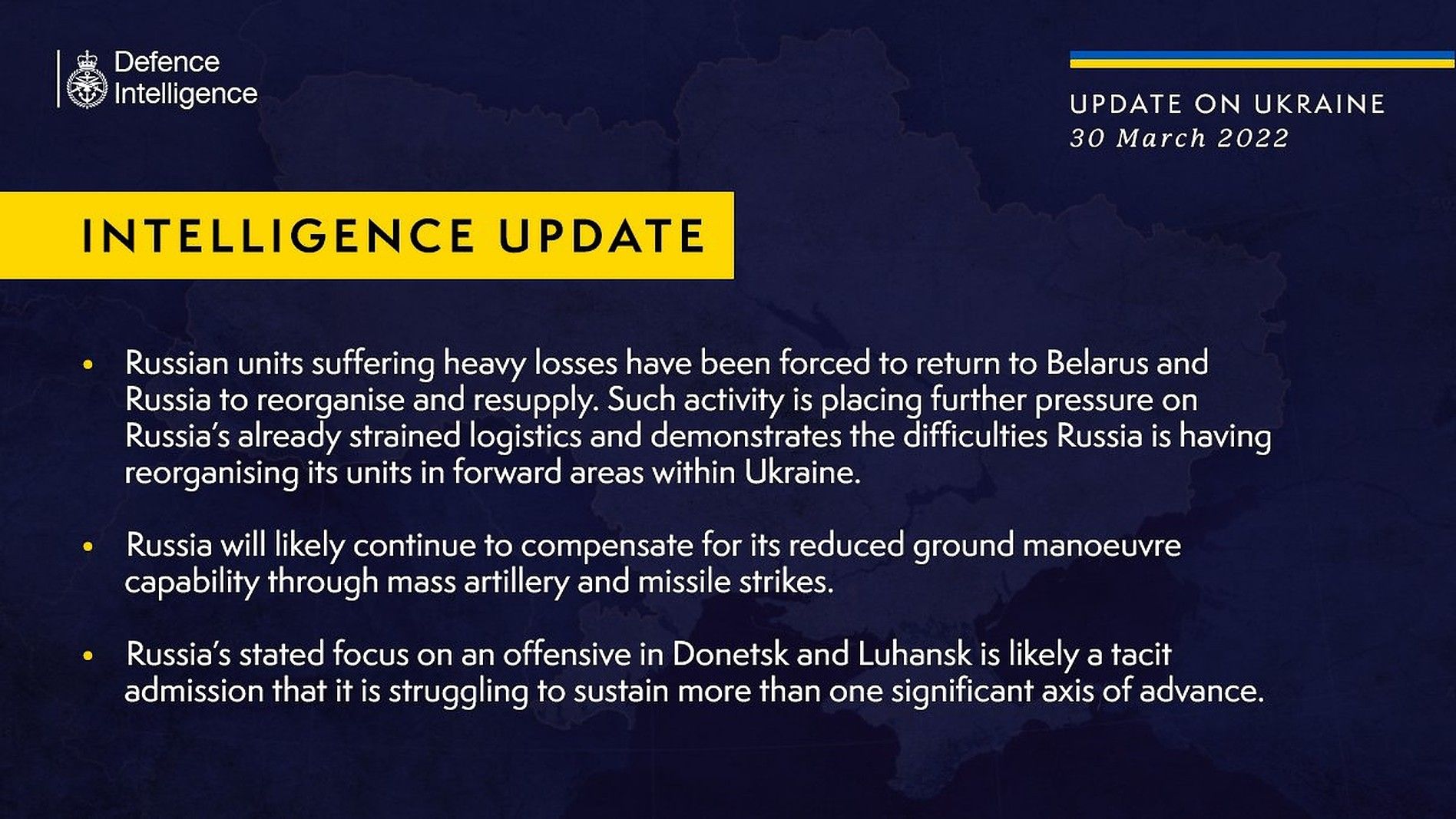 What they're saying: "We believe that this is a repositioning, not a real withdrawal, and that we all should be prepared to watch for a major offensive against other areas of Ukraine," Kirby said, pointing in particular to increased Russian activity in the eastern Donbas region.
"Russia has failed in its objective of capturing Kyiv. It's failed in its objective of subjugating Ukraine. But they can still inflict massive brutality on the country," he added.
Why it matters: Russia's announcement came after several hours of peace talks in Istanbul that both Russian and Ukrainian negotiators characterized as constructive.
State of play: A senior U.S. defense official told reporters Monday that Russia has made no progress in its assaults on Kyiv and Chernihiv, and in some areas had established "defensive positions" as Ukrainian forces launched counteroffensives.
Top Russian military officials said last week that Moscow's operation was entering a "new phase" focused on "liberating" the Donbas region of eastern Ukraine, where Russian-backed separatists have been waging a low-level insurgency for eight years.
Some military experts caution that Russia could use a temporary ceasefire as an opportunity to resupply its troops and reorient its strategy after failing to achieve many of its military objectives over the first month of war.
The big picture: Turkey's foreign minister, who helped mediate the talks, said Tuesday yielded the most significant progress to date.
President Biden addressed the development during a press conference Tuesday afternoon, saying: "I don't read anything into it until I see what their actions are. We'll see if they follow through on what they are suggesting."
"In the meantime, we're going to continue to keep strong sanctions," Biden said. "We're going to continue to provide the Ukrainian military with their capacity to defend themselves. And we're going to continue to keep a close eye on what's going on."
Meanwhile, U.K. Prime Minister Boris Johnson said a ceasefire agreement would not be sufficient to lift sanctions on Russia, per the BBC. That could be a key sticking point for the Kremlin.
What to watch: Ukraine's delegation said in Istanbul that there had been no breakthrough on a ceasefire or on territorial disputes in Crimea and Donbas, but that it had proposed a future security arrangement that will now be reviewed by the Kremlin.
The two sides will likely meet again within the next two weeks, Ukraine's lead negotiator said.
Russia's lead negotiator said his side was prepared to accelerate a meeting between Russian President Vladimir Putin and Ukrainian President Volodymyr Zelensky if their foreign ministers could agree on a peace deal.
Zelensky has been calling for such a meeting for weeks but Putin has yet to agree, or to publicly endorse any peace proposals.
Worth noting: The Ukrainian side said its proposed security guarantees should Ukraine ever come under attack again are based on NATO's mutual defense clause.
Countries including the U.S., Canada, China, France, Germany, Israel, Turkey and the U.K. would launch immediate diplomatic consultations and, should those fail, take steps like supplying weapons and maintaining a no-fly zone.
Mykhailo Podolyak, the lead Ukrainian negotiator, said Ukraine had already received "positive responses" from some of those countries.
Between the lines: Countries including the U.S. would be wary of explicitly committing themselves to intervene militarily to defend Ukraine.
Editor's note: This story and headline has been updated with additional comment from U.S. and U.K. officials.
Go deeper