The Final Four is blue (bloods)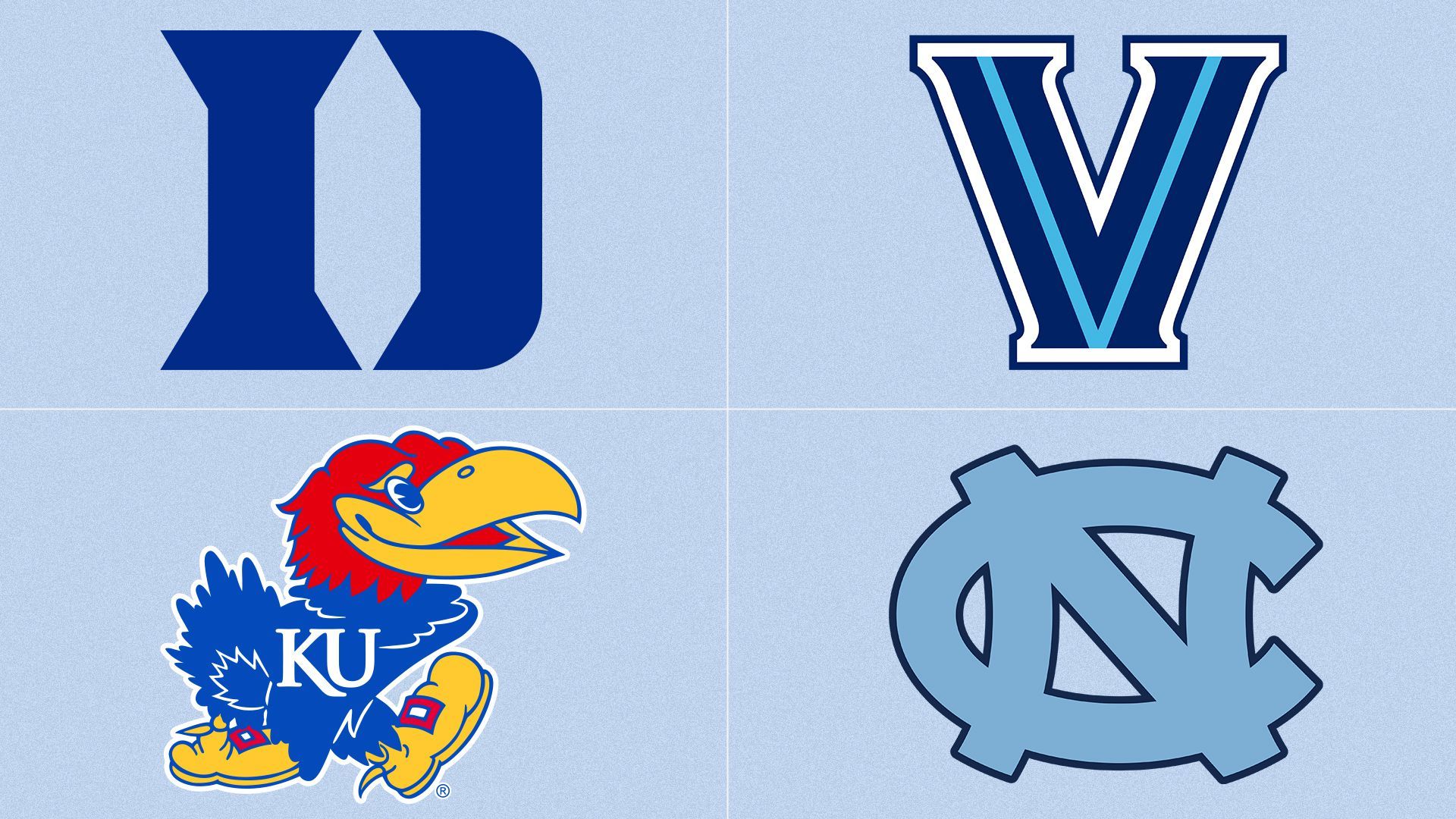 The 2022 men's Final Four is full of "Blue Bloods," all of whom suit up in blue. If ever there was a time for an "Eiffel 65" halftime show, it's next weekend in New Orleans.
Why it matters: An upset-filled tournament will conclude with a battle of juggernauts. Three of the four all-time winningest programs will be featured, along with Villanova, which has won two of the past five titles.
Duke: 2,214 wins (4th); 17 Final Fours (t-3rd); five championships (1991, 1992, 2001, 2010, 2015)
North Carolina: 2,294 wins (3rd); 21 Final Fours (1st); six championships (1957, 1982, 1993, 2005, 2009, 2017)
Kansas: 2,328 wins (1st); 16 Final Fours (5th); three championships (1952, 1988, 2008)
Villanova: 1,817 wins (19th); seven Final Fours (t-10th); three championships (1985, 2016, 2018)
The intrigue: The Duke-UNC rivalry is over 100 years old, but they've never gone head-to-head in the tournament. Until now. In Mike Krzyzewski's final season.
"Duke-UNC in the Final Four to either send Coach K to the national championship or end his career... A veritable Mad Libs of sportswriter narrative cliché fantasies ... If a Disney screenwriter drew it up I would be like 'lmao calm down u freak'... this cannot happen."
—
Emma Baccallieri
, SI
The odds: Duke (+160) is the title favorite, per FanDuel, followed by Kansas (+180), Villanova (+450) and UNC (+500). On March 14, FanDuel took a $300,000 bet on Duke at 17-1, which would pay a net $5.1 million.
Notes:
Absurd stat: Coach K, who passed John Wooden with his 13th Final Four, has now reached a Final Four in five consecutive decades.
Big loss for 'Nova: Justin Moore, Villanova's second-leading scorer, is out after tearing his Achilles. One of the best moments of the weekend: his teammates consoling him.
Rookie of the year: Hubert Davis is the first first-year head coach to make the Final Four since Bill Guthridge, who also did so with UNC after taking over for Dean Smith in 1998.
31 years later: The last time Duke, North Carolina and Kansas all made the Final Four was 1991, when Duke shocked undefeated UNLV then beat Kansas (coached by Roy Williams) for Coach K's first title.
Big money bosses: The Final Four features three of the top five highest-paid coaches in Bill Self ($10.2M), Krzyzewski ($7.4M) and Jay Wright ($6.2M).
Go deeper