U.S. declares Myanmar's military committed genocide against Rohingya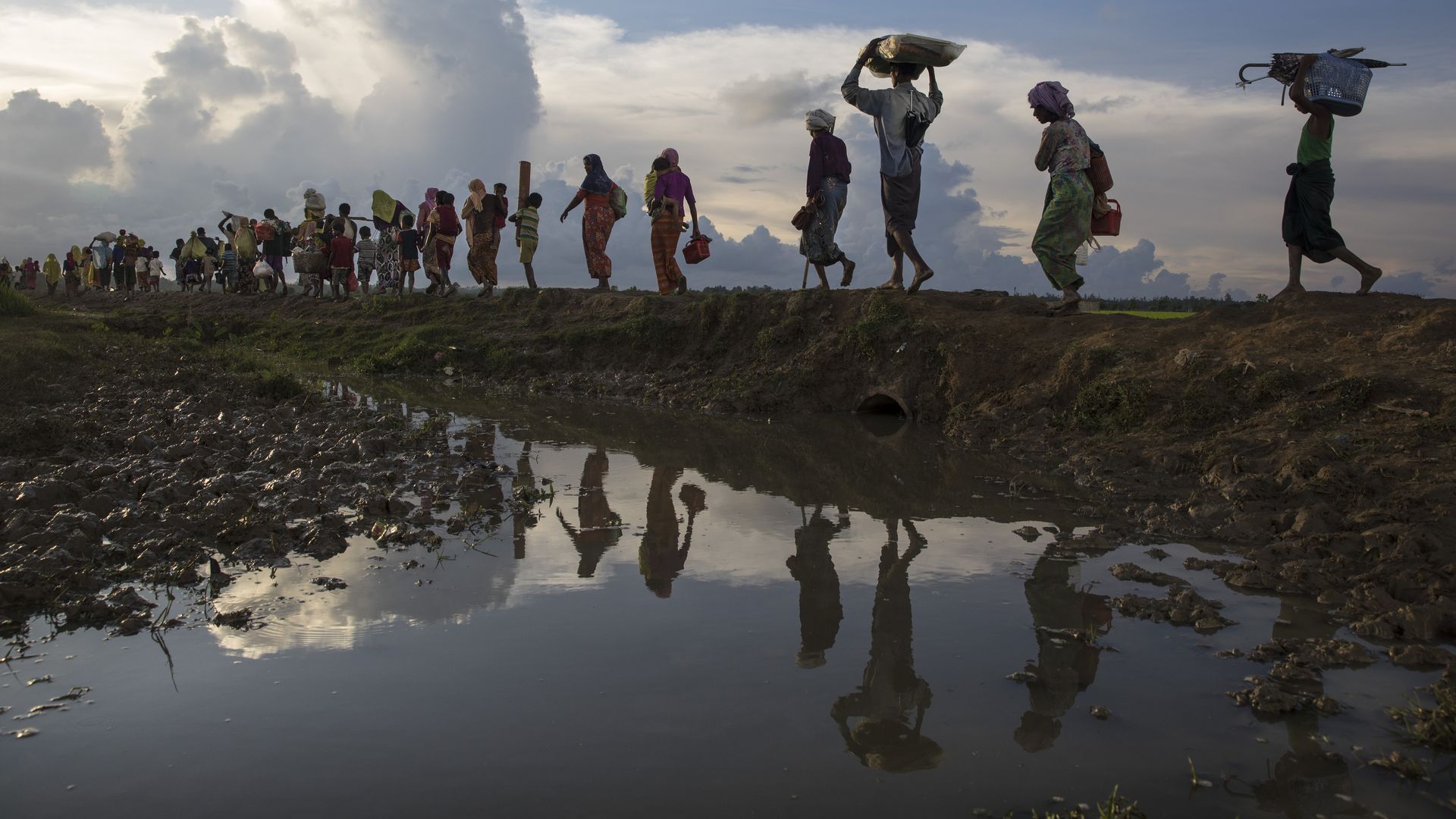 The Biden administration on Monday formally declared that Myanmar's military committed genocide against the country's Rohingya minority and crimes against humanity.
Driving the news: The designation comes five years after Myanmar's military intensified a bloody campaign against the Rohingya in Rakhine State. Thousands were killed and more than 745,000 people from the mostly Muslim ethnic minority fled to neighboring Bangladesh.
What he's saying: "Beyond the Holocaust, the United States has concluded that genocide was committed seven times. Today, marks the eighth. I've determined that members of the Burmese military committed genocide and crimes against humanity against Rohingya," Secretary of State Antony Blinken said Monday.
Blinken said he reached that decision "based on reviewing a factual assessment and legal analysis prepared by the State Department, which included detailed documentation by a range of independent impartial sources ... as well as our own rigorous fact-finding."
"The attack against Rohingya was widespread and systematic, which is crucial for reaching a determination of crimes against humanity. The evidence also points to a clear intent behind these mass atrocities: The intent to destroy Rohingya in whole or in part."
Blinken also focused on the Feb. 1, 2021, military coup in Myanmar, saying that while "today's determination of genocide, crimes against humanity is focused on Rohingya, it's also important to recognize that for decades, the Burmese military has committed killings, rape and other atrocities against members of other ethnic and religious minority groups."
Under military rule, "there's nobody that the Burmese military won't come for. No one is safe from atrocities under its rule."
After Myanmar's military seized power, the U.S. announced sanctions against the country.
Between the lines: While the Biden administration has called the Chinese government's actions against Uyghurs and other ethnic minorities in China's Xinjiang region a genocide, the administration had not been so explicit with regards to the Rohingya people, per Politico.
Blinken had ordered a review of the atrocities committed against the Rohingya, according to Reuters.
The big picture: Myanmar has rejected the genocide accusations, saying its crackdown in 2017 was in response to "terrorists" in the region.
The Rohingya, who are denied citizenship in Myanmar, have been described by the UN as the "world's most persecuted minority."
Go deeper: Myanmar soldiers confess to massacre of Rohingya Muslims
Editor's note: This story has been updated with comments from Blinken.
Go deeper