Texas Attorney General Ken Paxton to face George P. Bush in runoff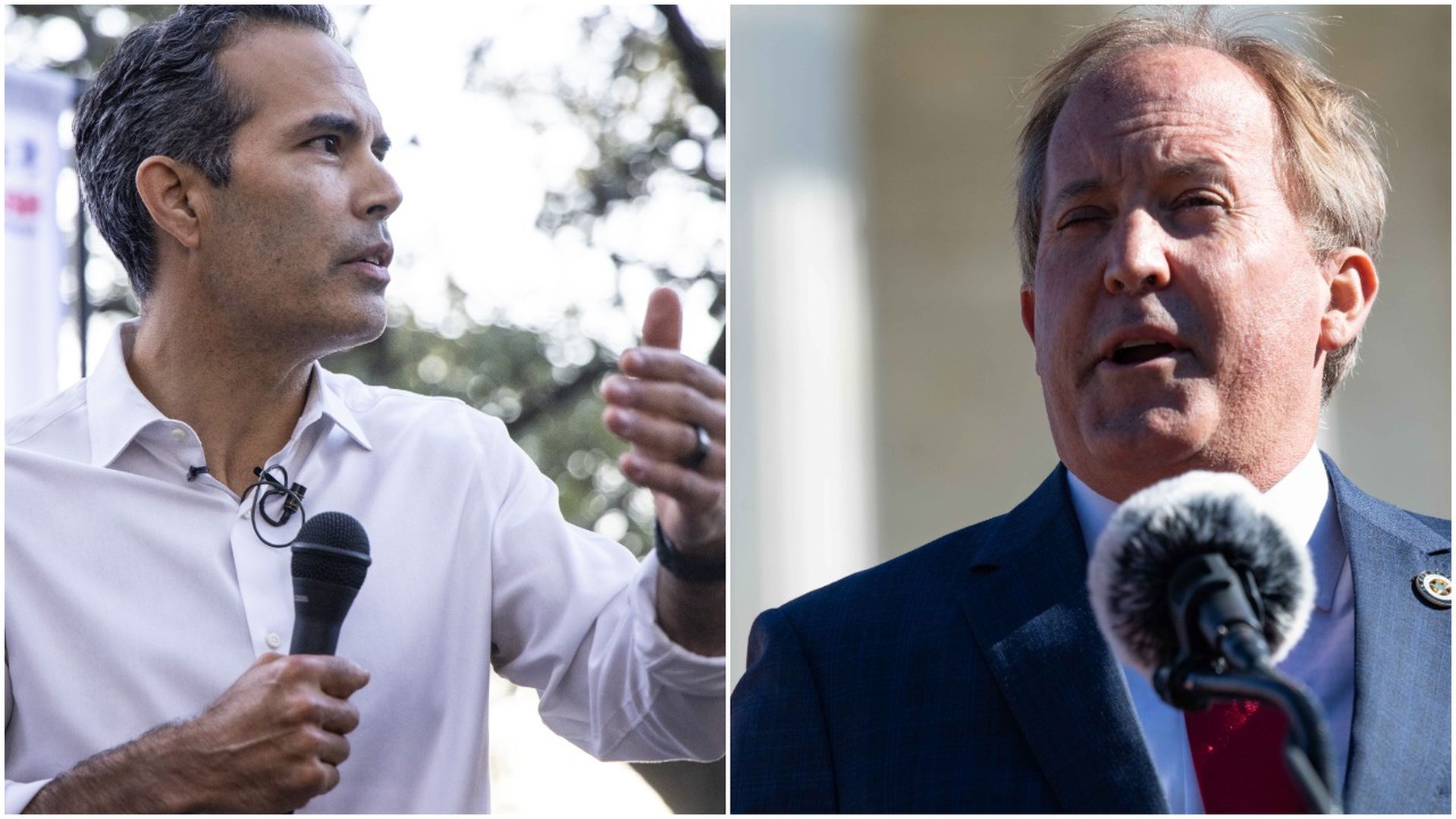 Texas Attorney General Ken Paxton is headed to a runoff against the scion of the Bush family on a night when other statewide Republican incumbents cruised to big victories.
Driving the news: With nearly all the ballots counted, Paxton, mired in corruption scandals, had just shy of 43% of the vote.
Having failed to clear 50%, he will end up in a runoff against Texas Land Commissioner George P. Bush, who held nearly 23% of the vote in a four-person race.
By squeezing into the runoff, Bush breathes new life into the fabled Texas political name and sets up a barn-burner of a race.
Why it matters: No attorney general had wrapped themselves more tightly to former President Trump than Paxton, who filed lawsuits after the 2020 election arguing that other states' results should be thrown out.
Paxton, along with Gov. Greg Abbott, Lt. Gov. Dan Patrick and Agriculture Commissioner Sid Miller, had won the endorsement of Trump.
The big picture: The Texas primary was the first big midterm test of the ex-president's clout within the GOP since the Jan. 6 insurrection.
Paxton's failure to win outright may say less about the limits of Trump's imprimatur and more about Republican distaste for a damaged candidate.
Abbott won his primary race; with more than three-quarters of the ballots counted, he had nearly 70% of the votes.
Similarly, Miller and Patrick had commanding leads even as ballots remained uncounted.
Our thought bubble: As of now, the Texas results suggest the 2024 GOP presidential nomination remains Trump's to lose.
"Big night in Texas!" Trump said late Tuesday. "All 33 candidates that were Trump endorsed have either won their primary election or are substantially leading in the case of a runoff."
On the other hand: Abbott's impressive showing sets him up for a 2024 national run should Trump opt out and should Abbott beat Beto O'Rouke in the Texas gubernatorial election.
What's next: The primary runoff is set for May 24.
Editor's note: This article has been updated with new details throughout.
Go deeper