Updated Feb 24, 2022 -

World
Russian military forces seize Chernobyl nuclear plant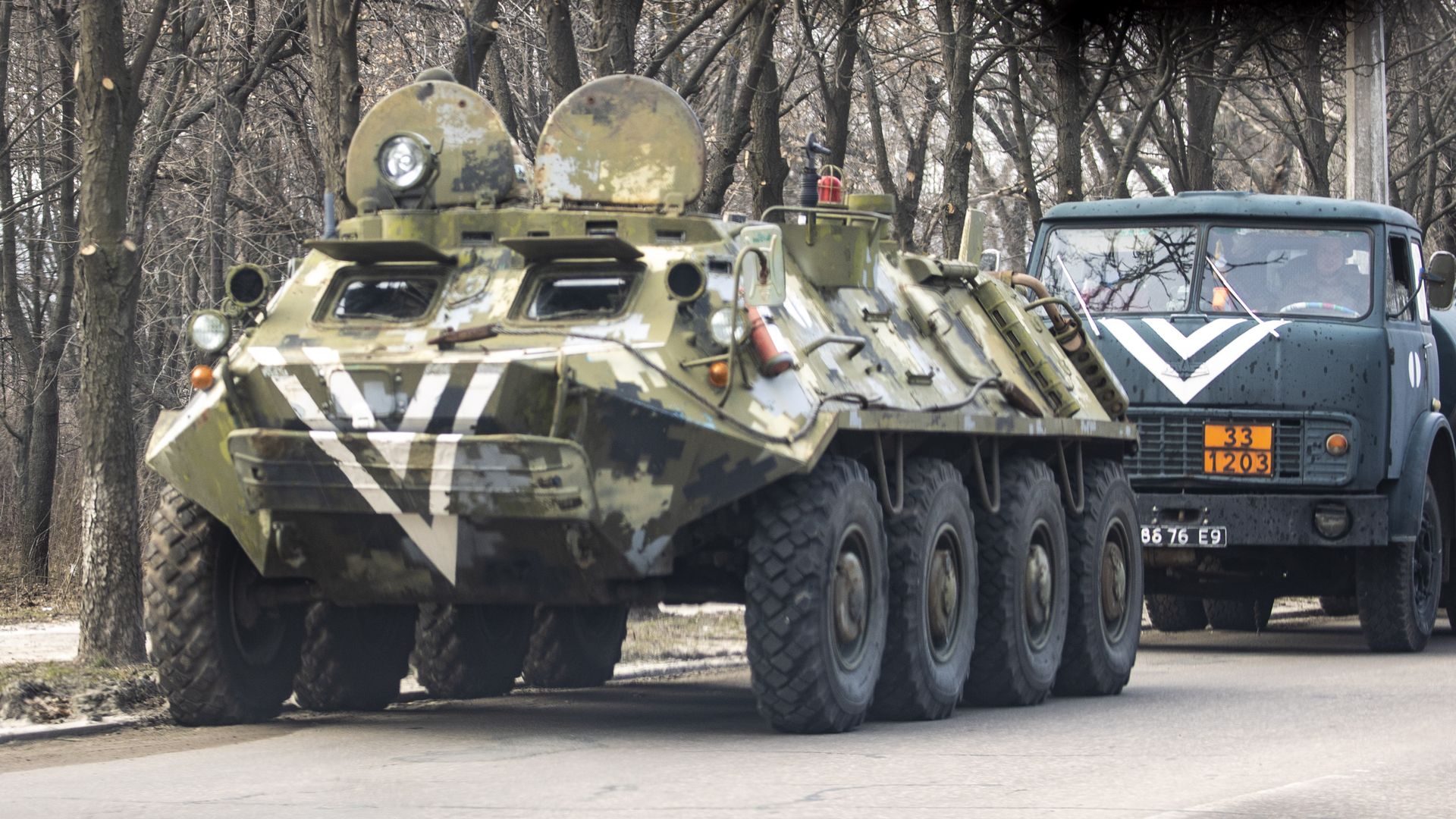 Russian forces have seized control of the Chernobyl nuclear power plant, an adviser to the Ukrainian presidential office said Thursday, according to Reuters.
The latest: The U.S. is "outraged by credible reports that Russian soldiers are currently holding the staff of the Chernobyl facilities hostage," White House Press Secretary Jen Psaki said at a press briefing Thursday evening.
The hostage taking could disrupt the "civil service efforts required to maintain and protect the nuclear waste facilities," Psaki said, adding that the reports are "incredibly alarming and greatly concerning. We condemn it and we request their release."
Driving the news: "It is impossible to say the Chernobyl nuclear power plant is safe after a totally pointless attack by the Russians," Mykhailo Podoliak, the adviser, said.
"This is one of the most serious threats in Europe today," Podolyak said, per Reuters.
State of play: Ukrainian President Volodymyr Zelensky said earlier Thursday that Russian forces were attempting to capture the nuclear power plant.
"Our defenders are giving their lives so that the tragedy of 1986 will not be repeated. ... This is a declaration of war against the whole of Europe," Zelensky wrote in a tweet.
The Ministry of Foreign Affairs of Ukraine in a tweet also warned that a Russian attack on Ukraine "may cause another ecological disaster."
"In 1986, the world saw the biggest technological disaster in Chernobyl. ... If Russia continues the war, Chernobyl can happen again in 2022," the ministry wrote.
The big picture: The Chernobyl power plant was the site of the world's worst nuclear accident when a nuclear reactor exploded in 1986, sending radioactive contamination across Europe, AP notes.
The plant is 80 miles north of Ukraine's capital of Kyiv.
Thought bubble from Axios' Andrew Freedman: The reports of fighting at Chernobyl are concerning since the lands surrounding the power plant have high levels of radiation, and are known as the Chernobyl Exclusion Zone.
In addition, munitions — gunfire, artillery shells, missiles, hitting the facility itself could release radioactivity and threaten citizens of nearby EU countries. However, Russian soldiers are likely aware of the dangers, and their aim may be to secure the area in order to move troops more directly to Kyiv.
Go deeper: Ukraine-Russia crisis latest developments
Editor's note: This story has been updated with new details throughout.
Go deeper