Updated Feb 18, 2022 -

World
Canadian police arrest over 100 people in trucker protests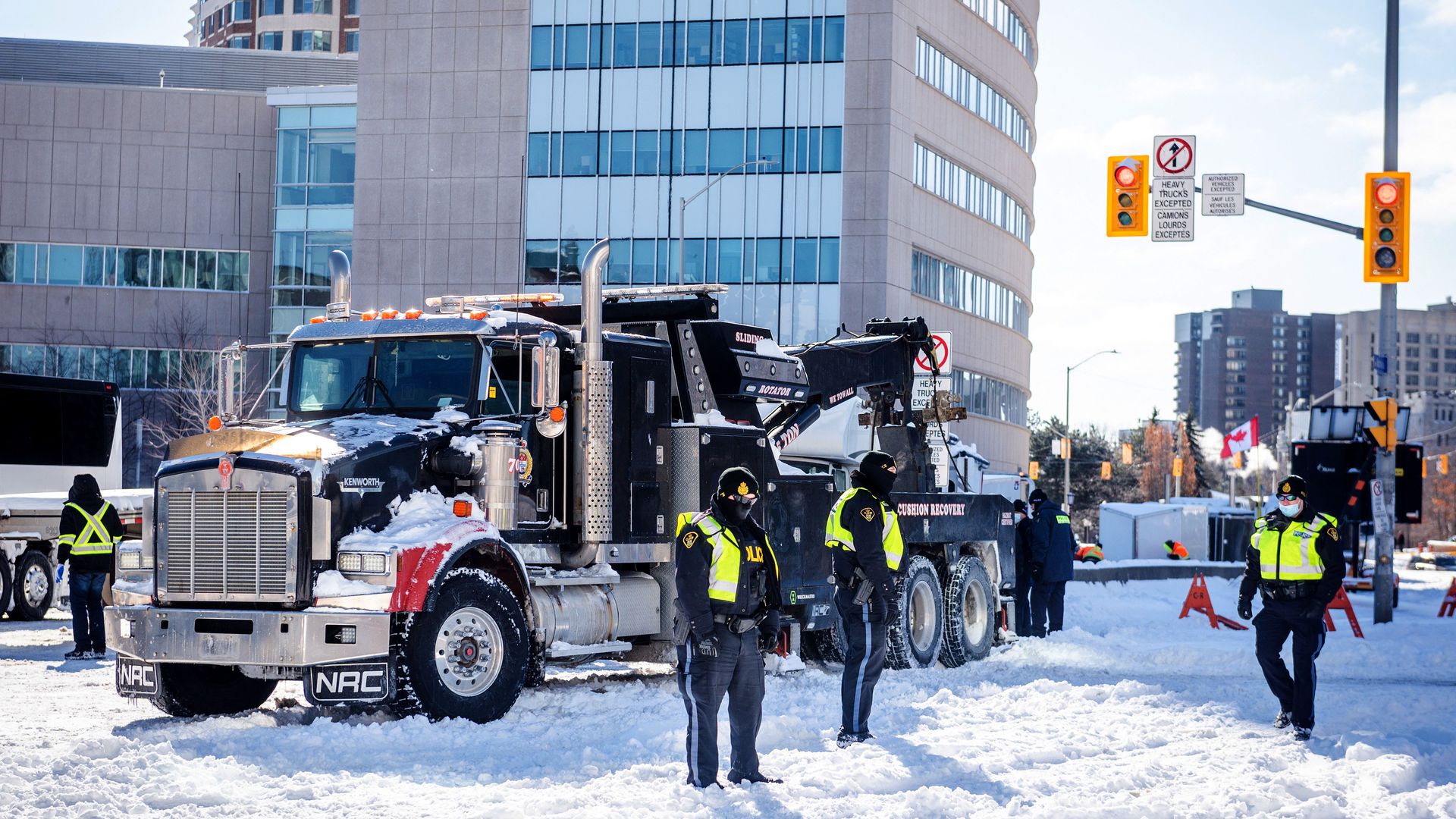 Ottawa police announced Friday it had arrested over 100 people involved in trucker anti-vaccine mandate protests and has towed 21 vehicles.
The big picture: Protesters began blocking Ottawa's downtown last month in opposition to vaccine mandates for truckers coming in from the U.S. and to other pandemic restrictions. Demonstrations have since spread to the rest of the country.
Ottawa's police chief resigned earlier this week, after being criticized for taking a hands-off approach to the demonstrations.
One officer had a minor injury but no protestor was hurt, according to AP.
Police towed 21 vehicles by Friday evening.
The Ottawa police later on Friday issued a notice to protesters, ordering them to leave: "You must cease further unlawful activity and immediately remove your vehicle and/or property from all unlawful protest sites. Anyone within the unlawful protest site may be arrested."
They said that those needing to move their vehicles needed to have proof in order to do so. If proof was not provided, the vehicles would be towed.
Police said that some protesters had put "children between police operations and the unlawful protest site," adding that the children "would be brought to a place of safety.
What they're saying: "There is a large police presence on Nicholas Street, protesters are being advised to leave immediately," the Ottawa police said. "Some protesters are surrendering and are being arrested."
"We ask protesters to remain peaceful and lawful," the police added.
Catch up fast: Ottawa police on Wednesday issued a notice to protesters, advising them that anyone blocking streets, or assisting others in the blocking streets, is committing a criminal offense and could be arrested.
Police warned that protesters "may be arrested and charged with criminal offenses including but not limited to mischief, and potentially charged with a variety of other non-criminal offenses."
A secured area was established on Thursday to ensure that "designated places (Parliament, Government buildings, critical infrastructure etc) are protected."
Ottawa police said people could not travel within that area.
Editor's note: This story has been updated with the latest arrest numbers from the Ottawa Police.
Go deeper