Gunmaker Remington to pay $73M to settle lawsuit with Sandy Hook families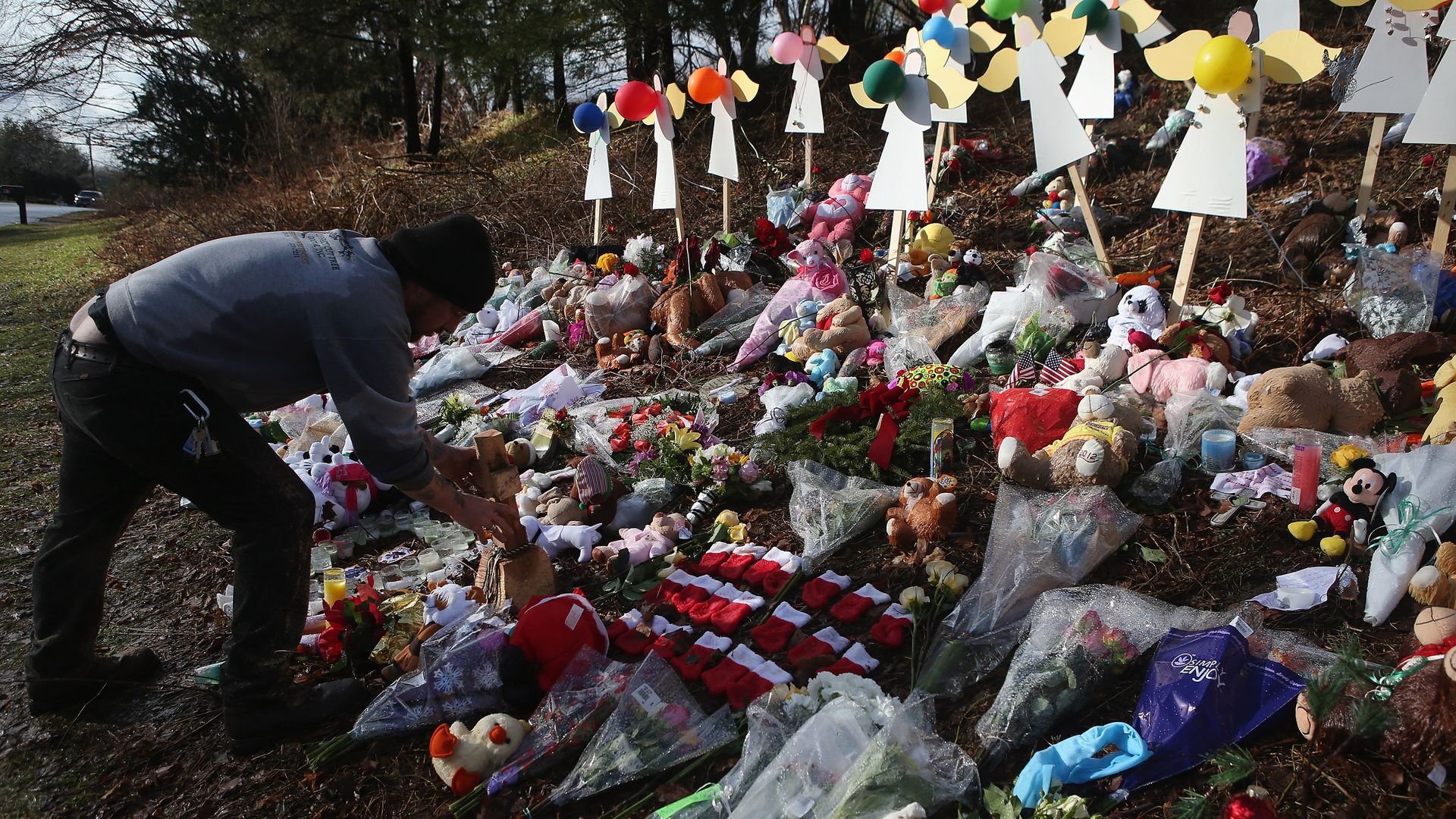 Remington Arms on Tuesday agreed to a $73 million settlement of liability claims from nine families of Sandy Hook shooting victims, according to court documents and lawyers for the families.
Why it matters: It's the first time in the U.S. a gun manufacturer has been held responsible for a mass shooting, ABC News reports.
Driving the news: Families of five adults and four children killed in the shooting at Sandy Hook Elementary School sued the gunmaker nearly eight years ago for its marketing practices, claiming that Remington "recklessly marketed a military-grade gun to civilians."
"The plaintiffs in this action hereby give Notice that a settlement agreement has been executed between the parties," according to the court filing.
A Bushmaster AR-15-style rifle was used in the December 2012 shooting, which killed 20 children and six adults in Newtown, Connecticut.
What they're saying: "Today is not about honoring our son Benjamin. Today is about how and why Ben died," said Francine Wheeler, referring to her 6-year-old son who was killed in the shooting.
"It is about what is right and what is wrong ... Our legal system has given us some justice today," she said, adding that her and her husband, David, "will never have true justice. True justice would be our fifteen-year-old healthy and standing next to us right now. But Benny will never be 15, he will be six forever because he is gone forever."
Veronique Pozner, whose 6-year-old son Noah was killed in the shooting, called today an "inflection point when our duty of care to our children as a society finally supersedes the bottom line of an industry that made such an atrocity at Sandy Hook possible to begin with."
"Today's a day of accountability for an industry that has thus far been operating with immunity and impunity. And for this, I am grateful," said
Joshua Koskoff, an attorney representing the families, added that he "had thought the case was about the gun, but it's just as much about greed."
Remington's goal was to become a "massive, behemoth gun company," Koskoff said. "And when you're building that market, marketing was ... a big part of this case. We're moving on in essence from the gun to these other principles of fair dealing, these principles of responsibility."
President Biden said in a statement Tuesday evening that the settlement begins the "necessary work of holding gun manufacturers accountable for manufacturing weapons of war and irresponsibly marketing these firearms."
"This progress is the result of the perseverance of nine families who turned tragedy into purpose," he added.
Remington, which has since filed for bankruptcy, argued that it manufactured a legal firearm and that the gunman, not the manufacturer, is responsible for the shooting.
The company did not immediately respond to Axios' request for comment Tuesday.
Remington may have avoided further liability when it filed for bankruptcy protection in 2020 and sold off its assets, according to bankruptcy expert Melissa Jacoby, a University of North Carolina law professor.
Remington's insurance policies covered damages up to $73.5 million, according to court records.
"While I don't know what the Sandy Hook families would have received had they prevailed at the long-awaited trial (delayed by Remington in many respects), it wouldn't have been inherently capped at whatever was left on these insurance policies," Jacoby tells Axios in an email.
Editor's note: This story has been updated with additional details about the settlement and statements by the families and President Biden as well.
Go deeper