D.C. police arrest suspect after swastika graffiti found at Union Station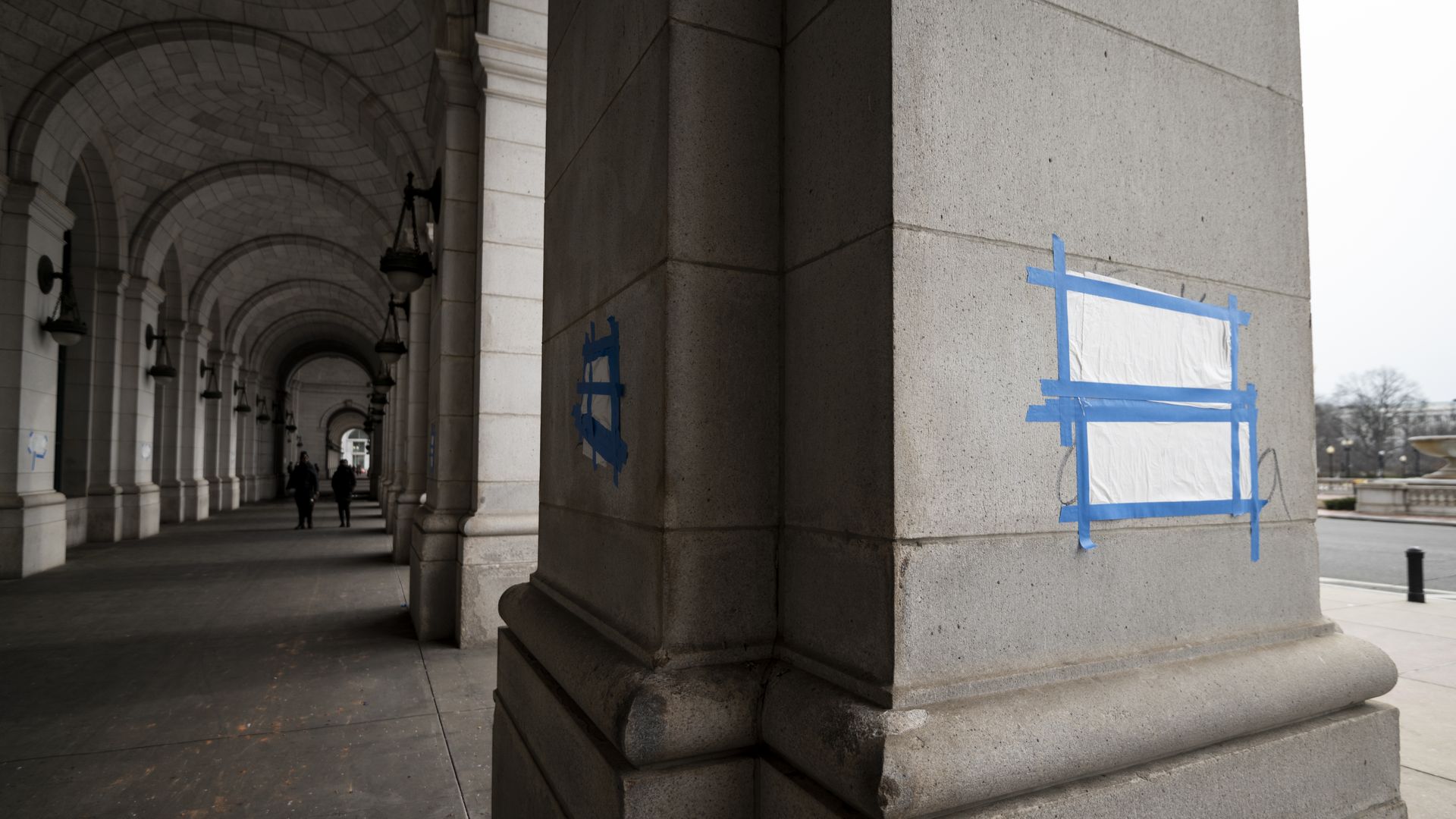 Washington, D.C., police have arrested a suspect allegedly connected to drawings of swastikas that appeared etched around the entrance to Union Station in Washington, D.C., on Friday morning.
The latest: Police arrested and charged Geraldo Pando, 34, with "display of certain emblems and defacing private/public property."
Police said Pando allegedly spray-painted swastikas around 12:45 a.m. Friday morning. Pando later allegedly vandalized three other buildings.
Driving the news: "An investigation is underway with Amtrak Police and the Metropolitan Police Department after swastikas were reported on the exterior of Washington Union Station on Friday," Amtrak spokesperson Kimberly Woods said in a statement to Axios.
"Amtrak strongly condemns this act of hatred and will work with our landlord, USRC and their lessor to remove these symbols as quickly as possible"
The big picture: The vandalism came one day after International Holocaust Remembrance Day, when President Biden cautioned against ignoring history and warned against a "resurgence of antisemitism."
What they're saying: "The Jewish Federation of Greater Washington strongly condemns the antisemitic vandalism found today right here in our nation's capital at Union Station," the group wrote in a statement.
"To find such a symbol of hate at the entrance to Union Station is unacceptable and is not just an affront to Jews, but to all Americans. Swastikas are a chilling symbol of Nazi hatred and have no place in our society."
"Sickening. Yesterday was Holocaust Remembrance Day," Sen. Bob Menendez (D-N.J.) wrote on Twitter. "My staff just sent me this video of Union Station defaced with swastikas. Anti-Semitism is real and we cannot tolerate it. I am contacting the local authorities."
Go deeper: Biden cautions against "resurgence of antisemitism" on Holocaust Remembrance Day
Editor's note: This story has been updated with details of the arrest.
Go deeper