Updated Jan 20, 2022 -

World
Biden cleans up comments about Russia invading Ukraine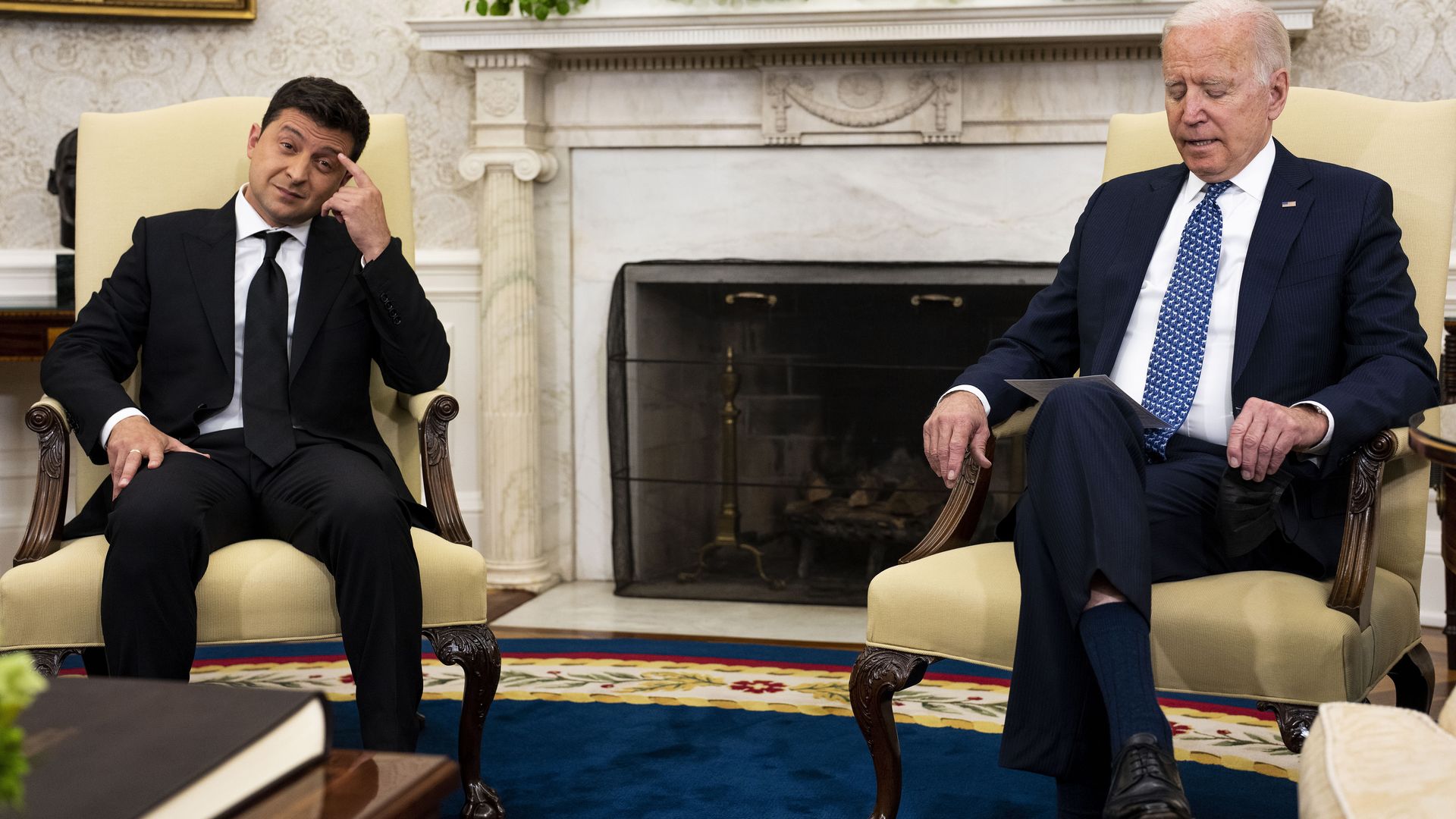 President Biden sought to clarify his suggestion that a "minor incursion" by Russia into Ukraine may not draw the same response as a large invasion, telling reporters Thursday that "Russia will pay a heavy price" if any troops cross the border.
Why it matters: Some officials in Kyiv saw Biden's comments as inviting Russian aggression.
What they're saying: "I've been absolutely clear with President Putin. He has no misunderstanding: Any, any assembled Russian units move across the Ukrainian border, that is an invasion," Biden said.
Putin knows that this kind of aggression will be met with a "severe and coordinated economic response," Biden continued.
Ukrainian President Volodymyr Zelensky had earlier tweeted: "We want to remind the great powers that there are no minor incursions and small nations. Just as there are no minor casualties and little grief from the loss of loved ones. I say this as the President of a great power."
Context: Biden told reporters during a marathon press conference Wednesday evening that "Russia will be held accountable if it invades. And it depends on what it does. It's one thing if it's a minor incursion and then we end up having a fight about what to do and not do, et cetera."
Between the lines: Russia has a history of using hybrid tactics to destabilize Ukraine, including with cyberattacks and the deployment of paramilitaries that wear unmarked uniforms.
Biden acknowledged that Russia could "use measures other than overt military actions," and said that "we have to be ready to respond to these as well"
He concluded by telling Kyiv it "has a right to be" confident of U.S. support.
Why it matters: Biden's seemingly off-the-cuff remark on Wednesday reflected what many fear is a reality — the U.S. and its European allies are divided on what type of Russian actions should trigger the "massive" consequences they have promised.
Biden openly acknowledged when pressed about his comments Wednesday that "there are differences within NATO" about how to respond — moments after he warned that Russian President Vladimir Putin is seeking to divide NATO.
Top U.S. officials like Secretary of State Antony Blinken and national security adviser Jake Sullivan have sought to present a united front with Europe in their dozens of diplomatic engagements over the past weeks. Biden's comments momentarily undermined those efforts.
The big picture: The Ukrainian government has pushed for the U.S. to impose sanctions on Russia now, arguing that this would be the best way to signal to Putin that the West is serious about deterrence.
"Speaking of minor and full incursions or full invasion, you cannot be half-aggressive. You're either aggressive or you're not aggressive," Ukrainian foreign minister Dmytro Kuleba told the Wall Street Journal.
"We should not give Putin the slightest chance to play with quasi-aggression or small incursion operations. This aggression was there since 2014. This is the fact."
Editor's note: This story has been updated with Biden's additional clarification on Thursday.
Go deeper