Microsoft to buy Activision Blizzard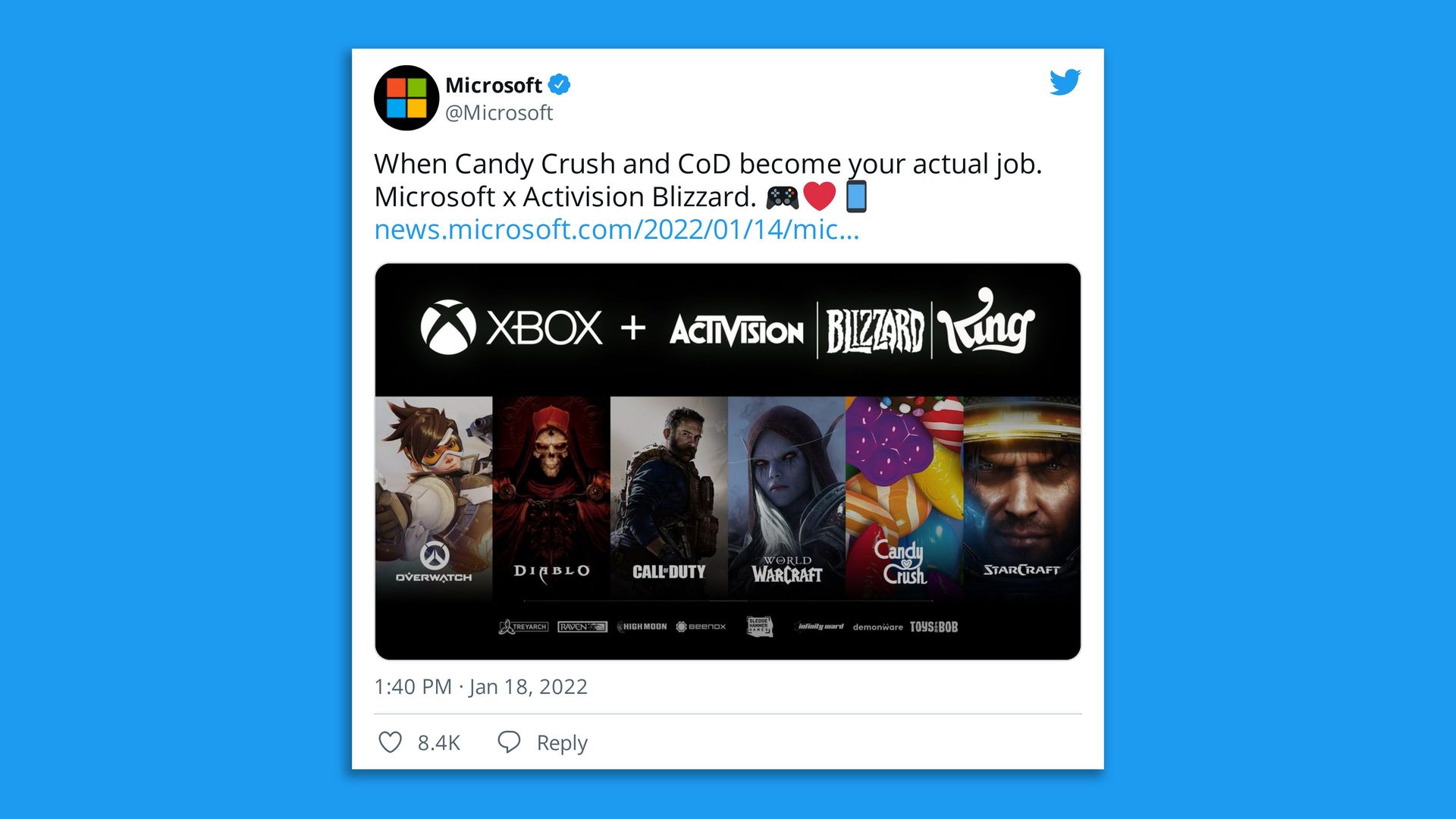 Microsoft announced Tuesday it plans to acquire video game giant Activision Blizzard for $68.7 billion in cash.
Why it matters: The move comes as Activision Blizzard has faced a wave of accusations of workplace harassment.
It's Microsoft's largest ever acquisition, far topping the company's $26.2 billion purchase of LinkedIn in 2016.
Between the lines: The deal is likely to face regulatory scrutiny given Microsoft's size and the size of the deal.
The intrigue: The press release notes that "Bobby Kotick will continue to serve as CEO of Activision Blizzard" and that "once the deal closes" the Activision Blizzard business will report to Phil Spencer, who is being promoted to CEO of Microsoft Gaming.
Although the language in the press release is vague, Kotick is not expected to remain with the company once the deal closes, according to a source. However, he is slated to continue running the company until the deal closes, which could take a year or more.
"Together, Bobby and Phil will work together to ensure the transition to this exciting new combined enterprise," a Microsoft rep told Axios.
Some stockholder groups, and more than a thousand Activision Blizzard employees have been calling on Kotick to resign in light of sexual misconduct allegations embroiling the company.
The details: Activision Blizzard's franchises include Call of Duty, Diablo, Overwatch and World of Warcraft.
Microsoft's purchase of Bethesda last year led to that company's next big game, Starfield, going Xbox/PC exclusive and cutting off PlayStation.
Regarding potential exclusivity for Activision's games, a Microsoft rep told Axios: "Activision Blizzard's games exist on a variety of platforms today, and we plan to continue supporting those communities moving forward.
The big picture: The move comes as Microsoft and others are looking to escape the power of the Apple and Google-controlled App Store ecosystem.
Microsoft already has a workaround with its Xcloud service, which can run games in the browser on mobile devices. The new deal gives them more content for the service.
Editor's note: This story has been updated with more information from Microsoft and the expectation that Kotick will not remain with the company after the deal closes.
Go deeper