Georgia beats Alabama to win first national title in 41 years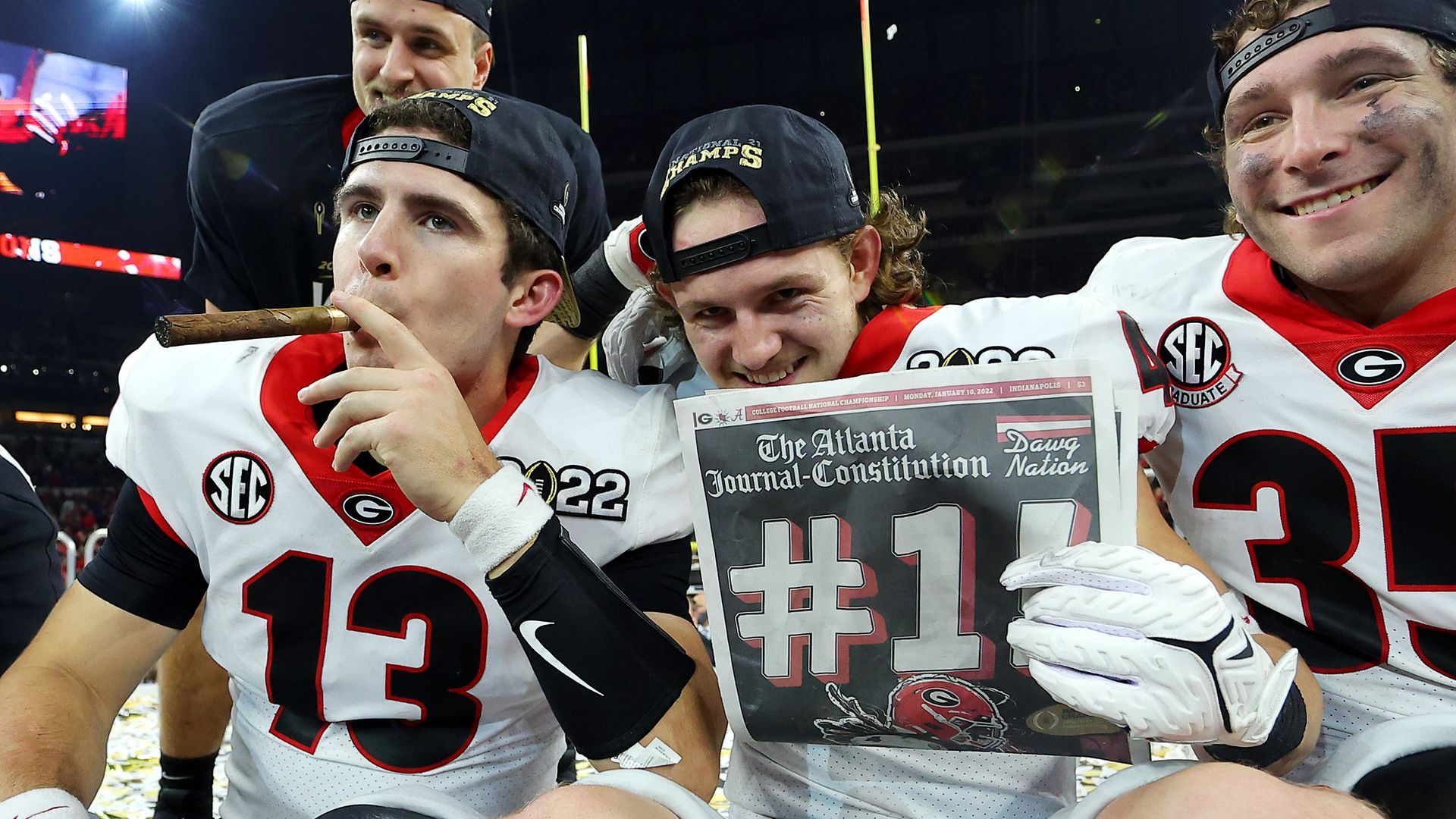 At long last, Dawg Nation's 41-year wait is over.
Driving the news: Georgia finally slayed the dragon Monday night in Indianapolis, beating an Alabama team it had lost to seven straight times to win its first national championship since 1981.
Quick recap: What began as a slugfest (9-6 Alabama at halftime) turned into a shootout, with both teams trading scores in the fourth quarter.
Final: Georgia 33, Alabama 18
Attendance: 68,311 (plus surrounding bars)
Key injury: Alabama star WR Jameson Williams exited early in the second quarter with a leg injury (likely ACL).
MVPs: Georgia QB Stetson Bennett (17/26, 224 yds, 2 TD) won offensive MVP. Safety Lewis Cine (seven tackles) won defensive MVP.
Highlight: Kelee Ringo intercepted Bryce Young with 54 seconds left and returned it 79 yards, the longest pick-six in championship game history.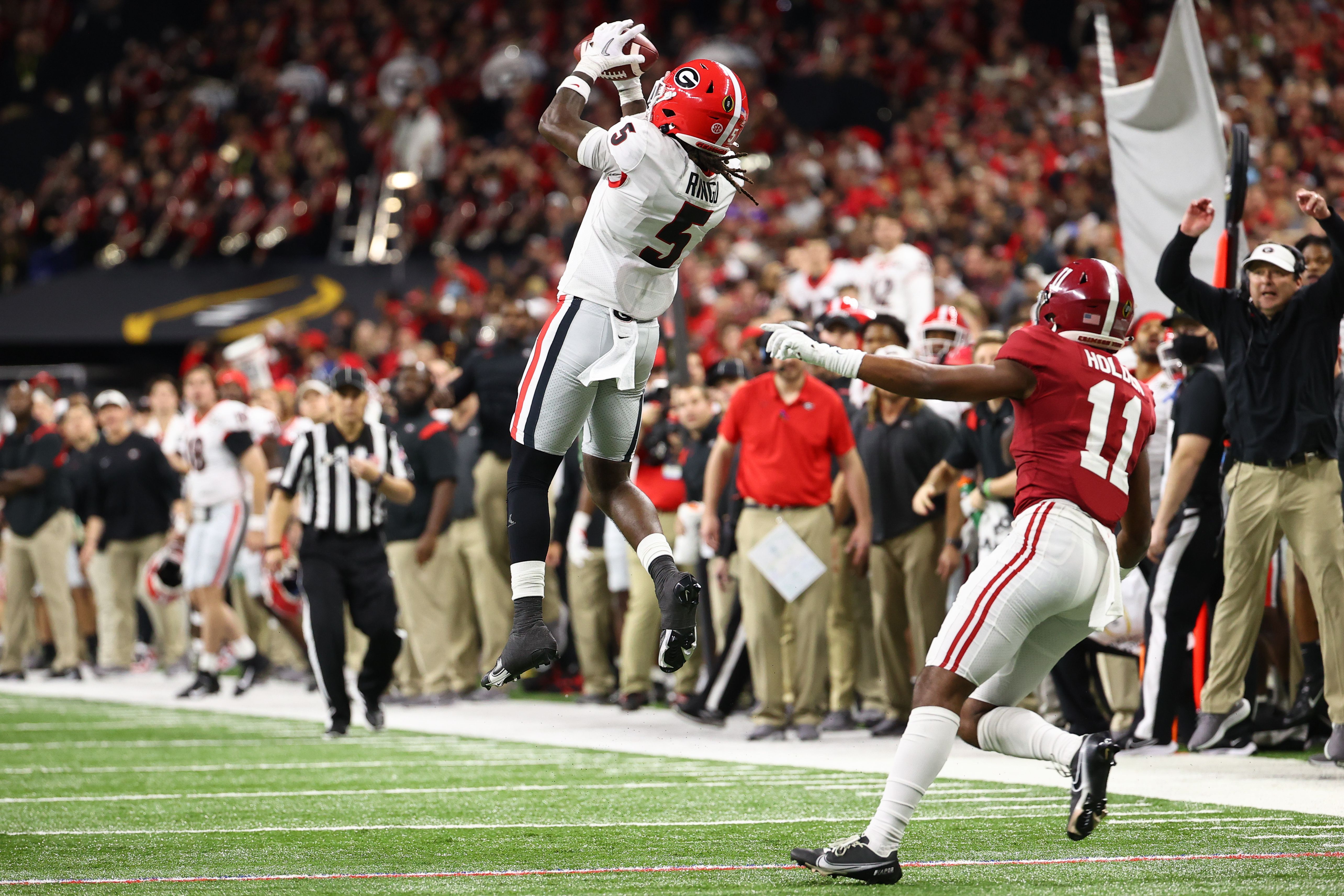 What they're saying:
Kirby Smart: "There's gonna be some property torn up in Indianapolis tonight, baby!" (A nod to longtime Bulldogs announcer Larry Munson.)
Bennett: "I hadn't cried in, I don't know, years," said the former walk-on, who got emotional on the sideline. He'll never buy a drink again in his home state of Georgia.
Nick Saban: "If we had to lose a national championship, I'd rather lose to one of the former assistants who did a great job for us and has done a great job with his program. They deserve it."
Young: "We didn't execute, and at the end of the day, that's on me," said the Heisman winner. "I love my guys. I wish I could have been better for them tonight."
By the numbers: The SEC has won 12 of the last 16 national championships, including the last three (LSU, Alabama, Georgia).
Georgia is the second team in the AP Poll Era (since 1936) to win 13 games by 15+ points, joining 2018 Clemson.
Alabama has been an underdog just three times in its last 96 games. All three were against Georgia, and this was the first time they lost.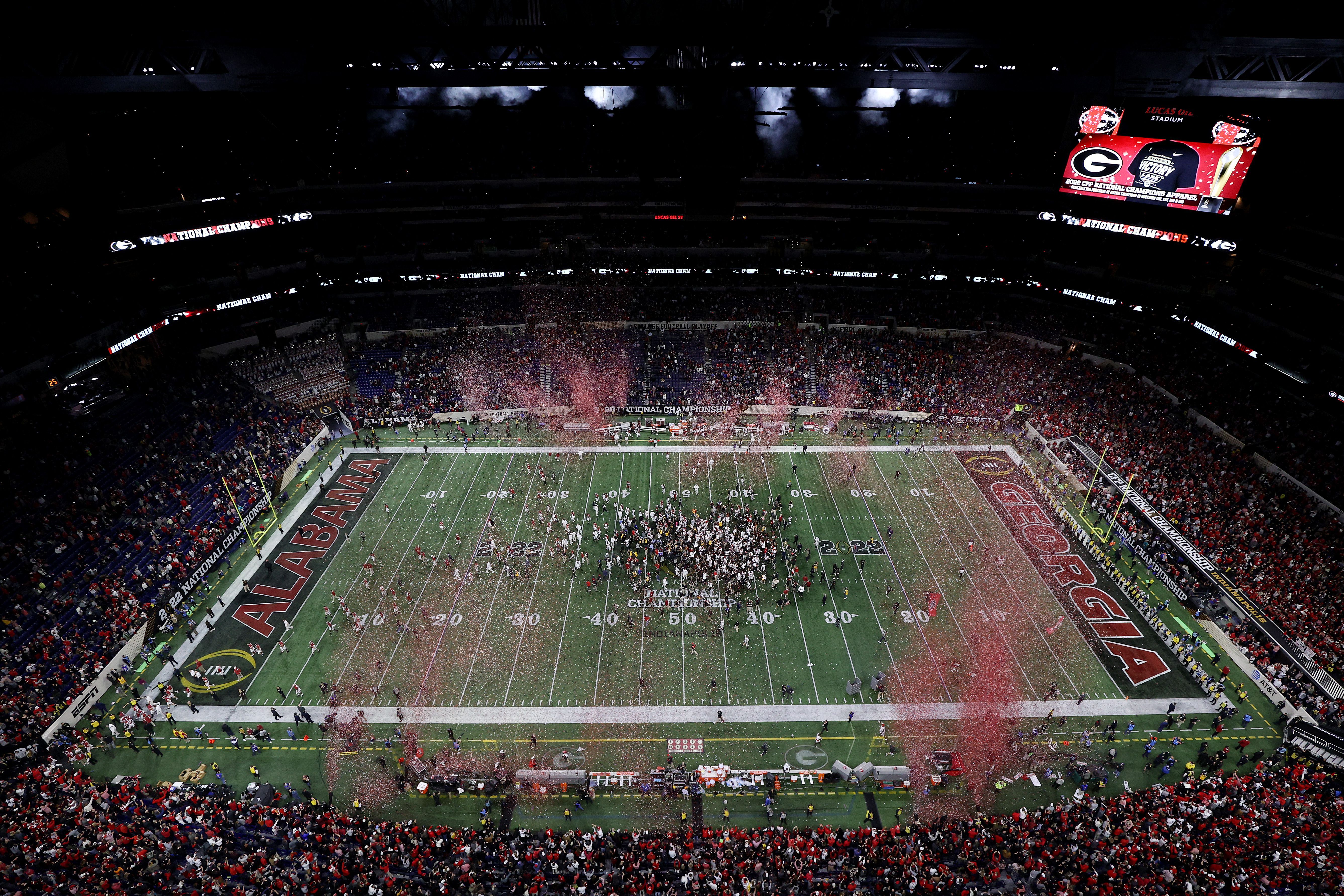 Wild stat: This was the fifth time opponents have met twice in the same season as AP top-5 teams. The loser of the first game has now won every rematch.
1959-60: No. 1 LSU def. No. 3 Ole Miss, 7-3, on Oct. 31 ... No. 2 Ole Miss def. No. 3 LSU, 21-0, in the Sugar Bowl.
1996-97: No. 2 FSU def. No. 1 Florida, 24-21, on Nov. 30 ... No. 3 Florida def. No. 1 FSU, 52-20, in the Sugar Bowl.
2010-11: No. 1 LSU def. No. 2 Alabama, 9-6 (OT), on Nov. 5 ... No. 2 Alabama def. No. 1 LSU, 21-0, in the BCS title game.
2020-21: No. 4 Notre Dame def. No. 1 Clemson, 47-40 (2OT), on Nov. 7 ... No. 3 Clemson def. No. 2 Notre Dame, 34-10, in the ACC title game.
2021-22: No. 3 Alabama def. No. 1 Georgia, 41-24, on Dec. 4 ... No. 3 Georgia def. No. 1 Alabama, 33-18, in the CFP title game.
The last word: "College football has been chasing the Crimson Tide for more than a decade," writes The Ringer's Kevin Clark. "The Bulldogs caught up."
Go deeper:
Editor's note: This post has been updated with new details throughout.
Go deeper