Wireless carriers delay 5G plans over aviation concerns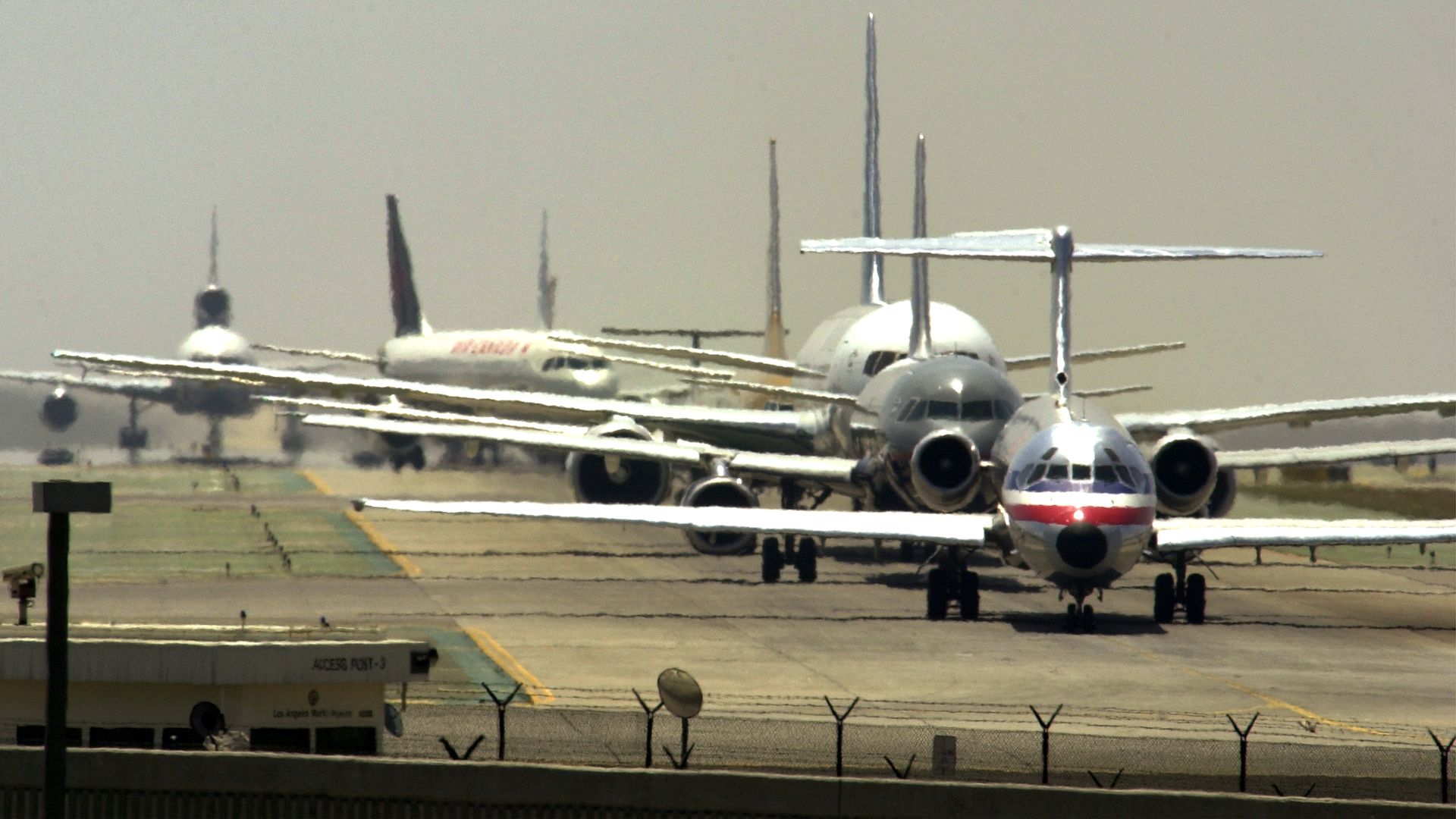 AT&T and Verizon late Monday said they would briefly delay a planned deployment of 5G services, reversing course in an ongoing fight with the aviation industry.
Why it matters: The Federal Aviation Administration has warned that without protections, potential interference from 5G signals could lead to flight cancellations or planes being diverted from airports.
Driving the news: The wireless companies initially rejected a request from Transportation Secretary Pete Buttigieg and FAA administrator Steve Dickson, but late Monday said they would agree to a two-week delay of their deployment plans.
The companies also say they will not operate 5G base stations along runways for 6 months while the FAA studies the issue. Those restrictions resemble rules imposed in France.
The intrigue: The debate reached the White House, with President Joe Biden applauding the agreement as a "significant step in the right direction" in a statement Tuesday.
"This agreement ensures that there will be no disruptions to air operations over the next two weeks and puts us on track to substantially reduce disruptions to air operations when AT&T and Verizon launch 5G on Jan. 19," Biden said in the statement.
In a letter to the carriers, Buttigieg and Dickson say they will not seek a further delay of 5G deployment in light of the mitigation agreement from the companies, absent "unforeseen aviation safety issues."
What they're saying: "At Secretary Buttigieg's request, we have voluntarily agreed to one additional two-week delay of our deployment of C-Band 5G services," AT&T said in a statement. "We also remain committed to the six-month protection zone mitigations we outlined in our letter."
"We've agreed to a two-week delay which promises the certainty of bringing this nation our game-changing 5G network in January delivered over America's best and most reliable network," Verizon spokesperson Rich Young said.
The FAA said in a statement: "Safety is the core of our mission and this guides all of our decisions. The FAA thanks AT&T and Verizon for agreeing to a voluntary delay and for their proposed mitigations. We look forward to using the additional time and space to reduce flight disruptions associated with this 5G deployment."
Editor's note: This story has been updated to include statements from President Joe Biden, Transportation Secretary Pete Buttigieg and FAA administrator Steve Dickson.
Go deeper