Beto rejects Trump as foil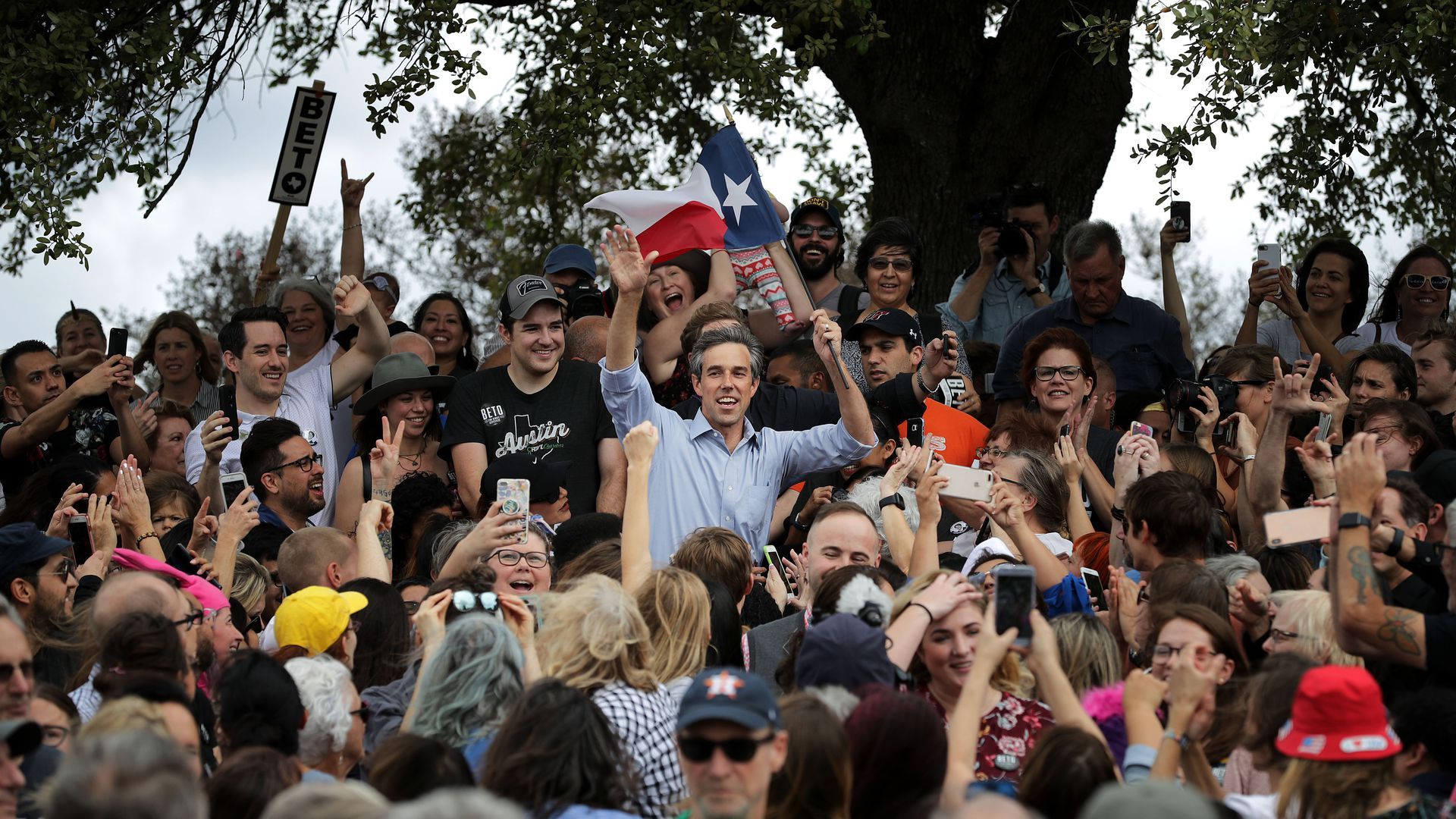 Democrat Beto O'Rourke, sprinting through his second day on the campaign trail with stops in San Antonio and Laredo, signaled he'll avoid the playbook that failed Terry McAuliffe in Virginia, telling Axios, "Trump doesn't live in Texas. Biden doesn't live in Texas. Thirty million of us are what's most important to me."
Driving the news: O'Rourke called on President Biden to place a greater emphasis on protecting voting rights, when he spoke with Axios on Tuesday, sketching a framework for his strategy in what's widely seen as an uphill fight to unseat Gov. Greg Abbott.
The new candidate responded to the governor's portrayal of him as radical after Abbott tweeted Monday, saying O'Rourke wants to "impose socialism" and "take your guns."
"I trust Texas. I trust the people of this state. They know exactly what's going on. They know where he has failed them. My responsibility is to show them a vision that includes all of us and focuses on the big things that we want to do."
"These baseless attacks that are not grounded in the facts are not going to work. This is not going to be about scaring each other or trafficking in lies. This is going to be about the future and the truth."
On Biden's slipping poll numbers, O'Rourke said: "Who the hell knows where people are going to be a year from now?"
He praised the president for his ability to push the infrastructure package through.
"I'll tell you that some of the things that he's been able to do so far like the recovery plan … this bipartisan infrastructure deal that he helped negotiate. … I think he's doing some good work up there, and of course there are things that we would like to see more progress on."
On voting rights: Texas Democrats fled the state earlier this year to stop the Legislature from passing a sweeping GOP-led election bill. The measure ultimately passed, rolling back early voting and adding new ID requirements.
"One thing that we really need [President Biden] to do that he has not done is make voting rights a priority because everything else flows from that. Everything else becomes possible once everyone who's eligible has the ability to vote."
"But regardless … what we've got to focus on is reaching out to those voters — and the only way I know how to do it is to meet them where they are — and give them a reason to vote or help them to vote where they have these obstacles or barriers in their place."
The big picture: The former congressman's decision to enter the race sets up one of the most gripping contests for the 2022 election cycle — a matchup with national interest and significance.
And Texas continues to elude Democrats.
The party hasn't won a single statewide election since 1994, and O'Rourke enters this race with name recognition from his narrow 2018 U.S. Senate loss against GOP Sen. Ted Cruz, along with the baggage of his bruising defeat in the 2020 Democratic presidential primary.
Political consultant Dave Carney, a longtime adviser to former Texas Gov. Rick Perry, told Axios' Hans Nichols: "With O'Rourke doubling down on his presidential politics, I don't think there's any shot of building a winning coalition in Texas."
Go deeper