There will be no airlift: U.S. urges Americans to leave Ethiopia now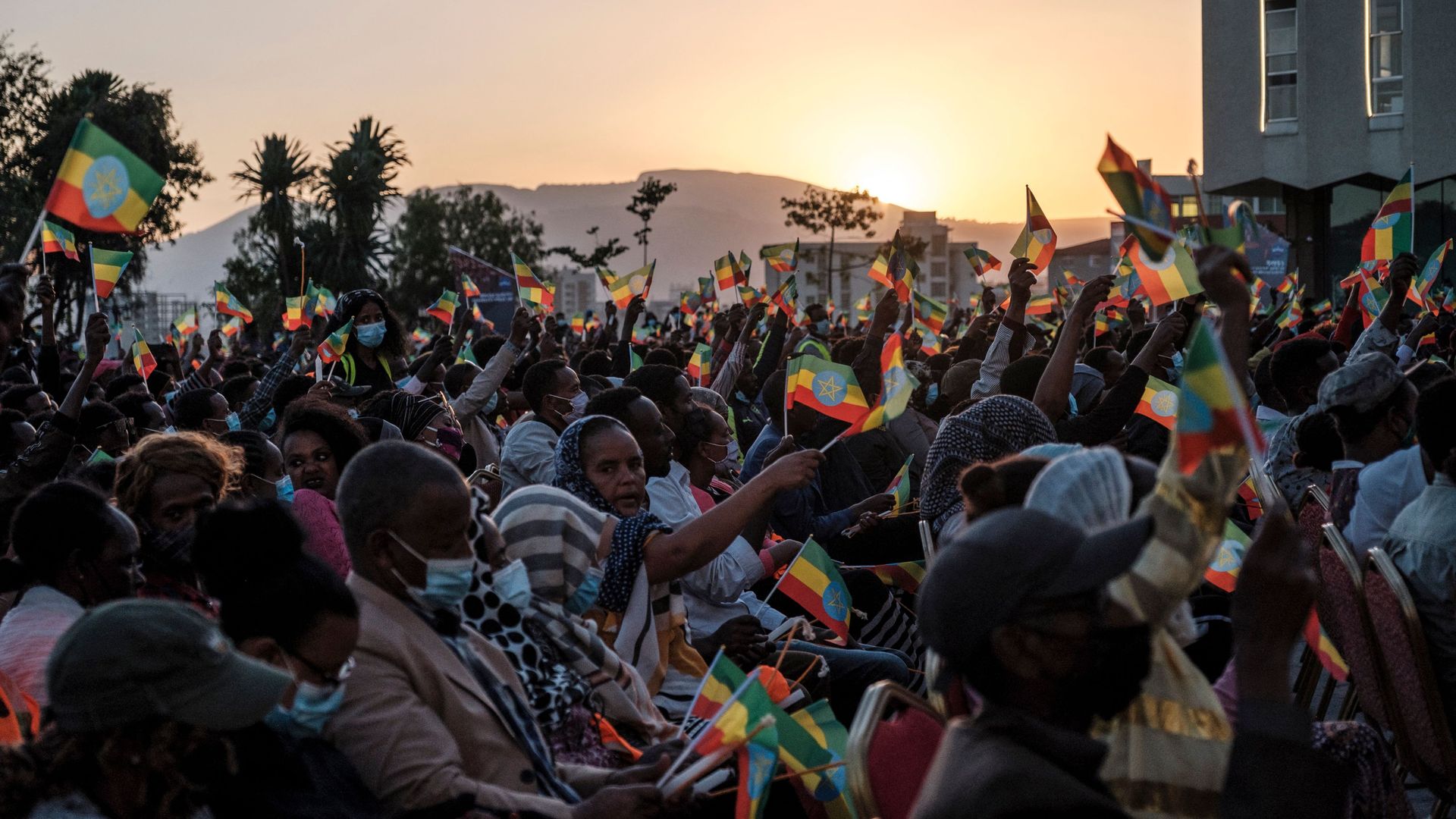 The Biden administration is warning Americans in Ethiopia to evacuate immediately or risk being trapped if the civil war spreads to the capital.
What they're saying: State Department spokesperson Ned Price said U.S. passport holders should not expect a Kabul-style airlift if the fighting reaches Ethiopia's capital, Addis Ababa. That's not going to happen, Price told Axios, calling the Afghanistan withdrawal a "unique and extraordinary situation."
"Right now, Addis is calm, and it has been calm since the conflict started to spread," Price said. There are flights leaving daily with excess capacity, and financing is available through the U.S. Embassy for Americans who can't afford tickets, Price added.
But there's a possibility the conflict could reach Addis Ababa and that commercial carriers wouldn't be able to get out, he said. There are a significant number of U.S. passport holders in the Ethiopian capital, most of whom are dual citizens.
Between the lines: The State Department's message is that U.S. citizens must get out now, or risk being trapped in a war zone.
State of play: One year after Prime Minister Abiy Ahmed launched an offensive to topple regional leaders in Tigray who had rebelled against the federal government, it's now the rebels who are advancing, and the national capital could come under threat.
The Tigray People's Liberation Front (TPLF) — which dominated Ethiopia's government before being pushed aside by Abiy in 2018 — has allied with the Oromo Liberation Army under the banner of ethnic self-determination, against Abiy's vision of a strong central state.
The rebels claim to have pushed within 200 miles of Addis Ababa. Abiy declared a state of emergency this month and urged citizens to take up arms if necessary.
Driving the news: Secretary of State Tony Blinken warned Friday that a prolonged civil war "could lead to the implosion of Ethiopia and spill over into other countries in the region."
The breakdown of the fighting along ethnic lines, and the persistent reports of war crimes on all sides, have led to fears of a repeat of Rwanda — this time in Africa's second-largest country.
What to watch: Blinken will fly overnight tonight to Kenya. He'll meet in Nairobi with President Uhuru Kenyatta, who just returned from Addis Ababa and has called for a halt to the fighting.
The ceasefire push is being led by African Union envoy Olusegun Obasanjo, a former Nigerian president.
Currently, neither a ceasefire nor the fall of Addis Ababa appears imminent.
In the longer term, it remains to be seen whether Abiy will retain power or whether the state itself can hold together, Nic Cheeseman and Yohannes Woldemariam write in Foreign Affairs.
Zoom out: During his trip, which will also include stops in Nigeria and Senegal, Blinken will give a speech laying out the administration's approach to Africa.
Go deeper