Netflix debuts new streaming metrics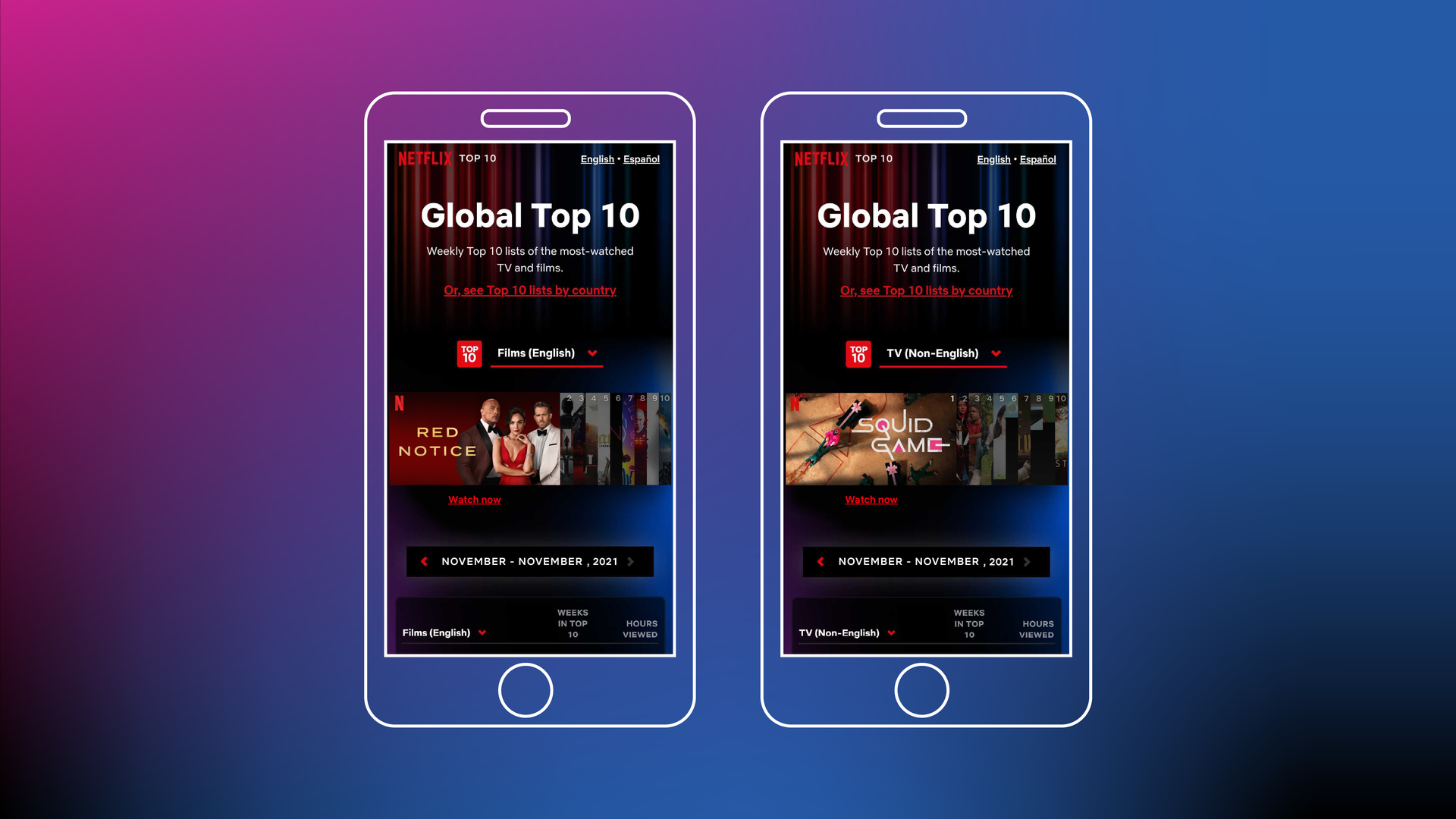 Netflix on Tuesday unveiled a new website that's meant to provide a more transparent look at how its content is performing. It also unveiled a new way to measure that performance.
Why it matters: Netflix has long faced criticism that the numbers it reveals about its content are inconsistent and, because they aren't vetted by third parties, they're biased.
Now that the streaming landscape has become more competitive, it wants to introduce more reliable data.
Details: The new website, Top10.Netflix.com, shows the top 10 movies and TV series by hours viewed. It also shows how many weeks that content has been in the top 10.
This is different from the way Netflix used to count viewership, which was the number of accounts that viewed a title.
The site features top-10 lists for English TV series, English movies, non-English TV series and non-English movies. Non-English lists account for viewership in over 90 countries.
For example, for the first week of November, Netflix says that its South Korean hit "Squid Game" has been viewed for 65 million hours and that it was on Netflix's top-10 non-English list for four weeks.
Netflix says the site will update weekly on Tuesdays with hours viewed from the previous Monday through Sunday. It will feature historical top-10 lists dating back to June 28.
It will also show the top all-time performing content on Netflix, based on its first 28 days on the service.
All titles are eligible to be on Netflix's new top-10 lists. Each season of a series is measured separately.
Between the lines: The company also published its most recent top-10 streaming lists for the week of Nov. 8–14.
"Red Notice" was the most-viewed English film with nearly 148 million hours viewed.
"Squid Game" Season 1 was the most-viewed non-English TV series with nearly 43 million hours viewed.
"Narcos" Season 3 was the most-viewed English TV series with 50 million hours viewed.
"Yara" was the most-viewed non-English film with nearly 18 million hours viewed.
The most popular Netflix content of all time isn't shocking.
"Bridgerton" Season 1 is its most popular English TV series with 625 million hours viewed.
"Squid Game" Season 1 is its most popular non-English TV series with 1.6 billion hours viewed.
"Bird Box" is its most popular English film with 282 million hours viewed.
"Blood Red Sky" is its most popular non-English film with 111 million hours viewed.
Yes, but: This isn't the first time Netflix has rolled out new viewership metrics. And although these metrics aim to address criticisms of its measurement systems, they still aren't being independently produced.
In 2018, Netflix touted viewership for its movie "Bird Box," but said a view counted once a user surpassed 70% of the total running time, including credits.
In 2020, it said it would count any user that watched at least two minutes of a series or film as a "viewer."
To ensure credibility, the company says it has engaged EY, an independent accounting firm, to review its new viewing metrics. Netflix says it will publish a report from EY on its metrics in 2022.
The big picture: As the subscription streaming landscape becomes more saturated, it's become harder to measure content performance across different platforms.
As a result, there have been several new third-party measurement firms that analysts rely on to understand the success of various streaming titles. Netflix is getting ahead of this trend by introducing a metric that it thinks can better reflect the success of its content compared to rivals.
Last month, Netflix told investors that it thinks its new system is not only a better indicator of overall success of its titles, but it "also matches how outside services measure TV viewing and gives proper credit to rewatching."
Go deeper