Scoop: Biden appointing infrastructure chief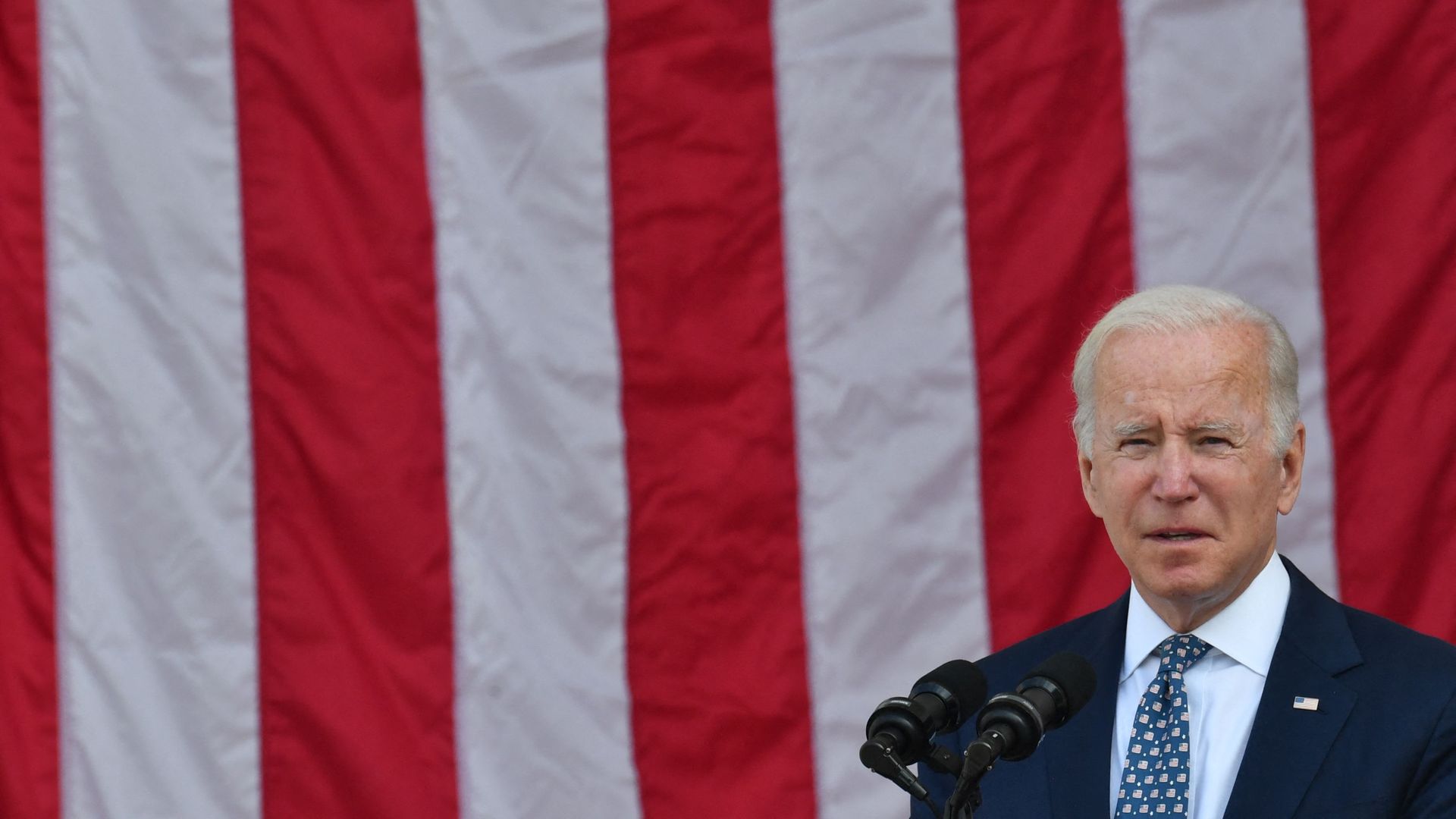 President Biden plans to install a point-person in charge of infrastructure to ensure his administration properly implements its trillion-dollar legislation, two sources familiar with the plans tell Axios.
Why it matters: Biden and his top aides know they need to flawlessly execute on their mammoth plan. It may be Biden's best — and, perhaps, only remaining — opportunity to show voters Democrats can deliver major changes to improve people's lives.
The White House press office did not have an immediate comment.
Flashback: In February 2009, President Obama put then-Vice President Joe Biden in charge of implementing their $787 billion stimulus package, calling Biden "Sheriff Joe."
"The fact that I'm asking my vice president to personally lead this effort shows how important it is for our country and future to get this right," Obama said.
What we're hearing: A source with direct knowledge of the appointment said the new role would be called the "infrastructure implementation coordinator."
The goal is to streamline the grant-and-spending process and prevent fraud as the $1.2 trillion in funding is dispersed.
The infrastructure spending is divided into two parts: $650 billion for existing — and mostly pre-planned — highway and transportation spending; and $550 billion for new projects, including an additional $110 billion for roads and bridges that would not have been otherwise modernized or constructed.
American could see the benefits from another $65 billion for high-speed internet access well before the 2024 election, especially a $14.2 billion program to provide a $30-a-month voucher to low-income Americans to pay for internet service.
There's also $66 billion for passenger and freight rail, which the Amtrak chief told "Axios on HBO" would be "absolutely transformational."
Go deeper: It's not yet known who Biden will pick to fill the job, but if history is a guide, it will be somebody he's known for a long time and trusts implicitly.
When Biden took office he viewed the coronavirus as by far his biggest challenge — and one that would define his presidency.
He appointed Jeff Zients, a former Obama National Economic Council director who ran the presidential transition, to oversee his administration's overall COVID response. He also empowered Zients across agencies.
He tapped another former NEC adviser, Gene Sperling, to monitor spending for the $1.9 trillion COVID-19 relief package the president signed into law in March. It included new programs like an expanded child tax credit, as well as billions in enhanced unemployment benefits.
Behind the scenes: A Biden adviser said the administration doesn't expect an immediate bump in the president's approval ratings.
Inflation is soaring and they'll be hit with another wave of negative stories as supply chains remain clogged over the holiday season.
But the optimists on Biden's team hope voters see enough positive changes in their lives by next fall — and give credit to the president for them — to give Democrats a fighting chance to hold onto power in the midterm elections.
Between the lines: Overseeing the new infrastructure spending is an important job, but a similar position for the proposed $1.75 trillion in social spending Congress is now negotiating would be an even bigger one.
The Build Back Better position would involve working with state and local governments, and fashioning entirely new programs, like universal pre-K and home care for the disabled and elderly.
Go deeper