Big business sharpens attack on Build Back Better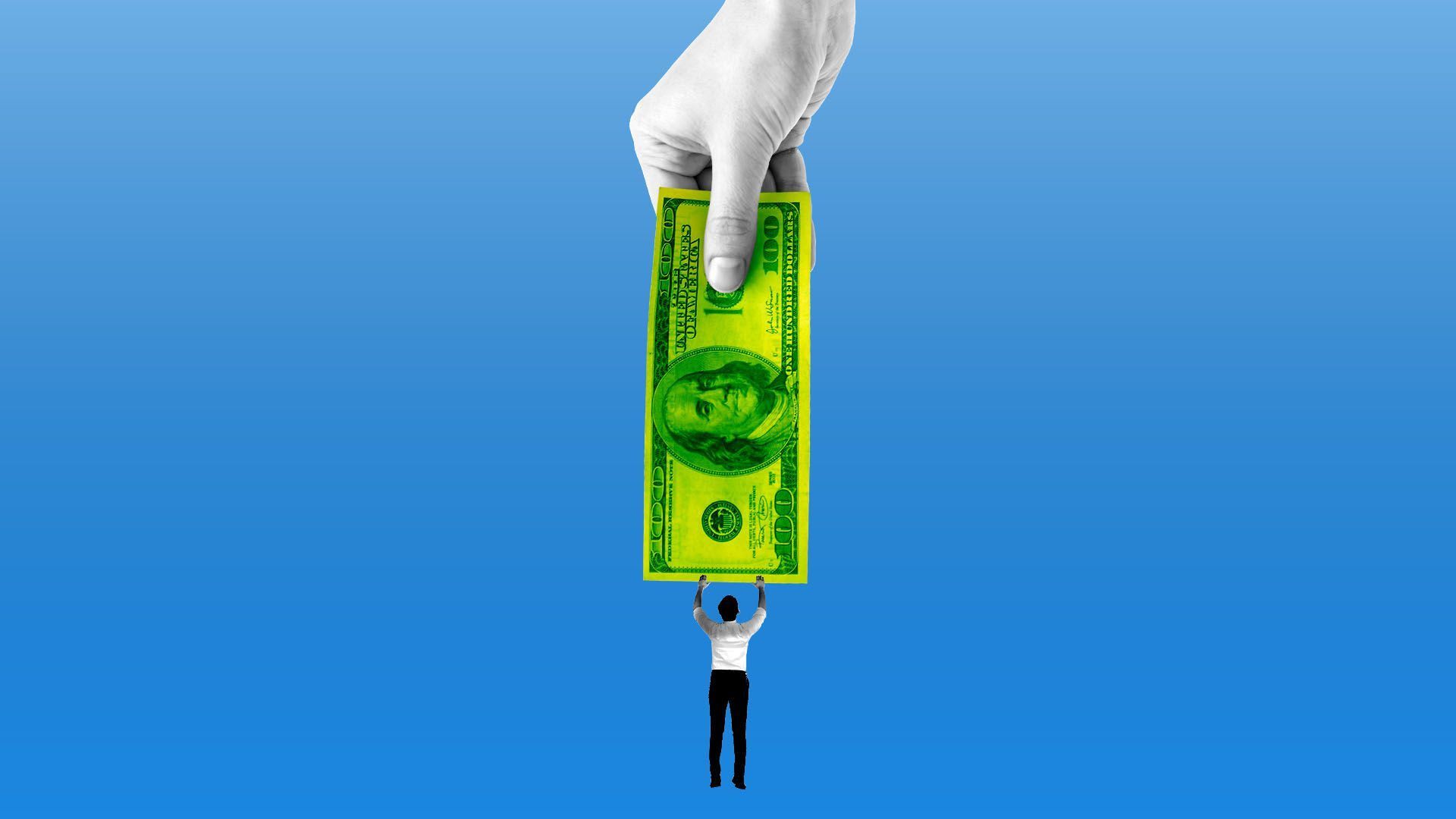 Business groups are sharpening their attacks on President Biden's Build Back Better package, warning congressional Democrats about its overall costs, potential effects on inflation and $800 billion in corporate tax increases.
Why it matters: The White House relied on some of these same groups — like the Chamber of Commerce and Business Roundtable — to pass the $1.2 trillion bipartisan infrastructure bill.
Corporate America now wants to pocket that win and try to kill any tax increases to pay for Biden's $1.75 trillion social and climate spending package.
That's exactly what progressive lawmakers feared all along.
"We are fighting against the reconciliation bill because it's bad for the economy and bad for business," Neil Bradley, the Chamber's chief policy officer, told Axios. "We fought for the infrastructure bill because it was good for the economy and good for business."
Driving the news: The Chamber is starting to lobby House Democrats, including those it endorsed during the last election cycle, to argue the bill needs a full cost analysis from the Congressional Budget Office.
The Business Roundtable is targeting the 15% minimum book rate and new taxes on foreign earnings, which will "erode America's competitive standing," said Cathy Schultz, the group's vice president of tax and fiscal policy.
"We strongly support the infrastructure bill because it is bipartisan," she said. "Build Back Better includes more than $800 billion in sweeping tax increases on U.S. companies."
The National Association of Manufacturers is already up with a seven-figure ad buy to pressure Democrats to vote against the bill.
Between the lines: While the D.C. lobbying organizations are opposed to Build Back Better, the opposition isn't uniform across corporate America.
The other side: The White House insists its plans to increase taxes on corporations and the wealthiest Americans is popular across the country. It's eager to engage in a debate about taxes.
Officials from the president on down like to cite a statement from 17 economics Nobel laureates saying the spending won't increase inflation.
"If the big corporations who can afford armies of lobbyists are so desperate to maintain the special tax rules they've written for themselves ... then that tells you where they stand," said White House deputy press secretary Andrew Bates.   
The intrigue: The Chamber has supported an infrastructure package for some 25 years but it's been opposed to Biden's bigger social spending agenda from the beginning.
It hasn't been coordinating its anti-social spending efforts with House Republican leaders recently, because they remain angry at the Chamber for helping elect Democrats in 2020.
Republican leaders booted the Chamber for their strategy calls last month, according to Punchbowl News, and they don't appear to be in any hurry to make up.
"They have taken 20 steps backward. Their engagement on reconciliation is one step forward," said a GOP leadership aide. "We're not looking for fair-weather friends."
What we're watching: Some of BBB's tax provisions may survive, simply because there's a need to offset spending in the package.
"If the book minimum tax survives, it is not because it's a good idea, but because it is the least bad of the bad ideas available," said Rohit Kumar, co-leader of PwC's national tax office.
Go deeper