Liz Cheney: Trump is at "war with the rule of law and the Constitution"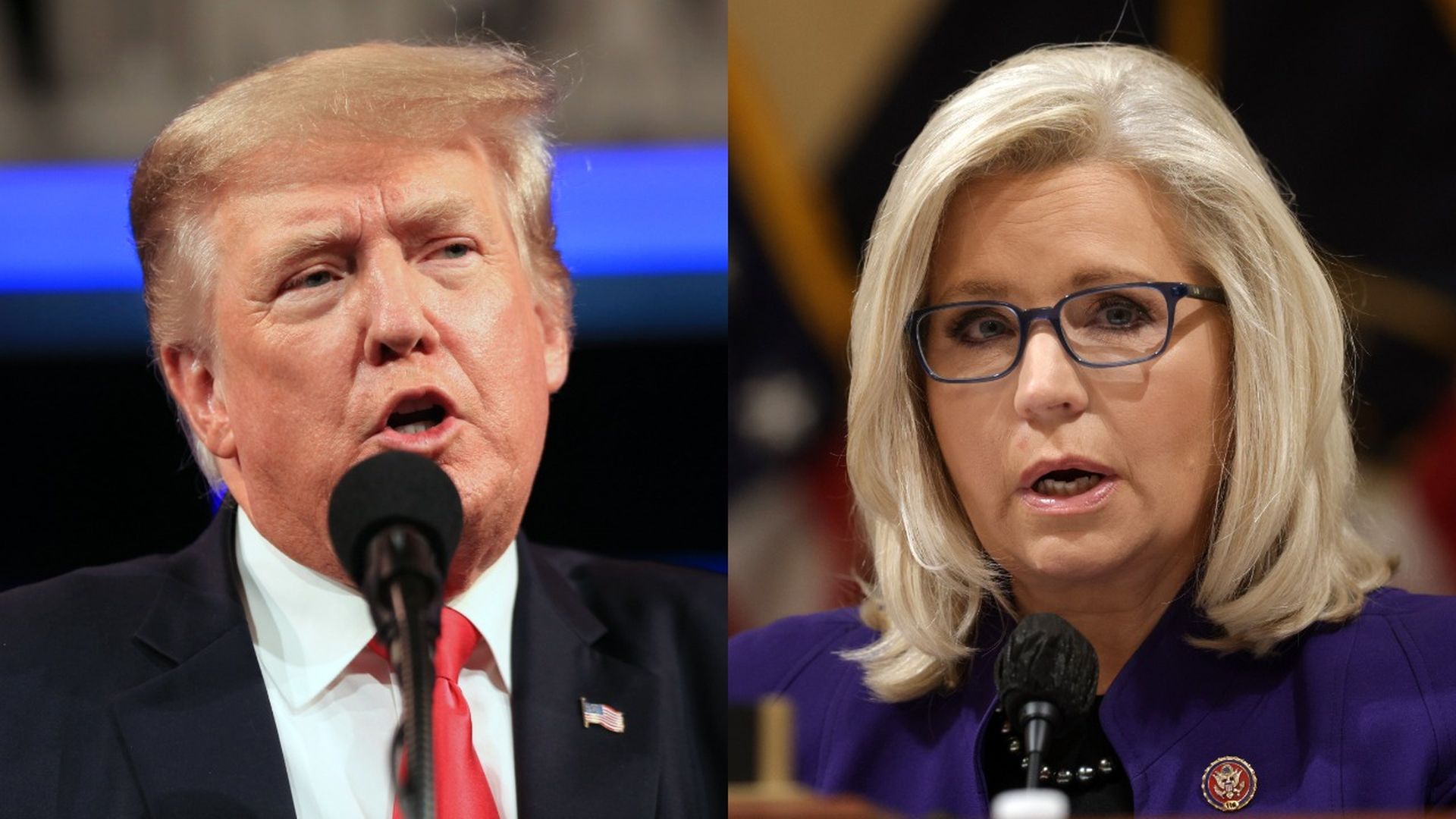 In a fiery speech on Tuesday, Rep. Liz Cheney (R-Wyo.) called on the Republican Party to reject former President Trump's lies and return to an identity rooted in "fidelity to the Constitution ... [and] the rule of law."
Why it matters: The GOP has struggled to determine its direction as a party, and how much it should lean into Trumpism. Cheney, who sits on the House Jan. 6 select panel, is one of Trump's most vocal critics.
What she's saying: The U.S. is "confronting a domestic threat that we have never faced before; a former president who's attempting to unravel the foundations of our constitutional republic," Cheney said in an address at a New Hampshire free speech event.
Republican leaders "have made themselves willing hostages to this dangerous, irrational man," she said, noting that Trump continues to use language "that he knows provoked violence on Jan. 6."
"Political leaders who sit silent in the face of these false and dangerous claims are aiding a former president who is at war with the rule of law and the Constitution," she added.
Though she disagrees with almost all of President Biden's agenda, "when our constitutional order is threatened as it is now, rising above partisanship is not simply an aspiration; it is an obligation ... of every one of us," she said.
"This nation needs a Republican Party that is based on truth, one that puts forward our ideals and our policies based on substance, one that is willing to reject the former president's lies," she said.
"We need Republican leaders who remember that fidelity to the Constitution, fidelity to the rule of law — those are the most conservative of conservative principles."
The big picture: Cheney has exchanged frequent fire with Trump in recent months with the House select committee ramping up its investigation of the Capitol insurrection.
Don't forget: Cheney faced calls for her removal from House GOP leadership after she voted to impeach Trump. She initially retained her leadership position, but Republicans voted in May to remove her as conference chair.
Go deeper: New GOP brand: Trump Light
Editor's note: This story has been corrected to show that Liz Cheney was removed from her House GOP leadership position in May.
Go deeper