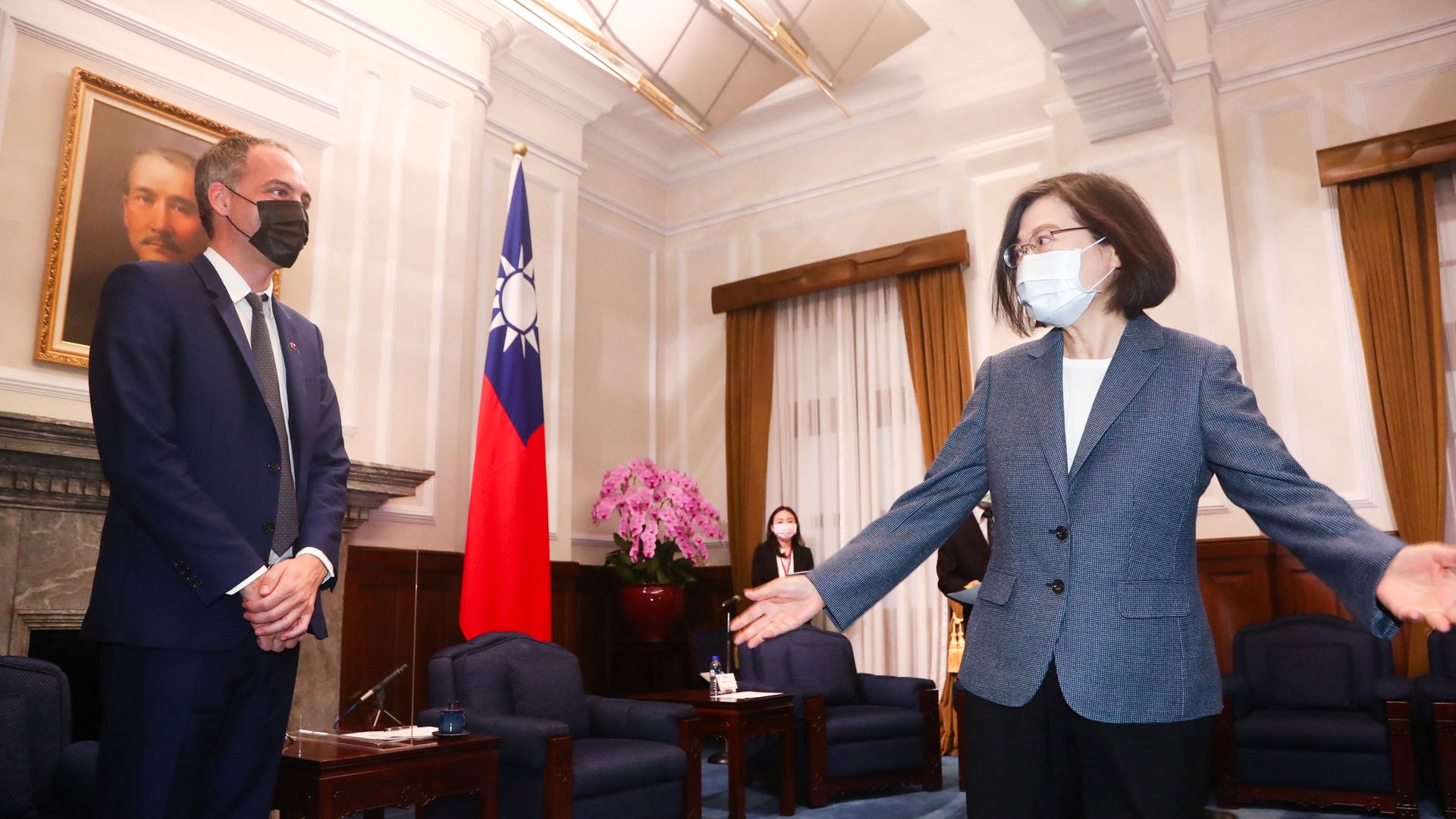 Two weeks after the European Parliament voted 580-26 on a resolution to strengthen EU-Taiwan relations, an official delegation of lawmakers traveled to Taiwan for the first time to deliver a simple message: "You are not alone."
Why it matters: Taiwan is an industrialized democracy that has faced growing military intimidation from the Chinese government, which views the self-governing island as a breakaway territory that must be brought under its control.
The visit by European lawmakers last week sparked outrage from China's Foreign Ministry, which has warned that any country attempting to bestow international legitimacy on Taiwan will "pay a price."
The big picture: The intensifying U.S.-China rivalry is expected to dominate the next century of geopolitics.
A vocal, cross-border cadre of Europeans is seeking to ensure there is no ambiguity about where the EU stands in the clash between authoritarianism and democracy.
One way is by building ties with Taiwan, whose foreign minister paid a secret visit to Brussels last month after stopping in other EU capitals.
State of play: The EU's official stance is that China is simultaneously a partner, a competitor and a systemic rival — a dynamic that has drawn allegations of "fence-sitting" from some critics.
EU leaders say they do not wish to be dragged into a no-win conflict between the U.S. and China and that the world must deal with China how it is, not how they wish it to be.
But like many countries whose views of China have soured over the last two years, that attitude of nonconfrontation may slowly be starting to shift.
French member of the European Parliament Raphaël Glucksmann told Taiwan's Premier Su Tseng-chang during last week's visit: "You have shown that in this region, democracy can flourish and that authoritarian regimes are not the future."
How we got here: Last year ended with EU leaders joining Chinese President Xi Jinping on a videoconference call to finalize a landmark investment deal championed by German Chancellor Angela Merkel, much to the frustration of lawmakers who had raised concerns about forced labor.
Three months later, the EU joined the U.S., U.K. and Canada in sanctioning Chinese officials involved in human rights abuses against the Uyghurs — a symbolic, but overall mild expression of the West's disapproval.
China responded furiously, sanctioning 27 EU ambassadors, several think tanks and scholars, and prominent members of the European Parliament like Glucksmann who had been critical of Beijing. The EU was forced to freeze the investment deal.
Dovilė Šakalienė, a Lithuanian lawmaker who led parliamentary efforts in the country to designate China's treatment of Uyghurs as genocide, was among those blacklisted.
"I believe that the European Union, probably for the first time in decades, is now understanding more and more how dangerous the People's Republic of China is," Šakalienė told Axios in an interview.
The backdrop: Lithuania is a tiny Baltic nation whose economy is 1/270th the size of China's, but it's been at the forefront of European efforts to confront Beijing's authoritarianism.
That's made it the target of an unprecedented campaign of economic coercion by China.
"It's extraordinary," President Biden's nominee for ambassador to China, Nick Burns, testified in his confirmation hearing. "The Chinese government has launched an intensive intimidation campaign ... and the Lithuanians have stood up and they've held their ground. They deserve our support."
Between the lines: Šakalienė, who is also a co-chair of the Inter-Parliamentary Alliance on China, says she and other Lithuanians whose families were persecuted by the Soviets draw heavily from those memories of repression.
"Our very close-up, firsthand experience with a communist regime helps us understand how propaganda of communists works and how tough it is to be a small part of land surrounded by a huge, bloody regime," she said.
"If the world does not support you and you are left alone, it's very easy to fall into despair."
What to watch: Much of Europe's hardline rhetoric on China comes from members of the European Parliament, which has little control over the EU's executive institutions, or national lawmakers who aren't in government.
Lithuania aside, there's "a tendency to be critical of China when you're not holding the reins of power," says Noah Barkin, an expert on Europe-China relations at the Rhodium Group.
That theory will be tested by the next German government, in which a pair of junior parties are pushing the coalition to take a harder line on Beijing, rather than continue Angela Merkel's pro-engagement legacy.
Go deeper