AOC, The Squad defend infrastructure "no" vote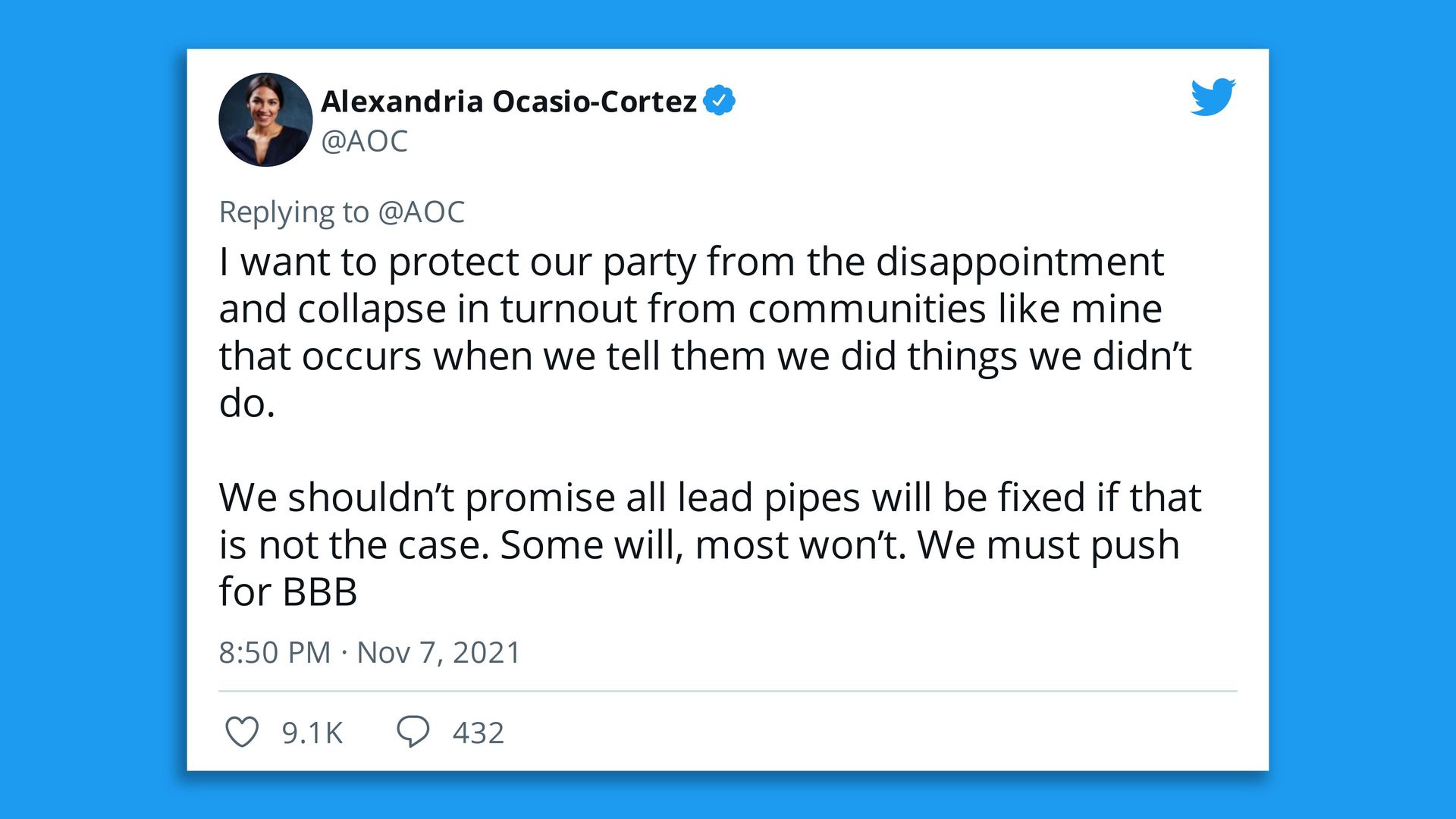 Rep. Alexandria Ocasio-Cortez (D-N.Y.) is trying to tweet her way out of her vote against the Democrats' $1.2 trillion infrastructure bill — even correcting President Biden's claims about its benefits.
Why it matters: AOC, the rest of The Squad and two other progressives were the only Democrats to vote against the bill. That prompted criticism from their colleagues and social media followers, since the road-and-bridge spending will so directly impact their constituents. Thirteen Republicans helped cover their lost votes.
The big picture: The Squad's argument is that the bipartisan infrastructure bill is the beginning of transformational change — not the end.
Ocasi0-Cortez and Reps. Ilhan Omar (D-Minn.), Rashida Tlaib (D-Mich.) and Ayanna Pressley (D-Mass.) say they weren't willing to vote for it without an assurance of passing the larger, $1.75 trillion "Build Back Better" social spending package.
Joining them in the no-votes were Reps. Cori Bush (D-Mo.) and Jamaal Bowman (D-N.Y.).
Critics have complained they let the perfect become the enemy of the good. An AOC spokesperson declined comment beyond her tweets.
What they're saying: In his early messaging on Twitter, the president proclaimed: "We're finally going to get rid of our nation's dangerous lead pipes, thanks to this infrastructure deal. Every kid in this country will be able to turn on the tap and drink clean water."
AOC fact-checked the president: She noted the bill provided $15 billion for lead-pipe replacement; she said the country needs up to $60 billion.
"We can and should message BIF as a step, but messaging it as a solution alone is going to get us into trouble," she also wrote on Twitter.
"I want to protect our party from the disappointment and collapse in turnout from communities like mine that occurs when we tell them we did things we didn't do."
Between the lines: Progressives aren't alone inside Congress continuing to push against their own.
Indivisible, a national progressive organization, released a slate of initial 2022 candidate endorsements "who have stood strong for progressive priorities and fought for President Biden's full agenda."
The intrigue: The list included Reps. Pramila Jayapal (D-Wash.) and Mondaire Jones (D-N.Y.), both of whom voted for BIF.
A spokesperson for the group told Axios no one vote was a factor in determining who Indivisible decided to back.
In its memo, though, the group's suggested messaging around its favored candidates specifically highlighted how "progressives in Congress have flexed their power" this year.
That includes "tough decisions where progressives stuck together, like committing to vote down insufficient legislation to make sure bold solutions are passed instead."
The group's national advocacy director, Mary Small, cast the no-votes as a badge of honor.
"Their votes showed that, unlike the corporate Democrats dead-set on derailing the heart of President Biden's agenda on behalf of their corporate donors, they know what it means to serve the people they represent," Small said in a statement.
Go deeper