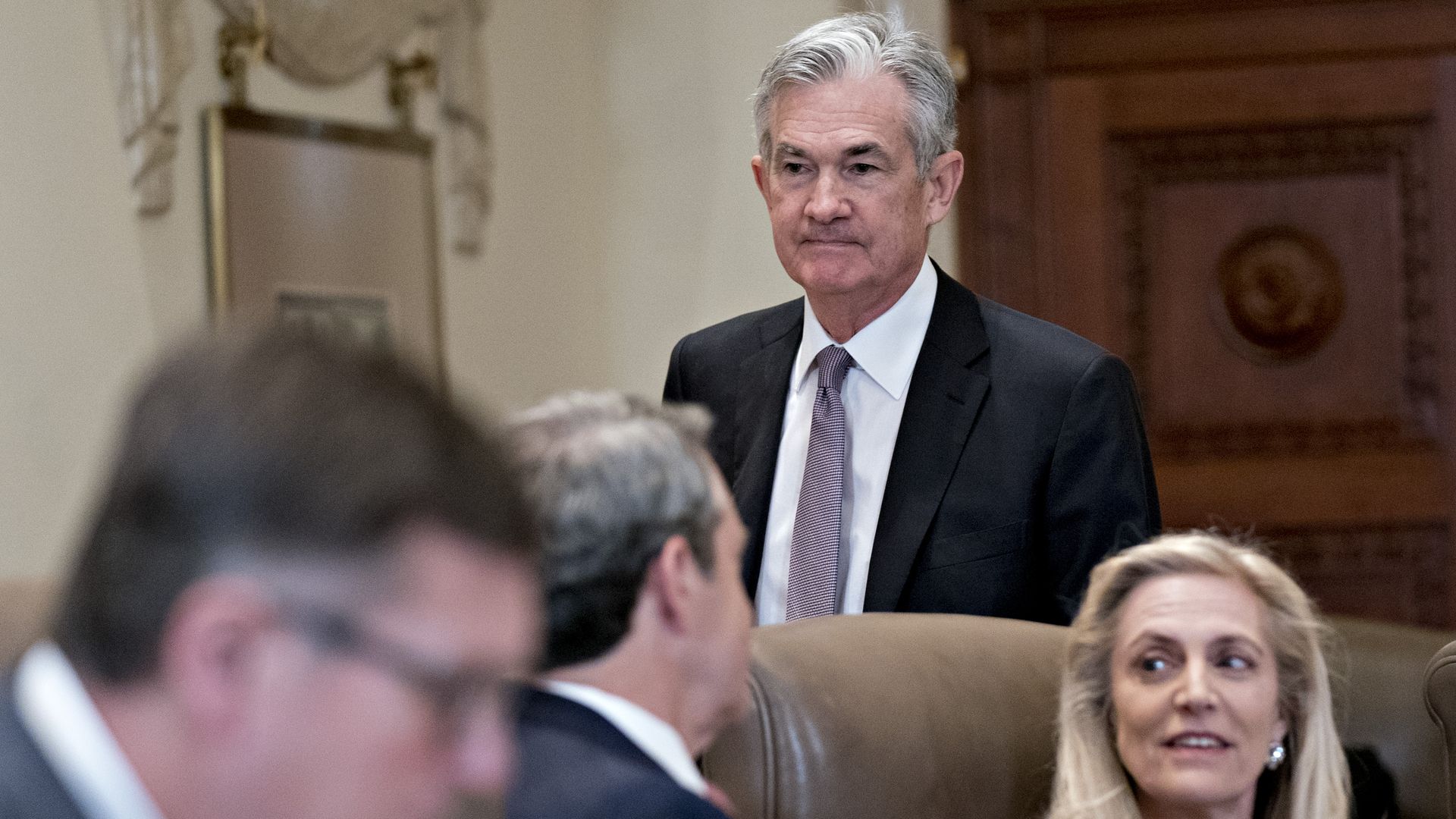 President Biden has more than economics on his mind as he weighs his choice to lead the Federal Reserve: His pick will impact inflation, face the cruel judgment of financial markets and somehow need to find 50 votes in deeply divided Washington.
Why it matters: The head of the U.S. central bank is vested with vast powers that determine how quickly to heat — or cool — the economy. The results will be pivotal to Democrats' midterm chances next year, and Biden's potential re-election campaign in 2024.
While the president publicly insists inflation is largely temporary, his aides are privately alarmed by the broader effects of supply-chain disruption.
That includes all bad — and visible — problems for everyday Americans, from higher prices and longer product delays to empty store shelves.
Driving the news: Biden has been conducting a deliberative process.
He met Thursday with the current chair, Jay Powell, a Republican appointed by President Trump, as well as Lael Brainard.
She's a former Obama Treasury official who's currently a Fed governor.
Biden said last week he'd announce his choice for chair and other Fed nominees "fairly quickly."
The case for Powell: Markets know, like and trust the former private equity executive.
If he's reappointed, there won't be a revolt from Wall Street as the White House looks to pass Biden's $1.75 trillion Build Back Better agenda, fund the government and raise the debt ceiling.
Markets also may allow Powell to let inflation run a little bit hotter before demanding the Fed act.
Powell has some Democratic support, including the backing of Sen. Jon Tester (D-Mont.), an influential member of the Senate Banking Committee. Powell was confirmed in 2018 by a lopsided vote of 84-13.
Powell worked adeptly — and across the aisle — in finding new tools to fight the economic fallout of the pandemic, and he's moved toward a more progressive position on climate change.
Some Republicans are vowing to block Brainard, calling her too liberal, and hinting at an ugly confirmation fight.
The case for Brainard: She's an actual economist and actual Democrat, and is more aligned with Biden on a range of fiscal, monetary and regulatory issues.
Sen. Elizabeth Warren (D-Mass.) has called Powell — to his face — a "dangerous man." It's unclear if the White House wants to go to war with her over the Fed.
Brainard has advocated for the Fed to do more about climate change and has hinted that big changes are coming.
Democratic presidents deserve to pick their Fed chairs, and shouldn't be bullied to keep a Republican holdover. Just because Presidents Clinton and Obama reappointed Republicans doesn't mean Biden must do the same.
While current Treasury Secretary Janet Yellen was the first woman to serve as Fed chair, and Brainard wouldn't be a "first," the White House still puts a big premium on gender diversity.
Between the lines: Yellen has privately urged the White House to reappoint Powell and publicly praised him as "experienced and credible" last week.
But she was also careful to tell Reuters "there are other candidates too, who I think would be similarly perceived."
Given Warren's vocal opposition to him, the president may have to choose between his Treasury secretary and a powerful progressive senator.
Ten months into his presidency, Biden has yet to buck Warren on a financial personnel decision.
Go deeper