Scoop: Senate senses Powell pick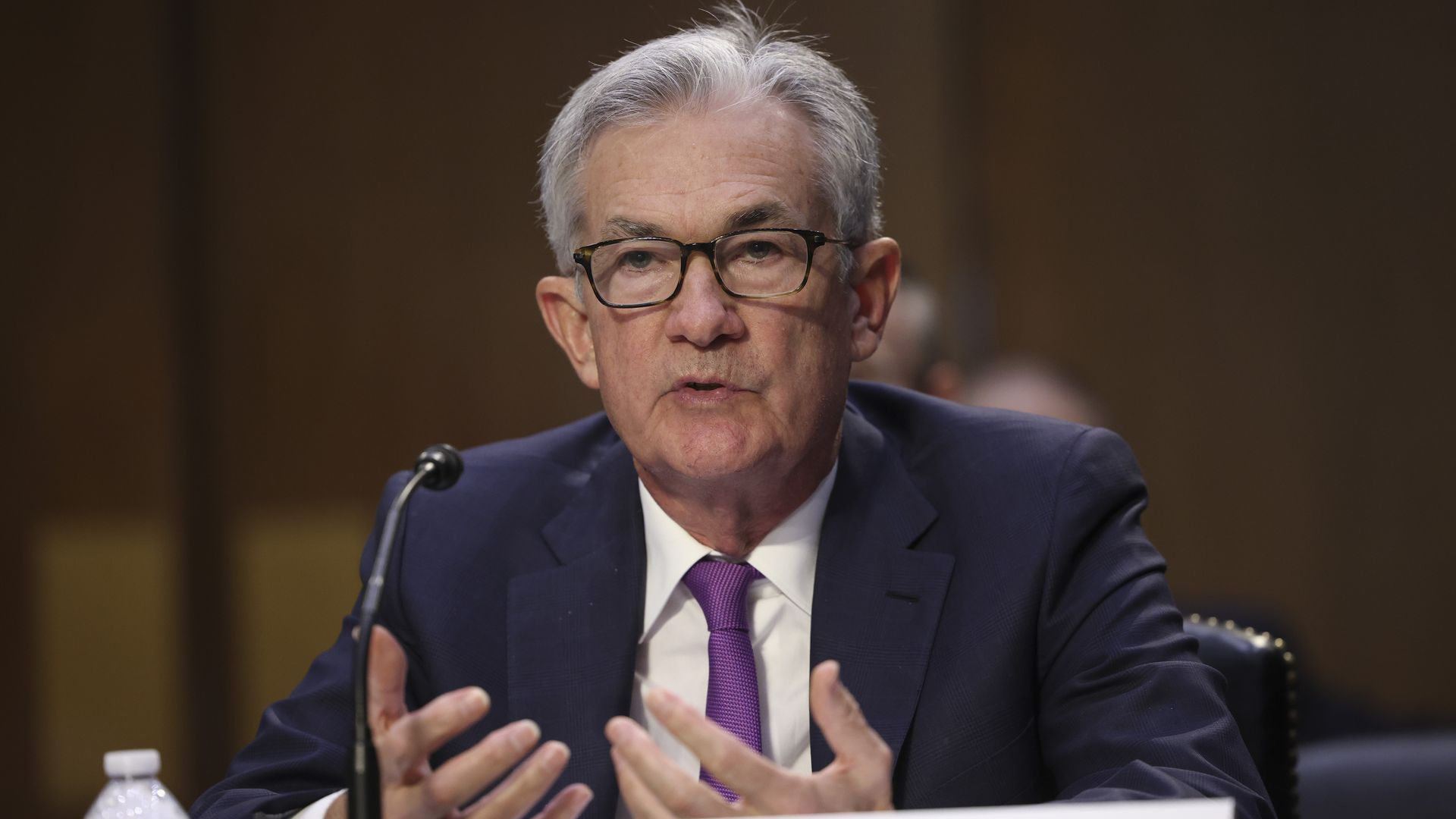 The White House is asking Democratic senators to meet with Federal Reserve chair Jerome Powell before Thanksgiving — leading some to believe President Biden will renominate him this month, people familiar with the matter tell Axios.
Why it matters: The choice of Fed chairman is one of the most consequential in the U.S. and world economic systems. Senators from both parties also are preparing for the confirmation hearing to become a proxy battle over inflation.
Republicans already criticize the Fed for its $120 billion in monthly asset purchases, known as quantitative easing.
Democrats have demanded Powell do more to combat climate change and have criticized how the Fed has regulated banks under his leadership.
A White House official said that the president hadn't made a decision yet and suggested that any potential meeting requests should not be linked to Biden's Fed choice.
Sen. Elizabeth Warren (D-Mass.) is openly hostile to Powell, putting both him and the president on notice that they'll face a contentious nomination process.
Warren called him a "dangerous man" during a hearing in September.
Other Democrats, like Sen. Jon Tester (D-Mont.), have lobbied the White House to renominate Powell.
Nonetheless, he'll need help from other centrist Democrats, as well as Republicans, to get confirmed in a 50-50 Senate.
Go deeper: Powell, a Republican nominated by President Trump in 2017 to replace then-Fed chair Janet Yellen, was confirmed for his first term by a vote of 84-13.
His term ends in February, but presidents typically make their pick known well ahead of time to give financial markets sufficient time to digest the choice.
Senate Republicans have warned Biden not to nominate Lael Brainard, currently a Fed governor, arguing she's too progressive to win their vote for Fed chair.
Driving the news: Biden told reporters Tuesday he planned to announce his Fed choice "fairly quickly," and it could be among a slate of Fed nominees.
Those hints, along with talk of scheduled Senate meetings, are fueling speculation an announcement is imminent.
"We're getting close," Sen. Sherrod Brown (D-Ohio), chairman of the Senate Banking Committee, told Axios.
"I think there's going to be up to four nominations," said Brown, alluding to other open seats, including the vice chair for bank supervision. "I assume that a number of them will be announced at once, fairly soon."
Both Powell and Brainard were at the White House on Thursday for meetings, and they are the two final candidates, according to a person familiar with the matter.
Between the lines: Powell was often under attack from Trump for not keeping interest rates lower. He's gone out of his way to improve relations with Congress.
While he's been active historically in meeting with senators, some of them noticed an uptick in Powell's interest in meeting over the summer.
On Wednesday, Powell announced the Fed would decrease its monthly purchases — so-called tapering — in the face of mounting inflation.
"We have to be aware of the risks, particularly now the risk of significantly higher inflation," he said.
Editor's note: This article has been updated to include new information from a White House official on President Biden's Fed decision considerations as well as new details on Powell and Brainard visiting the White House on Thursday.
Go deeper