Digital gifts could win the holidays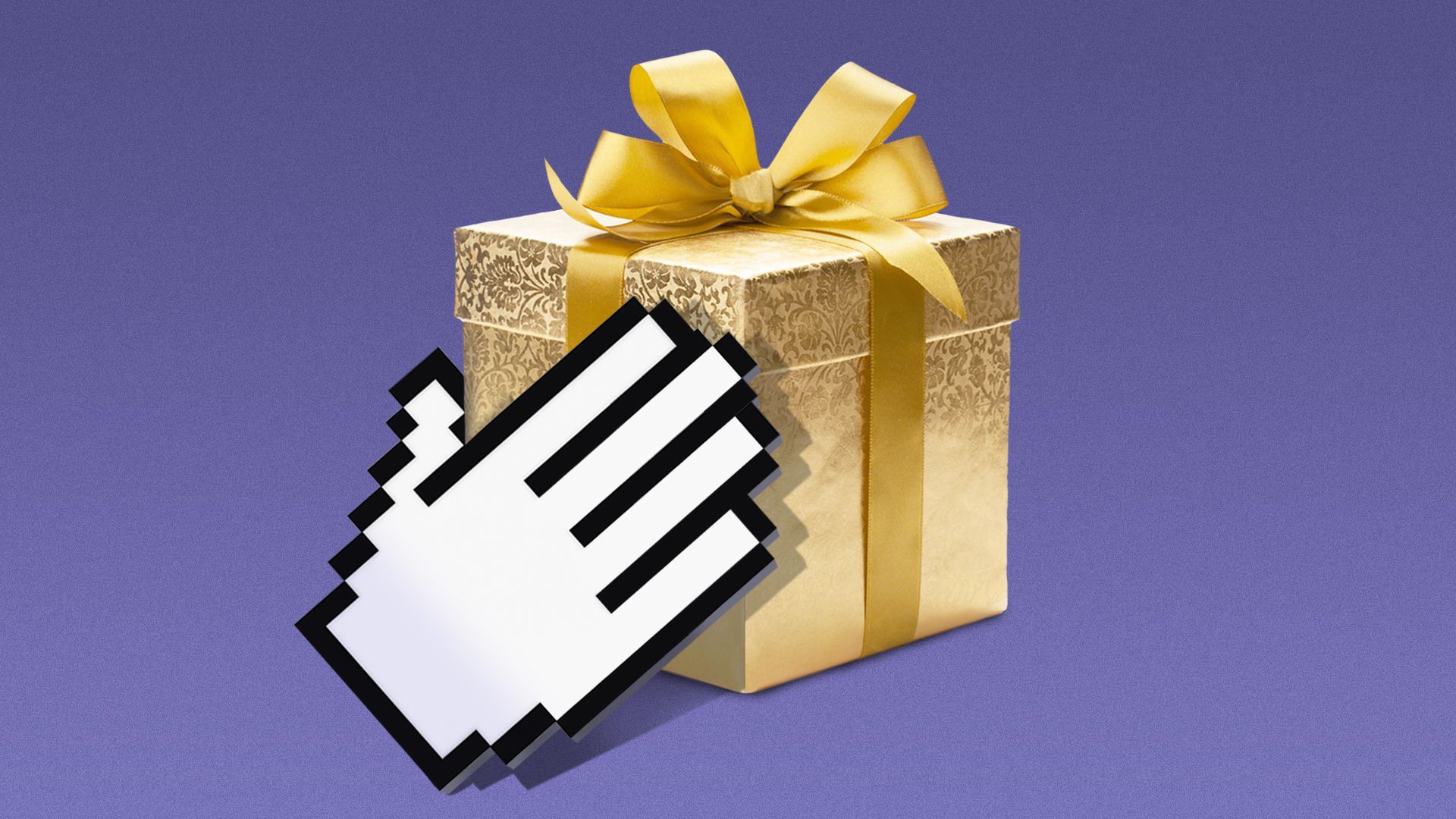 The trend toward digital gifts could accelerate this holidays with supply-chain-related shortages of some tech goods leading to shipping delays and product scarcity.
Why it matters: Digital purchases of game downloads or App Store credits are quick and easy, so those who try it may never go back to physical gifts.
Driving the news: A global chip shortage is limiting production at the same time supply chains are creaking and straining due to the pandemic.
The combination of problems will mean limited supply of certain products.
Apple, for example, said that it had $6 billion in unfulfilled demand last quarter and expects that number to be even higher this quarter, with the iPad among products that will be in short supply.
Game consoles have been particularly hard to come by for many months, including the latest Xbox and PlayStation models, but also other devices, including the Nintendo Switch and Oculus Quest.
Toshiba, which supplies components to console makers, has warned the shortage could last until 2023 and Nintendo's president said Thursday it won't be able to meet holiday demand.
Online shopping has, of course, been popular for a long time. But even online retailers may struggle to get the physical goods people want this holiday season.
Digital goods, by contrast, are in infinite supply, avoiding the need to check multiple stores, wait for packages and other hassles. And there are more options than ever, ranging from games to video service subscriptions to credits for Roblox, Fortnite or the App Store.
Be smart: Downloadable games and online service subscriptions were already growing in popularity before the pandemic, so it may be hard to tell how much of the growth is due to the pandemic.
Yes, but: For those who prefer to give tech gifts that can be unwrapped and held, there's hope. Veteran retail analyst Stephen Baker of NPD Group says there should be ample supply of most products, as long as buyers can be flexible.
"Very specific items like game consoles or GPUs or maybe a phone are hard to get but almost everything else is plentiful," Baker said. "There are plenty of laptops, lots of TVs, (and) decent amount of tablets, gaming peripherals, monitors, and sound bars."
Prices, on the other hand, could be higher, with bargains harder to find.
Overall, NPD predicts spending on consumer technology (not counting phones and game consoles) will be up about 2% from last year's record-setting holiday season and roughly 18% above 2019.   
What they're saying: A quick, unscientific poll of my Twitter followers found about three-quarters of respondents were OK with the idea of getting digital presents, while a quarter thought such gifts were a sign of laziness.
A number of people told me that reports of looming shortages aren't making them think digital, but the shortage is making them buy presents sooner or consider more locally produced goods.
"The short supply on stuff this holiday season is making me plan more [in] advance and [be] more thoughtful to the gifts I am buying people," Microsoft senior program manager Brandon LeBlanc told me. While he has one friend who he might get an HBO Max subscription, he said the rest of his family and friends would likely not be big on digital gifts. "Especially my mom."
What's next: The new frontier of digital goods includes collectibles, like NFTs (non-fungible tokens) — as well as all those virtual outfits your avatar will need to be stylish in the coming metaverse.
Go deeper: The great holiday shortage
Go deeper