Progressives roiled by Pelosi's sudden strategy shift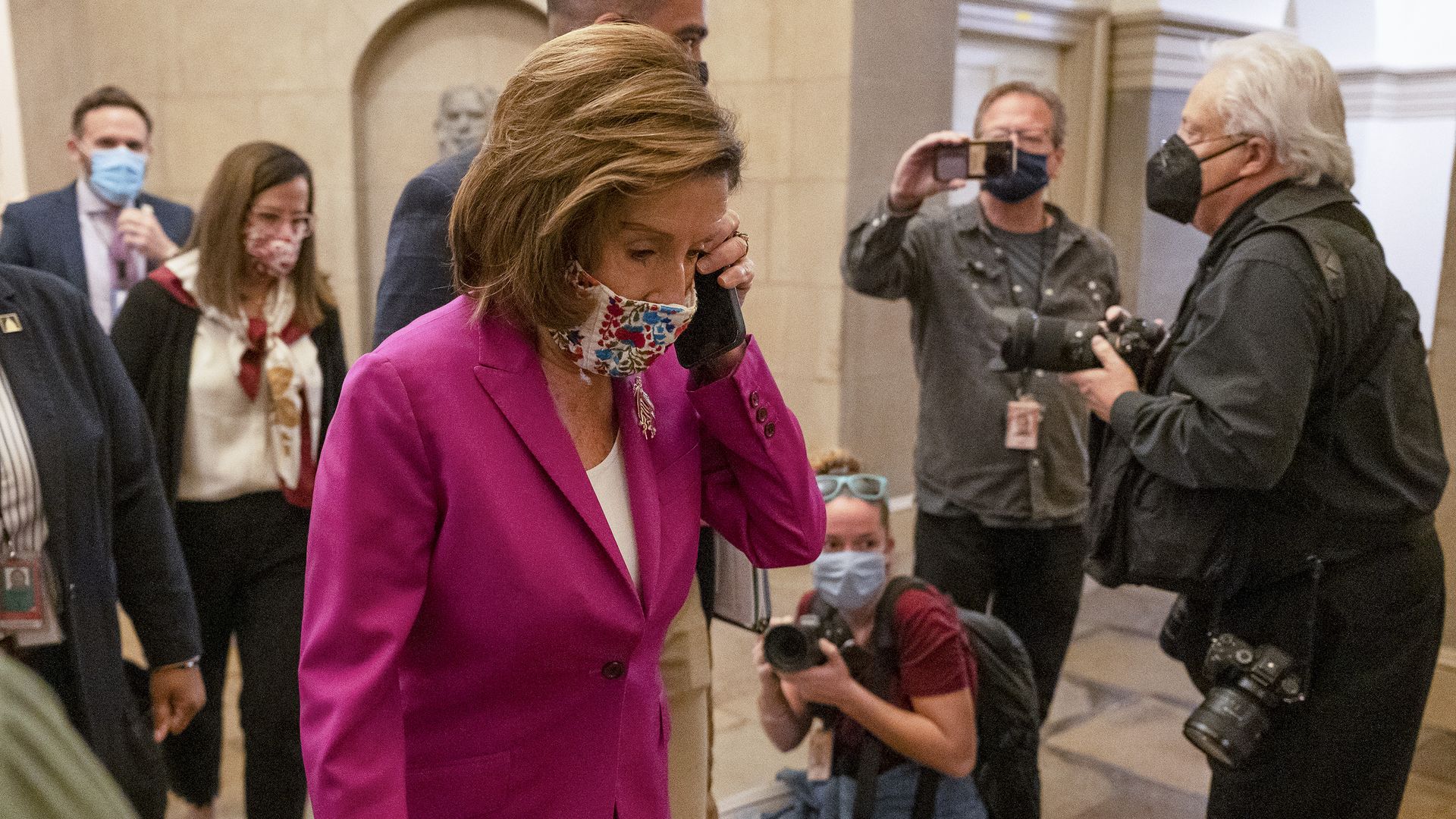 House Speaker Nancy Pelosi (D-Calif.) said the House would move forward with a vote on the bipartisan infrastructure bill Friday, despite anger and surprise from progressives in the caucus who were caught off guard by the sudden shift in strategy.
Driving the news: Pelosi changed course when she called for a vote on the infrastructure bill before a final vote on the social spending package as a way to appease moderates who want to see a CBO score.
Rep. Pramila Jayapal (D-Wash.) said progressives would not support a standalone infrastructure vote and would likewise wait for a CBO score, leaving a path forward on both bills unclear.
"This has been a bit of a curveball, this latest development, and it's unsettling and disruptive, and I hope we can get back on that original track," said Rep. Jared Huffman (D-Calif.), a progressive member. "It is a moving of the goalposts that surprised a lot of people, takes us on a very different track, in some ways puts us back to where we were the prior two times. That's not a good place for me and many of my colleagues."
"I think you can say people are frustrated," said Rep. Dan Kildee (D-Mich.).
Rep. Kai Kahele (D.-Hawaii) also said progressives are "frustrated" and echoed Jayapal's willingness to wait for CBO score: "If some of our colleagues want to see a CBO score, maybe we'll wait."
Pelosi and leadership tried to assuage progressive concerns, noting at a press conference they would vote and pass the larger spending package by Thanksgiving at the latest.
Moderates are demanding a CBO score on the package, which could take several weeks.
The delay, a third in just over a month's time on the president's agenda, comes after a frenetic whipping effort from Pelosi on Thursday and several phone calls to undecided House Democrats from the president himself late in the evening.
Moderate Rep. Jared Golden (D-Maine) told reporters he is a "no" on the larger spending bill without a CBO score adding that he also wants the bipartisan infrastructure bill to be voted on first.
Pelosi spent the morning meeting with Golden and other moderates, including Reps. Abigail Spanberger (D-Va.), Ed Case (D-Hawaii), Stephanie Murphy (D-Fla.) and Josh Gottheimer (D-N.J.).
Between the lines: The infrastructure bill, which has already passed the Senate, only needs a vote in the House before it heads to the president's desk and can be signed into law.
What's next: The House is scheduled to recess next week.
Go deeper