Non-Trump Republican surge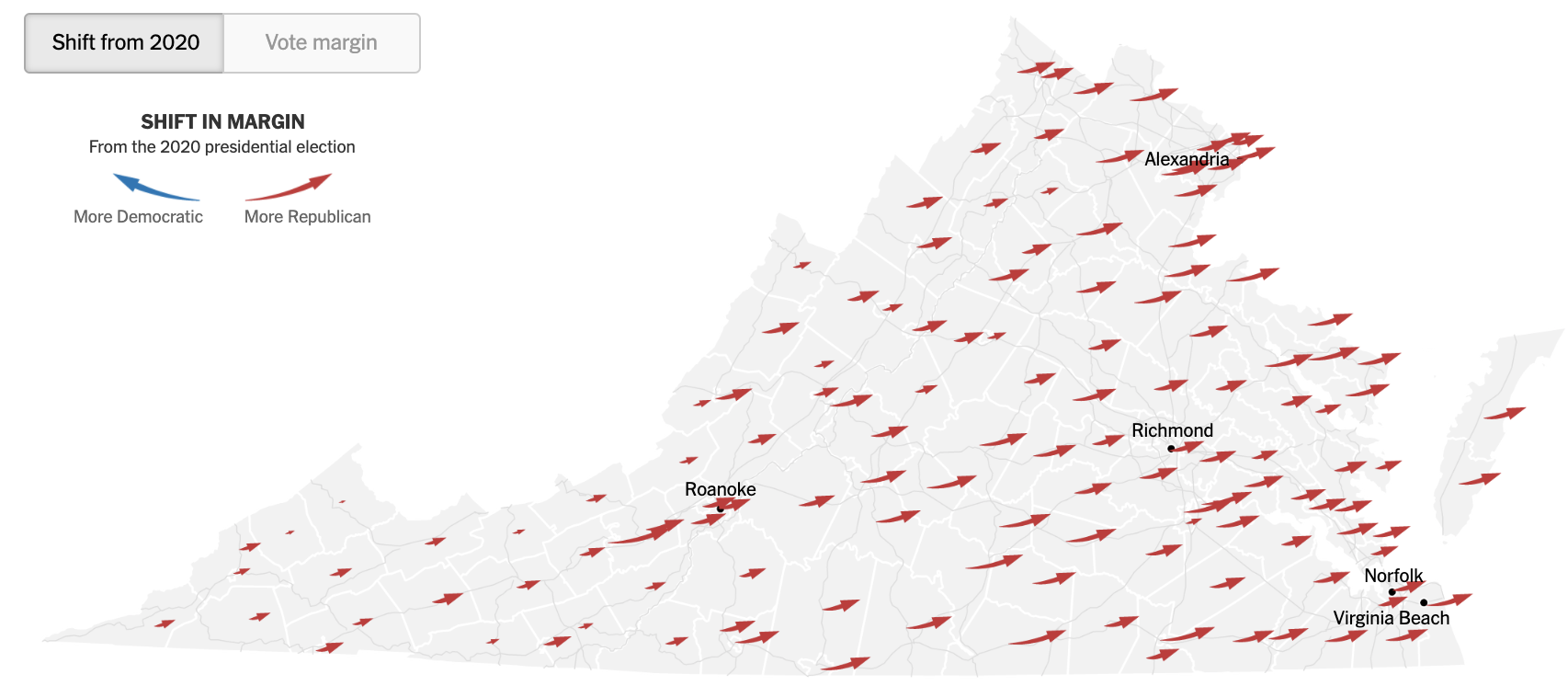 Lost in the public obsession with former President Trump's loss, grievances and threats to run again: Non-Trump Republicans have had a strong, yearlong run nationally beneath and around him.
Why it matters: Democrats control Washington and hold sway in most colleges and corporate suites, plus much of the mainstream media. But Republicans are thriving despite Trump's tactics and antics.
Republicans kept their distance from Trump and won the governor's mansion in Virginia — and almost won liberal New Jersey.
They picked up a dozen House seats in 2020 when almost everyone thought they would lose a bunch.
Republicans also picked up 154 state legislative seats in 2020 to take control of two new chambers.
These statehouse wins help them draw districts for 2022 that could net as many as 13 seats, according to a Democratic study.
Redistricting alone is expected to give Republicans the five seats they'd need to flip the U.S. House.
Ahead of January's inauguration of Glenn Youngkin in Virginia, Republicans control 27 of the 50 state governor's mansions.
Republicans hold 54% of the nation's state legislative seats, and control 61% of state legislatures, according to a tally by the National Conference of State Legislatures.
By the numbers: David "I've Seen Enough" Wasserman of Cook Political Report calculates that on Tuesday, Republican candidates for New Jersey State Senate outperformed the seats' 2020 Biden/Trump results by a median 10.8 points.
In races for Virginia's House of Delegates, where Rs punctuated Youngkin's win by taking the majority, the GOP topped 2020 by a median 12.4 points.
Here's how big that is: "[]f Republicans were to outperform the 2020 Biden/Trump margin by 10.8 points (New Jersey) in all 435 House seats in 2022, they would pick up 44 House seats for a 257R-178D majority," Wasserman writes.
"If they were to outperform by 12.3 points (Virginia), they would pick up a mammoth 51 seats for a 261R-174D split — and that's not even factoring redistricting, which could help boost GOP fortunes even more."
The bottom line: While Trump himself lost in 2020, he grew his total vote and share of Black men and Hispanics. Republicans are expanding those gains.
Go deeper