Florida governor announces plans for election police force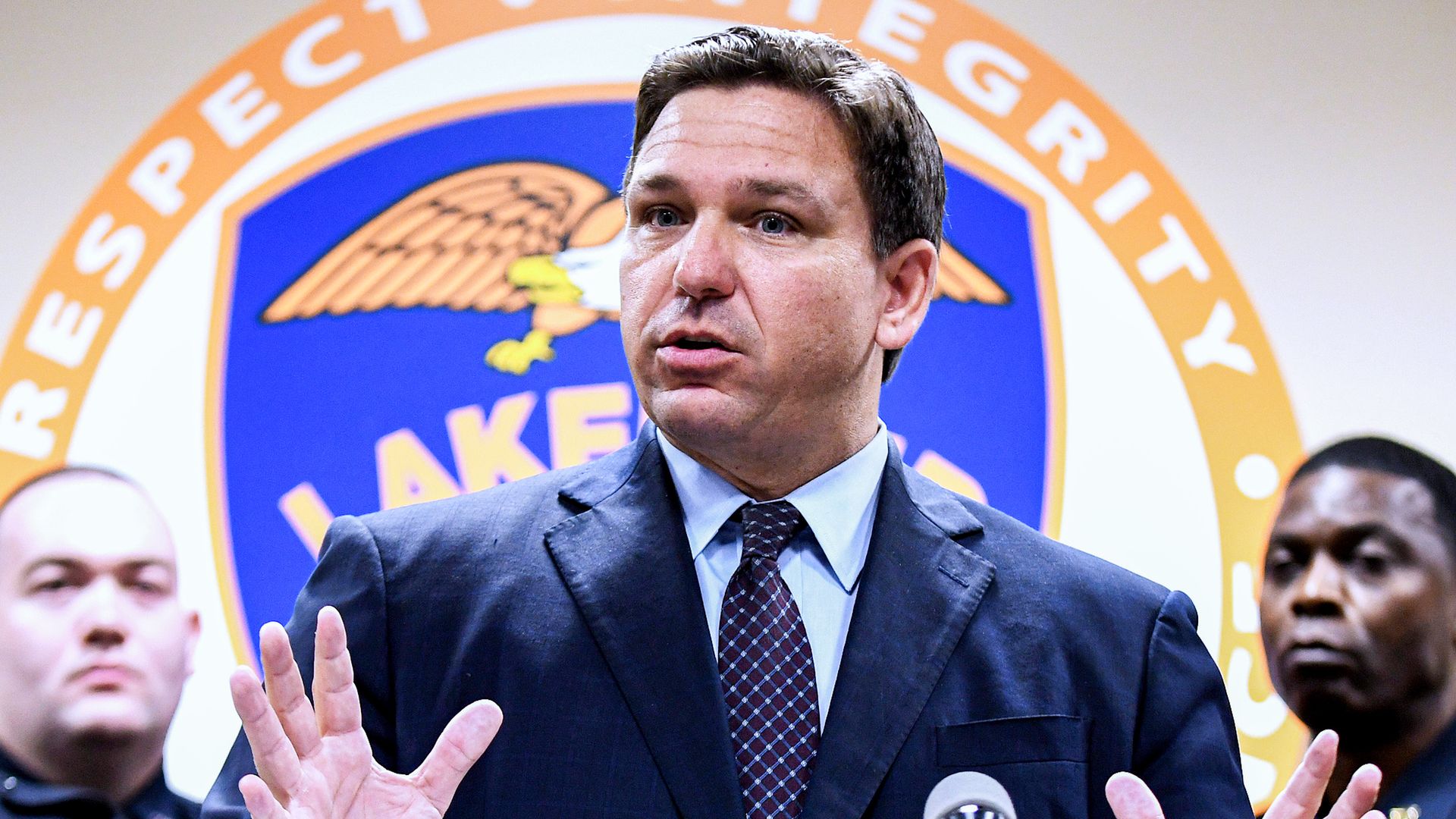 Florida Gov. Ron DeSantis (R) announced plans Wednesday to form a statewide law enforcement agency to investigate election crimes as part of a raft of measures on voting laws to be considered at next year's legislative session.
Why it matters: DeSantis used his news conference on Wednesday to echo the kinds of baseless claims former President Trump has made on voter fraud, without citing evidence and despite the fact that such instances are rare in the U.S.
Details: Per a statement from the governor's office, DeSantis is calling on the legislature to:
Establish an Office of Election Crimes and Security within the Department of State to investigate election crimes and fraud;
Elevate the crime of ballot harvesting to a third-degree felony, which the governor's offices said was to recognize that "this offense is a serious attack on democracy;"
Require timelines for supervisors of elections to clean the voter rolls of ineligible voters; and
Prohibit unsecure, "haphazard drop box locations" in Florida.
What they're saying: "There'll be people, if you see someone ballot harvesting, you know, what do you do? If you call into the election office, a lot of times they don't do anything," DeSantis said at his news conference.
"If you know that, there's, you know, in Florida, it's Constitutionally mandated, only citizens are allowed to vote in Florida, and yet you see examples of people, they'll even check they're not citizens, and they'll still be given ballots," he added, without giving any examples to back up his claims.
Secretary of State Laurel Lee said in an emailed statement that Florida officials had conducted pre- and post-elections audits and the 2020 election was "accurate, transparent, and conducted in compliance" with state law. 
Of note: When asked for examples of voter fraud in the state, DeSantis' press secretary Christina Pushaw said in an emailed statement that the governor was taking "proactive steps to correct any identified vulnerabilities in Florida's election administration before those vulnerabilities can be exploited to subvert our democratic institutions."
"Merely waiting for bad actors to exploit known vulnerabilities in an election, and then attempting to address voter fraud or electoral violations after the fact, is not an effective strategy for a state government to assure the public that every legal vote will count in accordance with the law," Pushaw said.
Pushaw directed Axios to Florida's Department of State or Attorney General's office for specific reports of voter fraud. Representatives for those departments did not immediately respond to Axios' request for comment.
Editor's note: This article has been updated with comment from Lee and Pushaw.
Go deeper