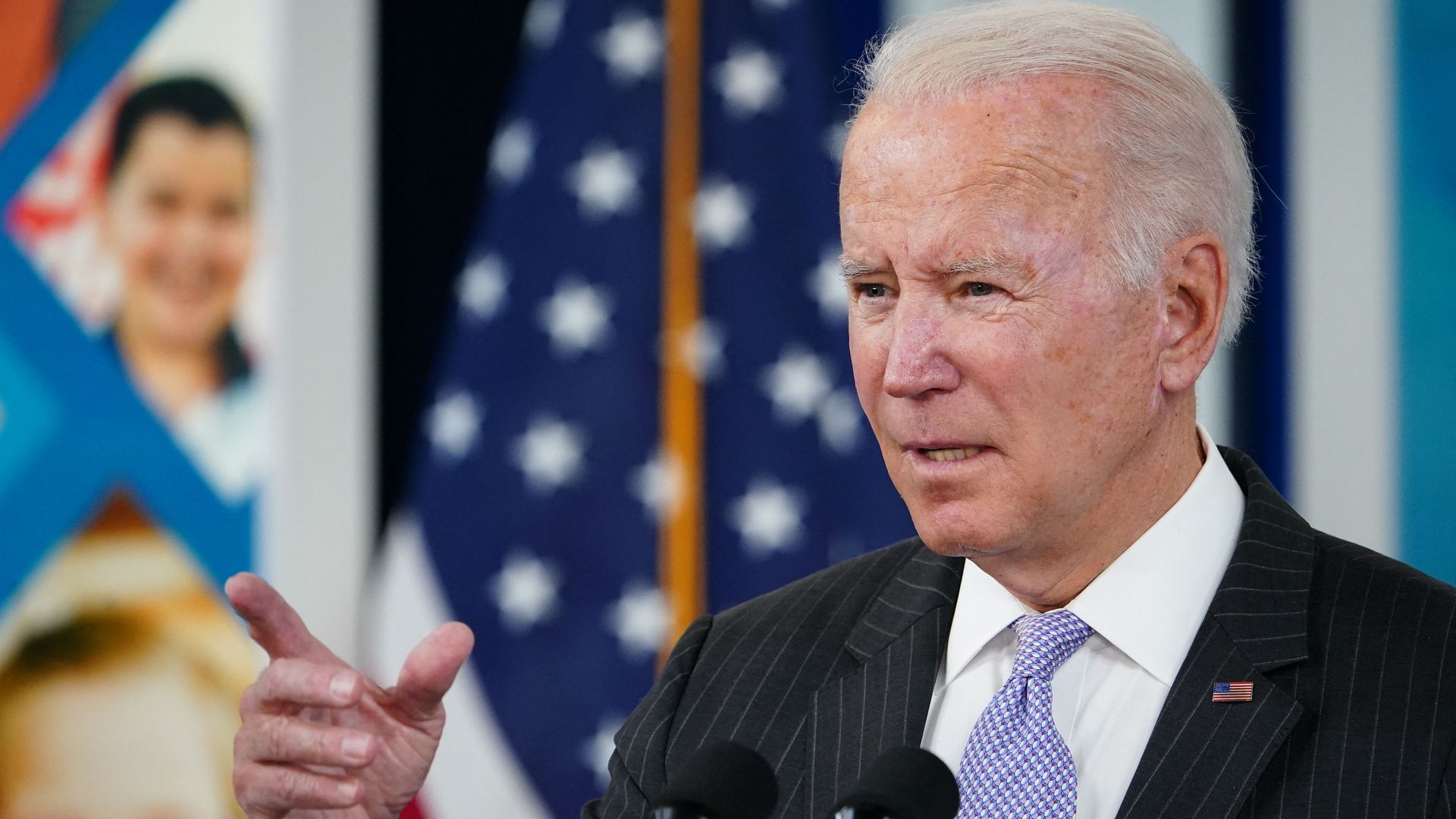 President Biden's hitting the gas — not pumping the brakes — to pass his two massive spending bills ASAP, and doesn't read his party's poor electoral showing in Virginia as a rebuke of the massive costs, lawmakers and White House advisers tell Axios.
Why it matters: What Biden's critics see as a stubborn streak his allies call resolve. The president's confidants love to point out that during the 2020 primaries, the press corps doubted his strategy and ability to capture the Democratic nomination.
Biden's core team never wavered and rode their plan to the White House.
After Tuesday's elections, House and Senate moderates are publicly and privately demanding the president hit the pause button on his $1.75 trillion social and climate change package.
Instead, they want him to focus on quickly getting the $1.2 trillion bipartisan infrastructure package through the House.
In conversations with lawmakers and progressive groups, White House aides are coalescing around a different theory: Terry McAuliffe's defeat in Virginia has increased the urgency to pass the safety-net package.
"People want us to get things done," Biden told reporters Wednesday. "And that's why I'm continuing to push very hard for the Democratic Party to move along."
The big picture: The president is reluctant to second-guess himself. Throughout his time in office, he's been loath to admit either tactical mistakes or false predictions.
He defended his decision to withdraw U.S. forces from Afghanistan, insisting the Afghan National Security Forces could stave off the Taliban. He also denied his military commanders recommended keeping a small force in the country.
He and his top economic aides insisted inflation was either temporary or a function of statistical glitches, like spikes in used car prices or airline tickets. Now, economists — including at the Federal Reserve — acknowledge inflation is real.
And just hours before the polls closed in Virginia, Biden confidently proclaimed to reporters, "We're going to win."
But, but, but: Biden did reverse himself on the issue of vaccine mandates.
After promising not to impose them in December, he rolled out plans over the summer to impose a strict mandate for federal workers and employees at larger corporations.
His aides have explained Biden's about-face as him listening to the science of COVID-19 and responding to the Delta variant.
Driving the news: After the political upset in Virginia and the near-defeat of the Democratic incumbent governor in New Jersey, Democrats are dividing into two camps about why they fared poorly.
Moderates like Sen. Joe Manchin (D-W.Va.) hear an electorate demanding Biden slow his roll and trim his plans.
Progressive insists voters are angry because Biden's failed to deliver on the Build Back Better agenda on which he campaigned.
"If these bills had passed in July or August, McAuliffe would have won," said Tom Perriello, a former Virginia Democratic congressman who's now the executive director of the Open Society Foundations.
"If a few senators sacrifice paid leave and prescription drug reform, which swing voters like, to protect corporate donors, which swing voters hate, Dems are likely to lose ground," he told Axios.
Go deeper