U.S. wants Israel to convince Sudan's generals to end coup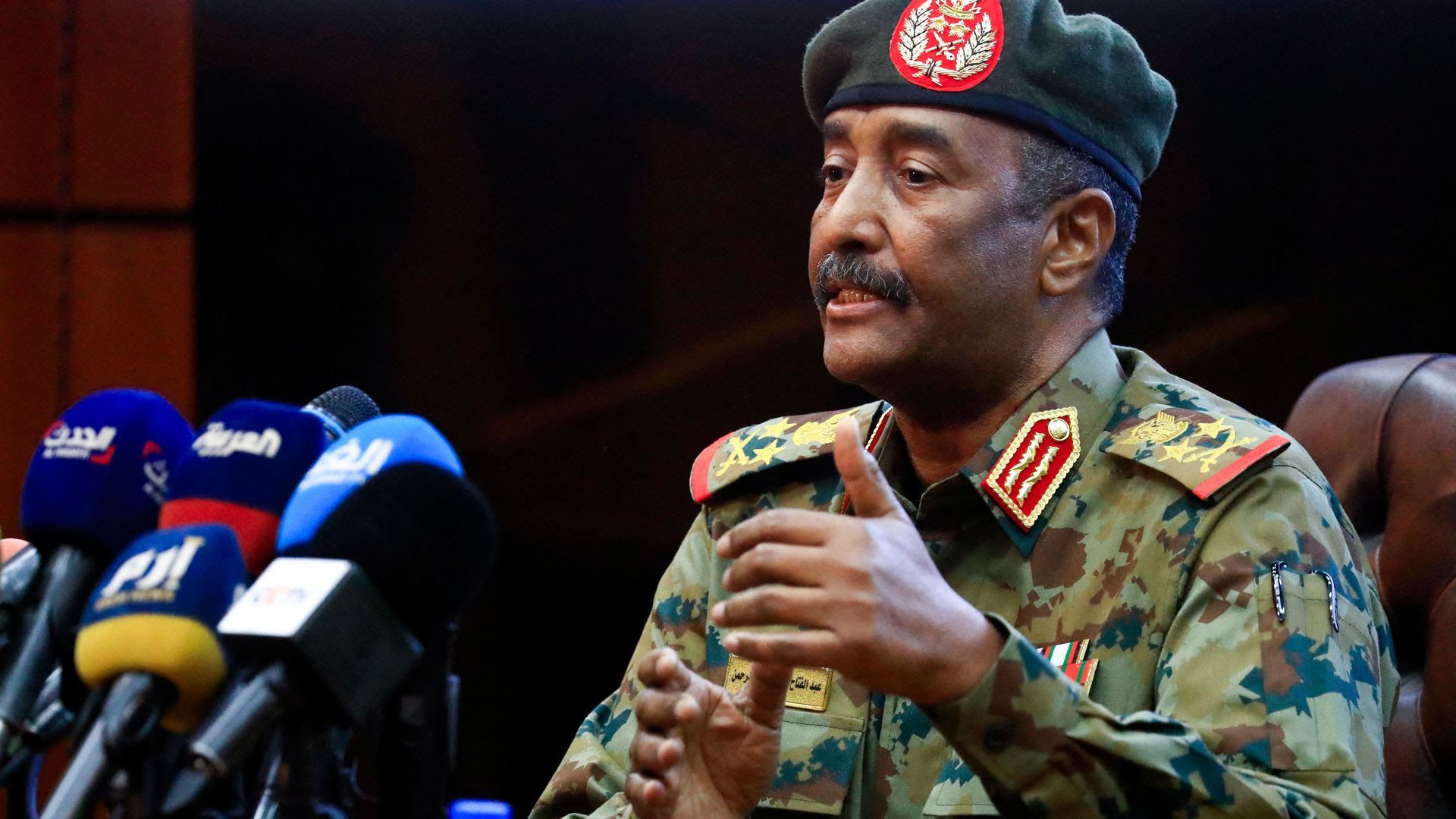 The Biden administration has asked the Israeli government to use its close relations with Sudan's coup leader and de facto president, Gen. Abdel Fattah al-Burhan, to urge the military to restore the civilian government.
Why it matters: Burhan has been central to the Israel-Sudan normalization process over the last two years. He and other Sudanese generals have been coordinating with contacts in the Israeli national security council and Mossad intelligence agency.
While all Western governments condemned the military takeover, Israel has been silent so far — strengthening the perception in Sudan and in Washington that the Israelis are backing Burhan and the military.
Driving the news: Last week, Blinken raised the situation in Sudan in a call with Israeli Defense Minister Benny Gantz.
According to Israeli and U.S. officials, Blinken asked that Israel encourage the Sudanese military to end the coup.
Gantz doesn't hold the Sudan file, but the Biden administration's message was also passed to officials in the Israeli Prime Minister's Office and Foreign Ministry.
Behind the scenes: Two weeks before the coup, a Sudanese military delegation visited Israel and held talks with officials at the Prime Minister's Office and the Mossad.
The Sudanese officers gave a briefing about the political crisis in the country but offered no indication they were planning a coup, Israeli officials say.
Earlier this week, a Mossad delegation visited Khartoum and met Sudanese military officials. Israeli officials say it was just a fact-finding mission and that the meetings were not with Burhan but with lower-level officials.
What they're saying: U.S. envoy for the Horn of Africa Jeffrey Feltman said in a briefing with reporters on Tuesday that Burhan and his supporters in the military "hijacked and betrayed" the democratic aspirations of the Sudanese people.
Feltman called on Burhan to release Prime Minister Abdalla Hamdok from house arrest and restore the civilian government.
"The world is watching. The military can't choose its civilian partners in the transitional government. They need to work together," Feltman said.
What's next: The Biden administration made it clear to the Israelis that the normalization process with Sudan won't be able to continue amid the current instability in the country, a senior U.S. official told me.
Feltman is expected to visit Israel for talks on Sudan on Sunday and Monday. He will also travel to Sudan again in the coming days.
Go deeper