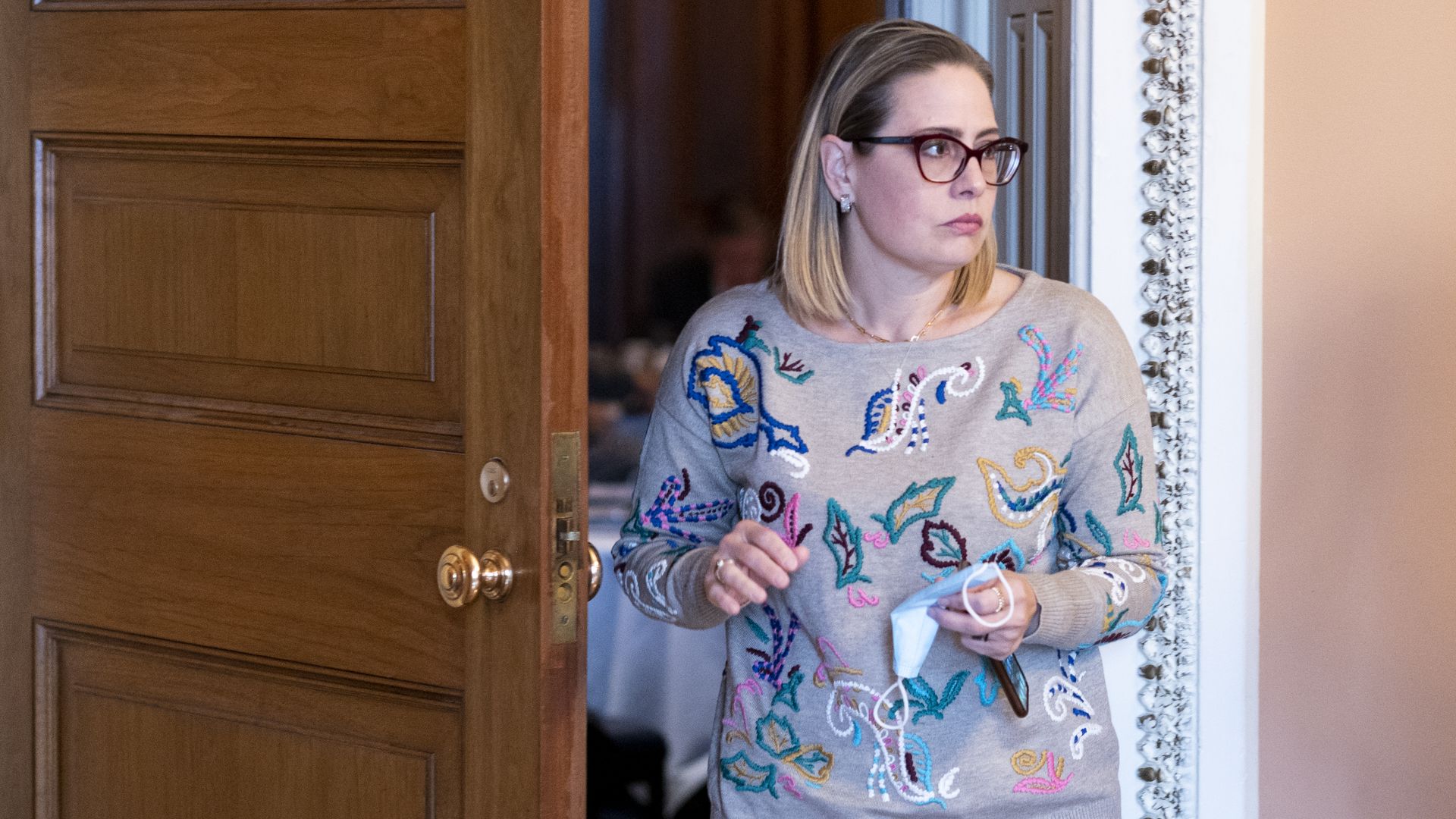 Sen. Kyrsten Sinema (D-Ariz.) is privately questioning a proposed fee on methane emissions targeting oil and gas companies, people familiar with the matter tell Axios.
Why it matters: Sinema's potential opposition will aggravate environmental groups, as well as lawmakers like Sen. Tom Carper (D-Del.). Both have been fighting to include a fee in President Biden's $1.75 trillion climate and social spending package.
Sen. Joe Manchin (D-W.Va.) and a trio of Texas Democrats also have been resisting it, and some have hinted they'll vote against the package if it's included in the final deal.
"I will have a big problem with the Build Back Better bill if the methane fee is included," Rep. Henry Cuellar (D-Texas) told Axios.
"I know of at least two senators who are against it," he added, while declining to identify them. Manchin's opposition is well-known; Sinema's concerns were less so.
Sinema is asking questions to understand the size and scope of the problem. She hasn't made a final decision on her position, according to a person familiar with her thinking.
Driving the news: The methane fee is just one of many unresolved issues in Biden's spending plan, with lawmakers still haggling about what will survive in the final package.
Manchin, after demanding Monday the House vote immediately on a separate $1.2 trillion bipartisan infrastructure package, continues to urge Congress to slow down on the bigger package.
"I don't know how you bring things to the floor quickly when you have a whole tax code you're going through and a whole climate revision," he told CNN.
The big picture: More than 100 world leaders on Tuesday signed onto the Global Methane Pledge to cut methane emissions by 30% by 2030.
The support for the U.S. and EU joint initiative was announced at the COP26 conference in Glasgow, Scotland.
While methane is less prevalent in the atmosphere than carbon dioxide, its release is more dangerous in terms of trapping heat. Oil and gas companies cause its release when they are extracting and transferring hydrocarbons from deep underground.
The Biden administration also proposed Tuesday new Environmental Protection Agency rules to cut methane emissions, in conjunction with its global push at the COP26.
Between the lines: Carper's approach is designed to further reduce emissions by imposing a fee on oil and gas companies. On Tuesday, though, he stressed his proposal also includes incentives for companies.
"We have designed it to not be punitive, but to be supportive and encouraging of companies to go ahead and begin making reductions within the next couple of years," Carper told Axios.
"I think at the end of the day, we'll have what I call the methane emission reduction program" in the budget reconciliation bill, said Carper.
Lawmakers have lowered their initial cost of $1,500 per metric ton of methane to $900 in the program's first year, before increasing it to $1,500 in 2025, Roll Call reported.
Go deeper: Oil and gas lobbying groups are opposed to a new fee but open to EPA regulation.
The Independent Petroleum Association of America "is encouraged by its initial analysis of EPA's proposed regulations," the group said in a statement.
"There is consensus among companies small and large on the importance of reducing emissions."
Go deeper