Exclusive: Rep. Barbara Lee calls on Pentagon to release delayed emissions report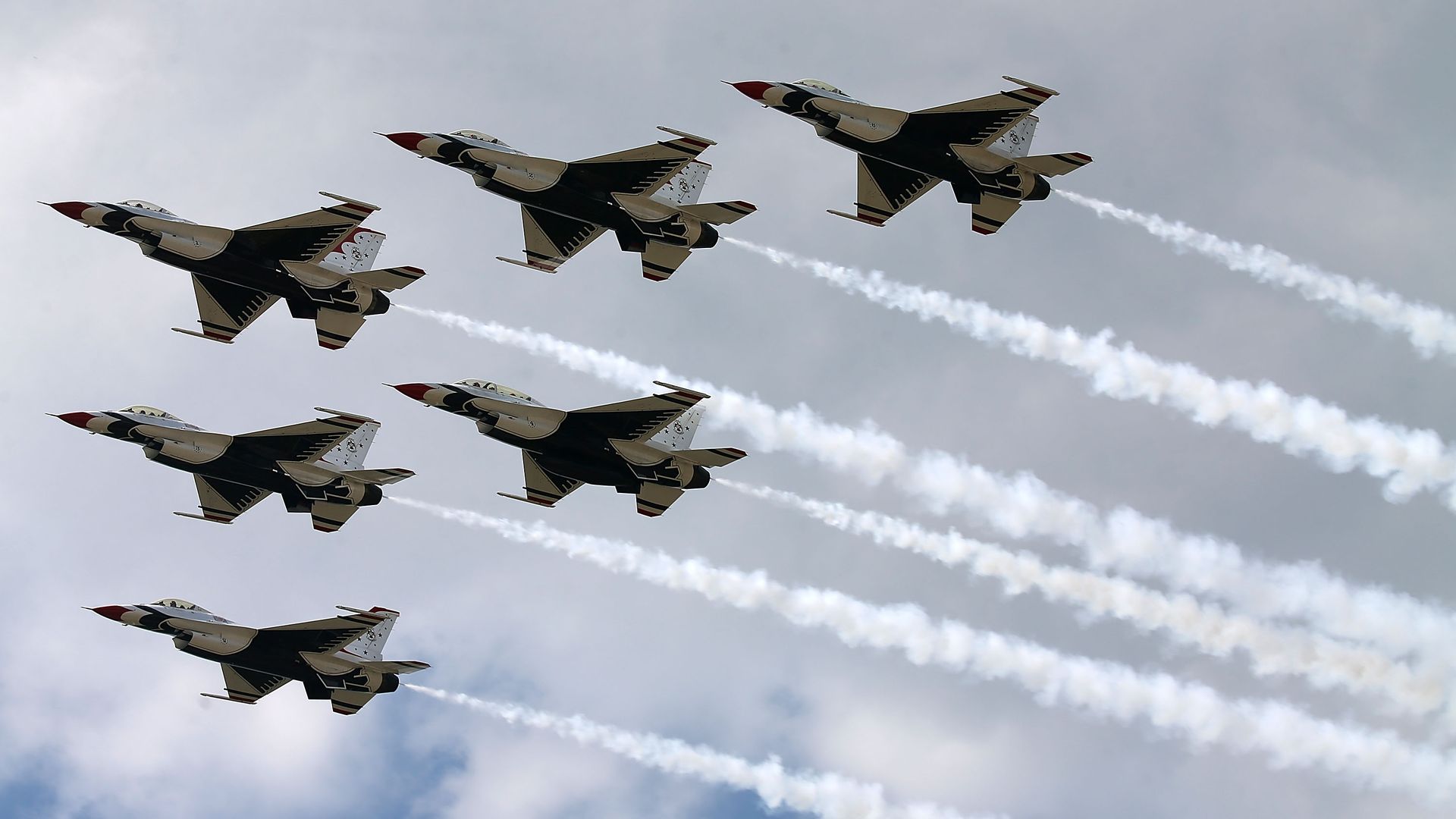 Rep. Barbara Lee (D-Calif.) will introduce a resolution on Wednesday calling on the Pentagon to release a report on its annual greenhouse gas emissions, after the agency skipped a July 1 deadline set out in an annual defense spending bill.
Why it matters: The Pentagon has long sounded alarms about climate change posing a national security threat, including in a dire risk assessment released last month. Yet the U.S. military itself remains a massive consumer of fossil fuels — and a larger source of greenhouse gases than many nations.
Details: The 2021 National Defense Authorization Act, which became law on Jan. 1 after Congress successfully overrode former President Trump's veto, requires the secretary of defense to submit a detailed report on the Pentagon's greenhouse gas emissions for each of the last 10 years.
The Pentagon did not respond to a request for comment on why the report was not released within 180 days after the law came into effect, as required.
Lee's resolution, backed by environmental and anti-war groups, calls on the Pentagon to set clear emissions reduction targets and commit to verified reporting on emissions from all of its operations.
The big picture: The Pentagon's climate risk assessment warns that the U.S. "must tackle the existential threat of climate change" in order to "keep the nation secure." It was mandated by an executive order President Biden signed in his first week in office seeking to position climate change at the center of U.S. foreign policy and national security.
Later this year, the agency is to release an outline for how it plans to reduce emissions. But the Pentagon does not currently release comprehensive data on the military's overall fuel consumption or greenhouse gas emissions.
Lee's resolution would not have the force of law like the NDAA provision, but is likely to add political pressure at a time when climate is in the public spotlight with the COP26 summit in Scotland.
Between the lines: "Our view is we should be pushing on an open door here," one Democratic aide told Axios. "We have heard top uniformed and civilian officials from the U.S. military warn time and time again about the national security challenges posed by climate change.
"So let's make sure that we have the numbers to be able to look in the mirror about what the institution itself is doing to contribute to that."
Go deeper