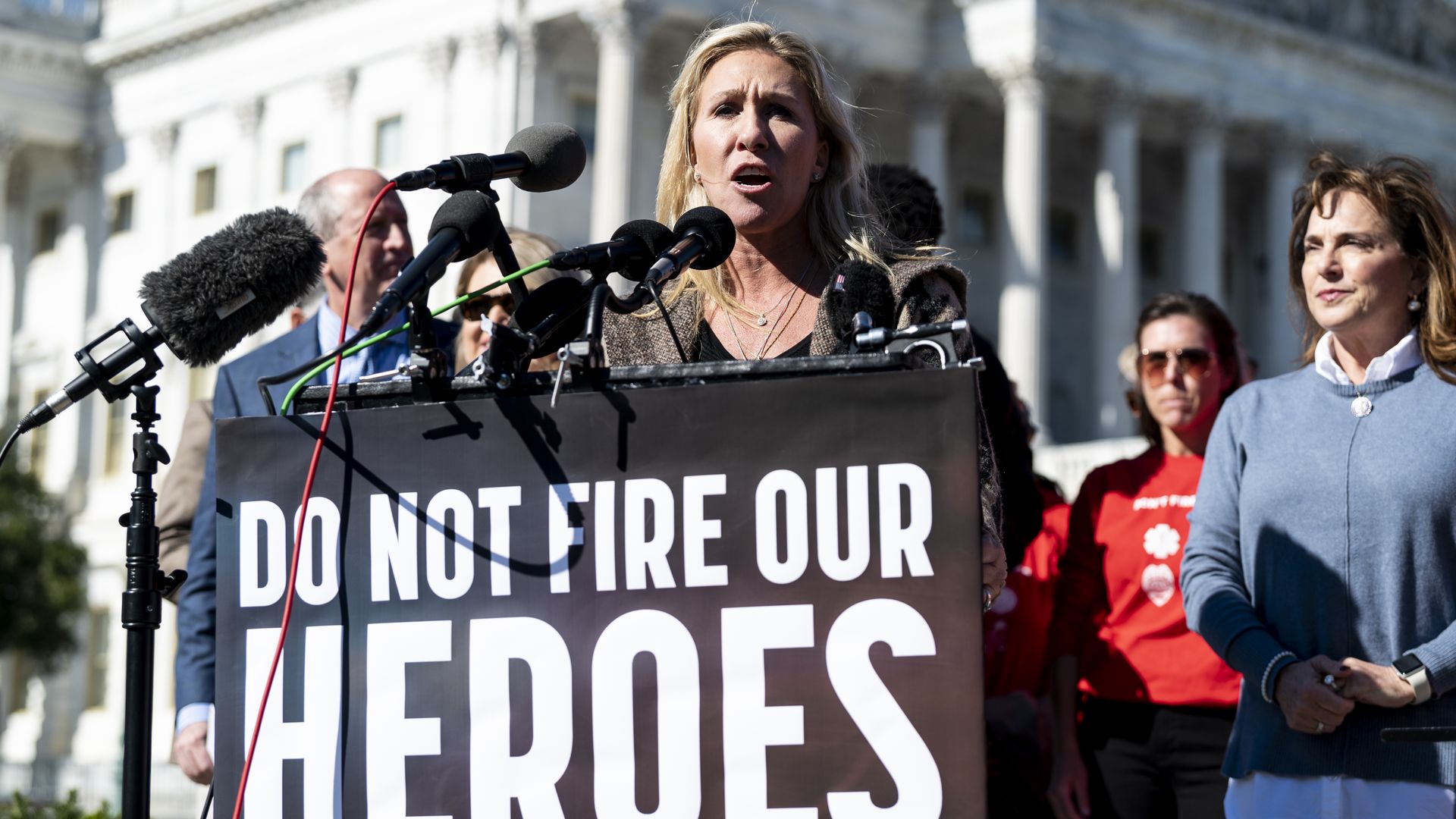 Rep. Marjorie Taylor Greene (R-Ga.) has already been fined a quarter of her congressional salary for not wearing a mask on the House floor, yet she says that pales in comparison to the price paid by other public employees.
Why it matters: Republicans have defied a slate of measures put in place by House Speaker Nancy Pelosi to mitigate the spread of coronavirus and bolster security following the Jan. 6 attack. And Greene has the personal wealth to withstand fines aimed at enforcing them.
Greene compared herself to firefighters, police officers, nurses and other workers fired for refusing to comply with mask mandates. She attended a news conference on their behalf outside the Capitol on Monday.
"What kind of representative would I be if I am unwilling to give up my salary?" she told Axios on Tuesday. "And I don't get fired! Like, it's a horrible thing that's happening in our country."
"The Senate side [of the Capitol] is not forced to wear a mask. And it's crazy, is insanity to walk through that Dome, and then there's some kind of magical barrier that separates who wears a mask and who doesn't."
Greene, Rep. Thomas Massie (R-Ky.) and Rep. Ralph Norman (R-S.C.) are suing Pelosi under the 27th Amendment to try to eliminate the mask fines.
In addition to several other House Republicans being hit with mask fines, numerous House members — mostly Republicans — also have faced fines for evading metal detectors at entrances to the House chamber.
Rep. Matt Gaetz (R-Fla.) joked during a recent rally about blowing up the metal detectors with explosives.
Between the lines: Greene already has incurred $48,000 in fines — over a quarter of her $174,000 congressional salary — for repeatedly violating the House's mask mandate. On Tuesday, she was seen maskless on the floor once again.
The House sergeant-at-arms told Greene in a letter last Thursday that she has been observed not wearing a mask in the chamber 21 times since May.
That's resulted in a $500 first-offense fine and 19 additional $2,500 fines.
Greene's congressional salary likely pales in comparison to her overall wealth. She and her husband own a construction company, and she gave her 2020 House campaign nearly $1 million in loans.
Go deeper: Read the sergeant-at-arms letter.
Go deeper