Voters punish Democrats amid left drift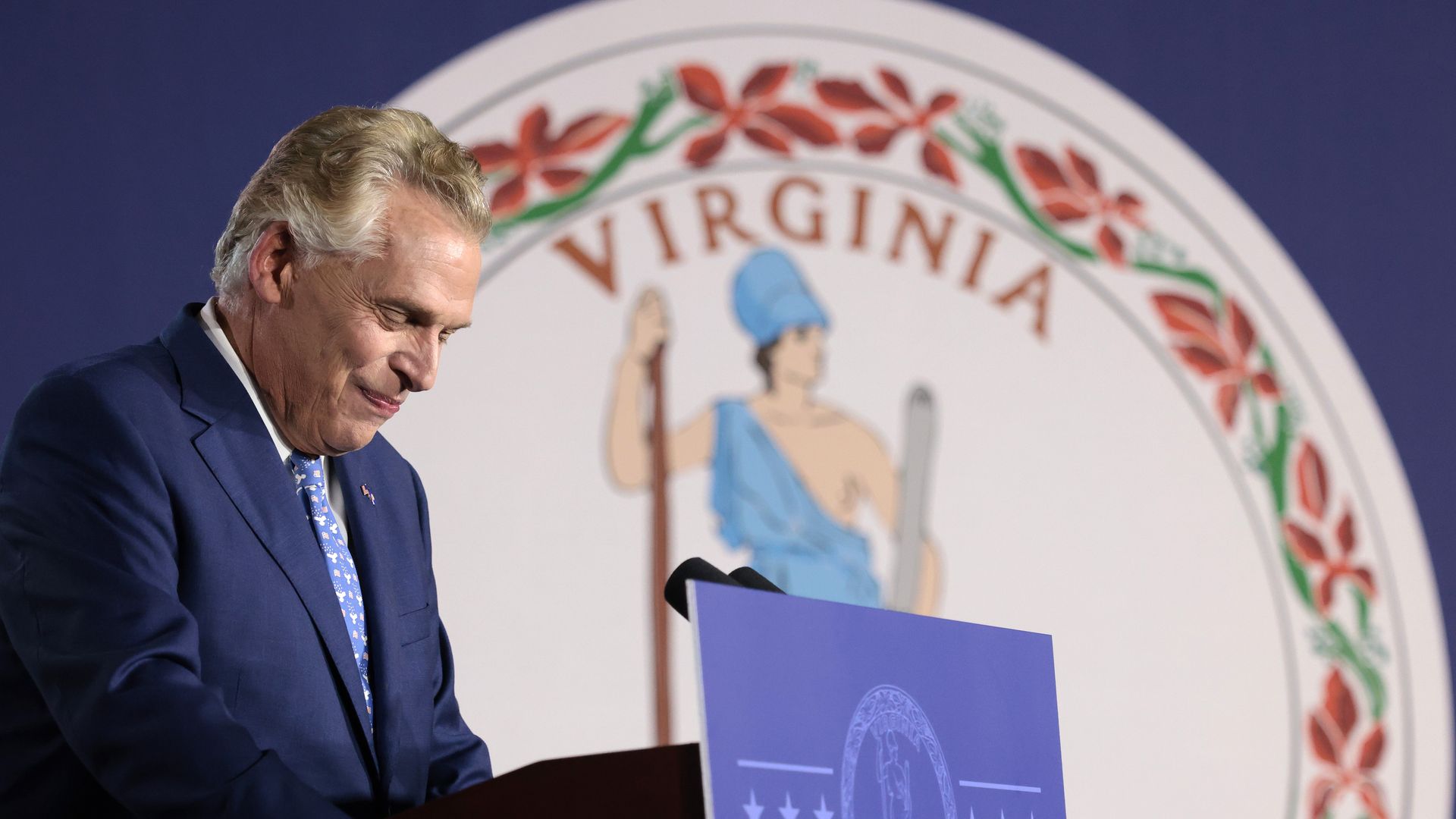 From Virginia to New Jersey to Minnesota, voters in yesterday's off-year elections sent Democrats a warning for 2022: There could be a massive backlash to perceptions that progressives are pulling the party too far left.
Why it matters: Now the finger-pointing begins. President Biden, House Speaker Nancy Pelosi and Senate Majority Leader Chuck Schumer can use the wake-up call to try to force a reset, starting with swift passage of a long-stalled $1.2 trillion bipartisan infrastructure deal.
But the same GOP gains that narrowed Dems' margins or flipped advantages in some swing counties may make it that much harder to get some moderate Democrats on board with Biden's $1.75 trillion "Build Back Better" package, which aims to broadly expand the social safety net.
What happened: Republicans pulled off a massive upset in what had been blue-trending Virginia, with cliffhanger results in New Jersey and a rejection of defund-the-police themes in Minneapolis.
Republican Glenn Youngkin upset Terry McAuliffe for Virginia governor, with networks calling the race at 12:30 a.m. Republicans also won control the House of Delegates.
In New Jersey, Gov. Phil Murphy (D), who had been expected to win easily, is in the fight of his life with Republican Jack Ciattarelli. In post-midnight appearances before supporters, both said they expect to win.
In Minneapolis, voters rejected a ballot measure to replace the police department with a Department of Public Safety. The result — in the city where George Floyd was murdered — is a significant blow to the police reform movement's momentum in Minneapolis and beyond.
The mayor's race in New York City went, as expected, to Democrat Eric Adams — putting a former police officer in charge of America's most populous city.
What they're saying: "Clearly, the president's drop in favorability made it very difficult for the Democratic nominee to stay above water," Democratic Rep. Gerry Connolly told Axios D.C.'s Cuneyt Dil at McAuliffe's election night event in Tysons Corner, Va.
Former President Trump, whom Youngkin had kept at arms' length while courting Trump's supporters, said in a statement: "I would like to thank my BASE for coming out in force and voting for Glenn Youngkin," adding, "Without you, he would not have been close to winning."
Trump also chided, "All McAuliffe did was talk Trump, Trump, Trump and he lost!"
Behind the scenes: "It's time for Democrats to stop f****** around," a senior aide to one House moderate told Axios' Sarah Mucha. "Show the voters we actually can govern."
A senior aide to a New Jersey Democrat told Axios' Alayna Treene it's "insanely clear" the party must reorient "not on center-left or progressive goals," but on "what gets real things done for families."
A senior aide to another House Democratic moderate told Axios' Hans Nichols that "it's clear that passing a historic bipartisan infrastructure deal months ago would have energized President Biden's numbers," and that House progressives who stalled that vote had hurt McAuliffe.
An aide to a progressive House member told Axios' Andrew Solender the opposite: Moderate Dems have forced too many concessions instead of going bigger on economic populism, and that has sapped enthusiasm. "If you put dog food on the shelf, don't be mad when people won't buy it."
David Axelrod, who was former President Obama's senior adviser, said on CNN that the White House and Democratic leaders in Congress should lock in swing and suburban members on Biden's spending legislation ASAP: "I just know how it goes — I've experienced it," Axelrod said. "When things go badly, people begin to think of themselves."
Go deeper