The small agency that's threatening Big Tech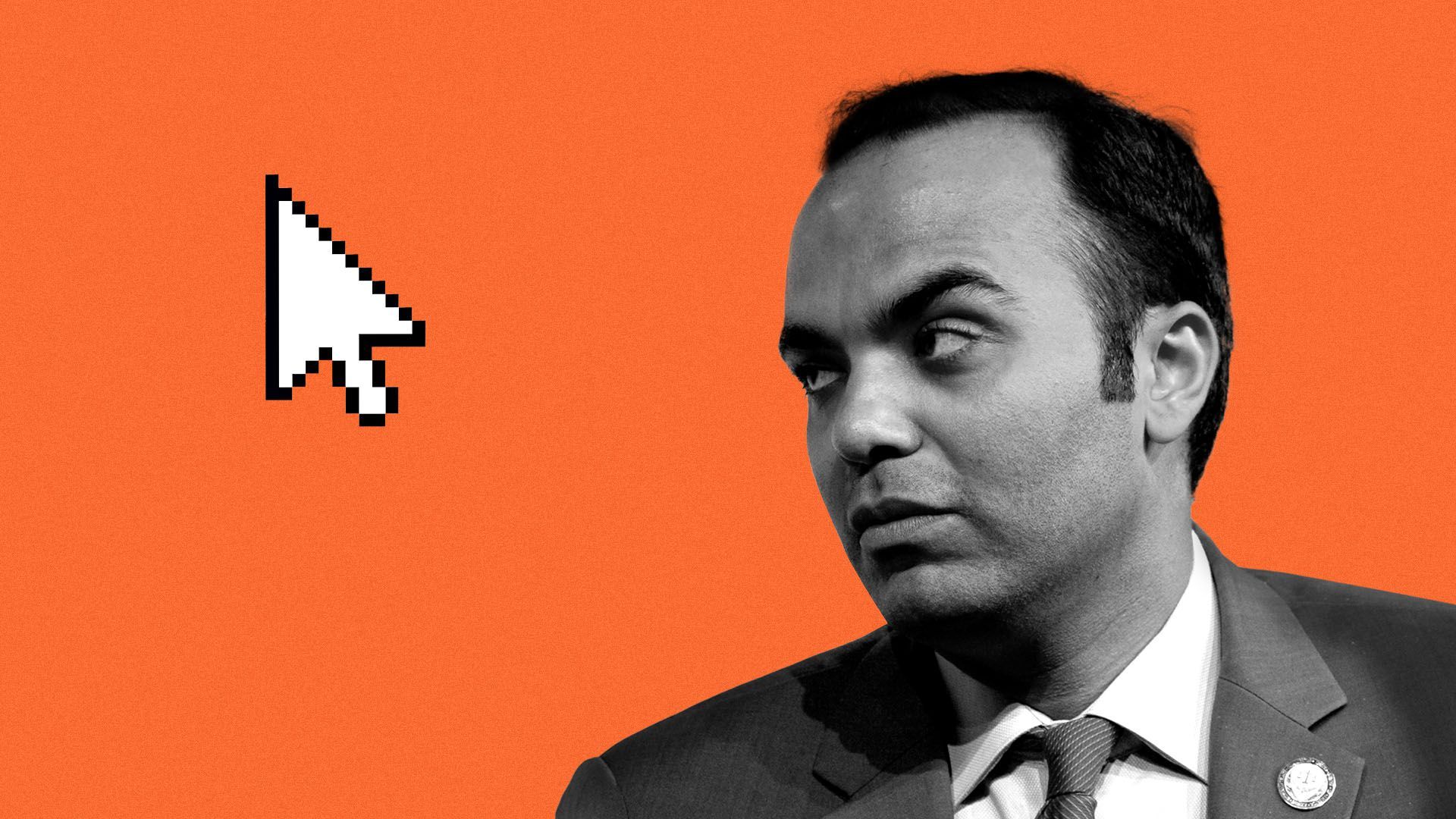 Since Rohit Chopra won confirmation a month ago as director of the Consumer Financial Protection Bureau (CFPB), which enforces federal consumer financial laws, he's already begun to flex the agency's regulatory powers in the tech realm.
Why it matters: One of Washington's most ardent Big Tech opponents is now empowered to investigate companies' inner business workings, write new rules and issue fines.
The big picture: As a Democratic commissioner at the Federal Trade Commission, Chopra frequently challenged large tech companies. Now, as CFPB director, Chopra has the independence and power to go after companies for alleged bad behavior in the financial space as he sees fit.
The CFPB's unique structure gives its director a lot of power, limited only by the president and federal courts.
Chopra, who served at the CFPB during the Obama administration, can set the policy of the bureau unilaterally, as the sole decision maker on how to use the agency's tools and authorities, one former CFPB official told Axios.
New regulations can take years to get through Congress, but the CFPB can act much more swiftly.
Driving the news: Last month, in one of his first moves as director, Chopra ordered Amazon, Apple, Facebook, Google, PayPal and Square to submit information on their payment practices and products.
"Big Tech companies are eagerly expanding their empires to gain greater control and insight into our spending habits," Chopra's order said. "Knowing what we spend our money on is a valuable source of data on consumer behavior."
He said he's concerned financial data gathered through popular tech apps can be monetized and used for behavioral targeting, and the CFPB will be looking to see whether such data is combined with geolocation and browsing data, used for price discrimination or sold to third parties.
Between the lines: The October order is legally enforceable, meaning if the CFPB unearths practices it deems unlawful, it can use them as the basis to open an investigation.
This could mean huge fines for companies if violations are found, but those must be part of a settlement or imposed by a federal court, the former CFPB official said.
Background: The CFPB and its structure have been controversial. Republicans, angry the agency isn't funded by Congress and run by a single director, have accused its leadership of activism.
Flashback: Chopra was known for his blistering dissents at the FTC during the Trump administration. He said the $5 billion FTC settlement with Facebook in 2019 gave Facebook (now Meta) "a lot to celebrate" and wanted the agency to take Facebook and CEO Mark Zuckerberg to court.
What they're saying: "For years, as companies grew to be dominant, regulators did not exhibit curiosity," said Sarah Miller, executive director of the American Economic Liberties Project. "There is a major cultural change, and this order exemplifies that."
Sen. Elizabeth Warren (D-Mass.), who conceptualized and founded the CFPB, praised Chopra's moves during a Senate Banking Committee hearing last month: "[We need] all of our regulators ... using every tool that's available to them to make sure that they protect marketplaces, that they protect small businesses, and that they protect America's families."
The other side: Tech industry advocates suggest that tech companies' products in the financial services world have served consumers well.
"The CFPB needs to conduct fact-finding on digital payment systems, and when they do they'll quickly see that a range of big and small tech services are really breaking big banks' stranglehold on payments," said Adam Kovacevich, CEO of Chamber of Progress, which counts Amazon, Apple, Facebook and Google among its corporate sponsors. "They shouldn't let a Big Tech fixation blind them to the bigger competitive picture for consumers."
Go deeper