Pentagon sharply raises estimate of China's nuclear expansion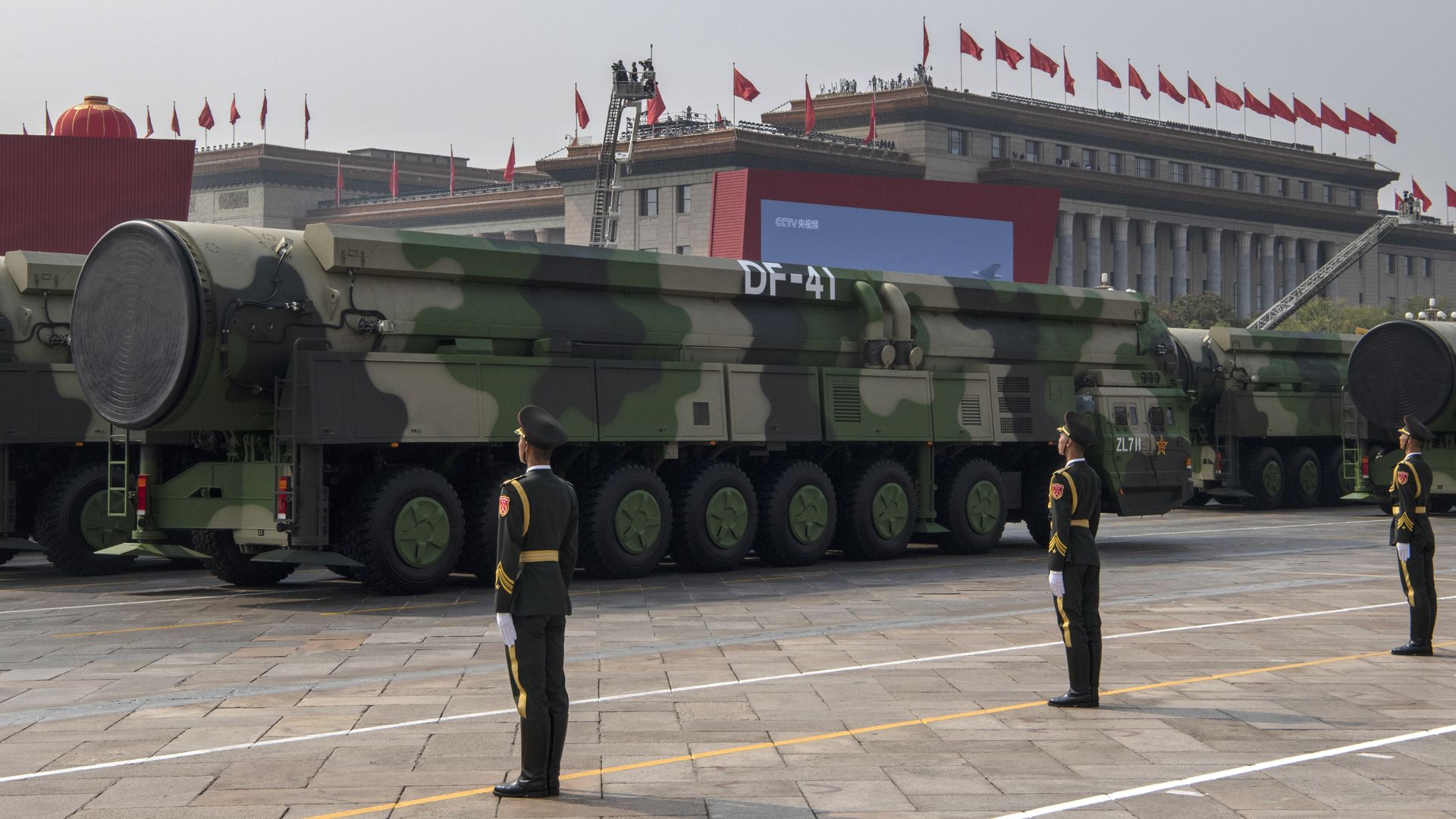 China is rapidly accelerating the expansion of its nuclear stockpile and is likely seeking to quadruple its number of nuclear warheads by 2030, according to the Pentagon's annual report to Congress on China's military power.
Why it matters: U.S. officials and experts have raised alarms at reports of China's nuclear expansion and testing of advanced weapons capabilities, including a hypersonic missile this summer, as tensions with Washington have reached new highs.
Driving the news: The Pentagon's assessment found that China may have up to 700 deliverable warheads by 2027 and 1,000 by 2030 — a sharp revision upward from last year, when the U.S. estimated China's stockpile would double from the low 200s over the next decade.
The big picture: The 192-page Pentagon report details China's broader military goals and evolving capabilities, and aligns with warnings from senior U.S. military officials that China poses the most significant threat to U.S. military supremacy out of any potential adversary.
China's ambitions include strengthening its ability to "win wars" against a "strong enemy" — which the report calls "a likely euphemism" for the U.S. — coerce Taiwan and other actors in territorial disputes, and "project power globally."
A potential invasion of Taiwan is especially concerning to the U.S., which formally recognizes the self-governing island as part of China but opposes any attempt by China to retake it by force.
The report assesses that China's "diplomatic, political, and military pressure against Taiwan intensified" in 2020, including with a record number of military incursions into the island's air defense zone.
What they're saying: Gen. Mark Milley, chairman of the Joint Chiefs of Staff, said Wednesday that he does not believe it is likely that China will invade Taiwan within the next 24 months, but that its military is "clearly and unambiguously building" the capability to do so.
The top U.S. military officer said at the Aspen Security Forum that there is "no question" the U.S. would have the capabilities to defend Taiwan from a Chinese invasion, but that it would be a choice for the president whether or not to do so.
On the broader question of China's military modernization and the challenge it poses for the U.S., Milley stressed: "We're witnessing one of the largest shifts in global, geostrategic power that the world has witnessed."
Worth noting: The report confirmed that toward the end of the Trump administration, China "perceived a significant threat" that the U.S. would seek to provoke a military conflict in the South China Sea, and that Milley and other senior U.S. military officials intervened to de-escalate tensions.
"These events highlighted the potential for misunderstanding and miscalculation, and underscored the importance of effective and timely communication" between the U.S. and Chinese militaries, the report states.
Editor's note: This article has been corrected to reflect that Russia has 6,255 nuclear warheads (not 6,225).
Go deeper