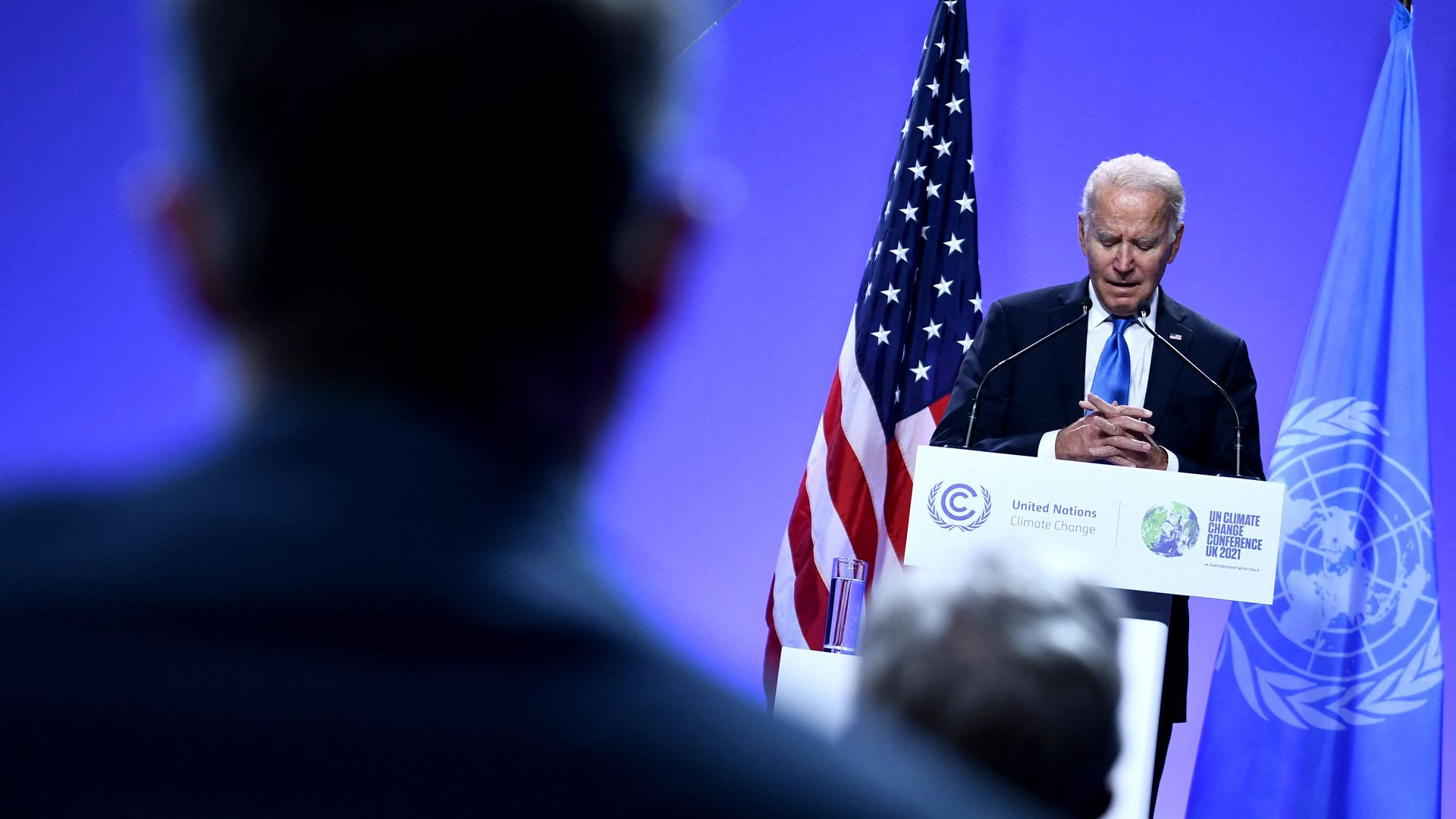 This White House's buttoned-up communications operation still has one big leak: President Biden.
Driving the news: On Tuesday, on the world stage in Glasgow, Scotland, he bluntly chastised Russia and China for skipping the COP26 climate change conference. It wasn't an isolated instance.
The big picture: While Biden administration staffers work overtime to control their message both domestically and abroad, the president has given an unvarnished view of his thoughts by letting fly during recent public appearances.
Two weeks before, during a CNN town hall event in Baltimore, the U.S. president had accused Saudi Arabia of keeping oil prices high in a bid for his attention diplomatically.
He also speculated on the duration of elevated gas prices — and freely shared details of private negotiations with key lawmakers over his proposed $1.75 trillion social safety net expansion.
"Spent 72 hours on endless calls digging out detail after detail based on private meetings and it turns out Biden was just going to lay them all out in the A Block of the town hall," CNN senior White House correspondent Phil Mattingly tweeted in response.
Why it matters: Throughout his career, Biden has been reliably vociferous. The equally long debate has been about whether this helps or hurts his cause.
Andrew Bates, deputy White House press secretary, said in a statement: "The American people trust Joe Biden because he's straight with them about his thoughts and values."
What he's saying: During his news conference on Tuesday, Biden also put markets on high alert by making comments about reappointing Federal Reserve Chair Jerome Powell.
"We'll be making those announcements fairly quickly," he said. "It's been in train for some time."
Hinting he'll release a slate of nominees — perhaps not just for chair but also members of the Fed's Board of Governors — Biden added: "I think we're gonna have plenty of time to make sure all the major nominees are able to be cleared in time."
And he took dead aim at Presidents Vladimir Putin of Russia and Xi Jinping of China for skipping the climate conference, as Axios' Zachary Basu noted.
"I think it's been a big mistake, quite frankly, for China not showing up. The rest of the world looked at China and said, 'Well, what value are they providing?' And they've lost an ability to influence people around the world and all the people at COP."
"The same, I would argue, with Russia," said Biden.
Editor's note: Updates with White House comment.
Go deeper