"No more blah blah blah": Greta Thunberg slams world leaders in COP26 protest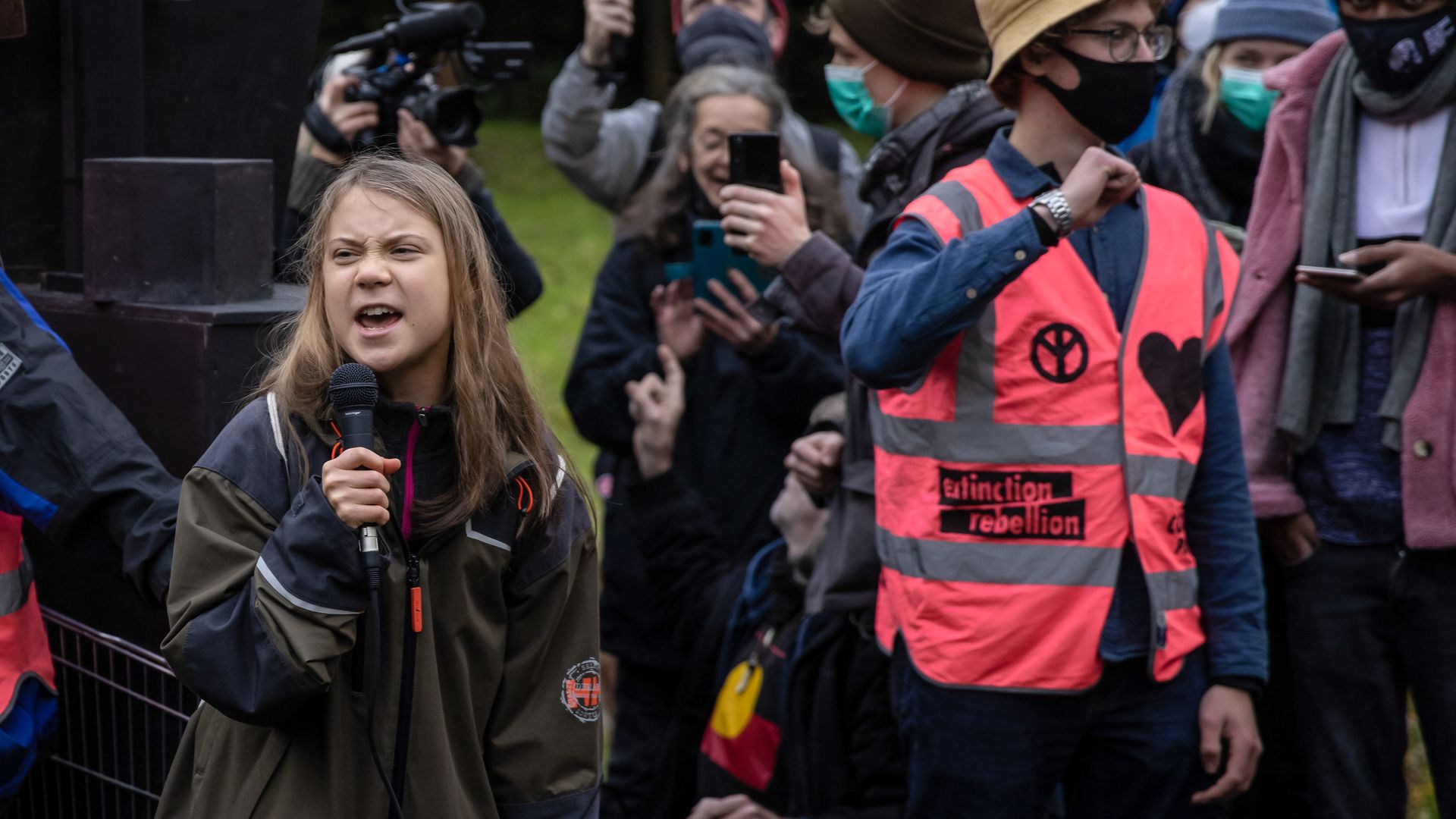 Climate activist Greta Thunberg joined protesters Monday at a demonstration outside the COP26 conference to call out world leaders for failing to meet their goals to address global warming.
What they're saying: "No more blah blah blah," said Thunberg, whose solo climate strikes in 2018 gained international attention, said outside the summit. "No more whatever the f--k they're doing inside there."
Driving the news: An open letter from Thunberg and fellow youth climate activists Vanessa Nakate, Dominika Lasota and Mitzi Tan drew over 1.2 million signatures as protests played out on Monday.
"This is not a drill. It's code red for the Earth. Millions will suffer as our planet is devastated — a terrifying future that will be created, or avoided, by the decisions you make. You have the power to decide."
—
From the open letter
Worth noting: Thunberg's words were later invoked by British Prime Minister Boris Johnson, who said "all the promises will be nothing but blah, blah, blah, to coin a phrase, unless we get real," per the New York Times.
Thunberg was not invited to speak at the summit, unlike previous UN events.
She told the BBC last week she believes summit organizers did not invite many young speakers because they were "scared" they'd look bad if they invited "too many 'radical' young people."
The big picture: Youth activists, who have led the charge in demanding greater action on climate change, have long criticized governments' failure to cut carbon emissions and fossil fuels.
At COP26, UN Secretary-General António Guterres said he stood with the people in the streets on action against climate change.
"The climate action army — led by young people — is unstoppable," he said. "They are larger.  They are louder. And, I assure you, they are not going away."
Go deeper