Biden hopes third time's the charm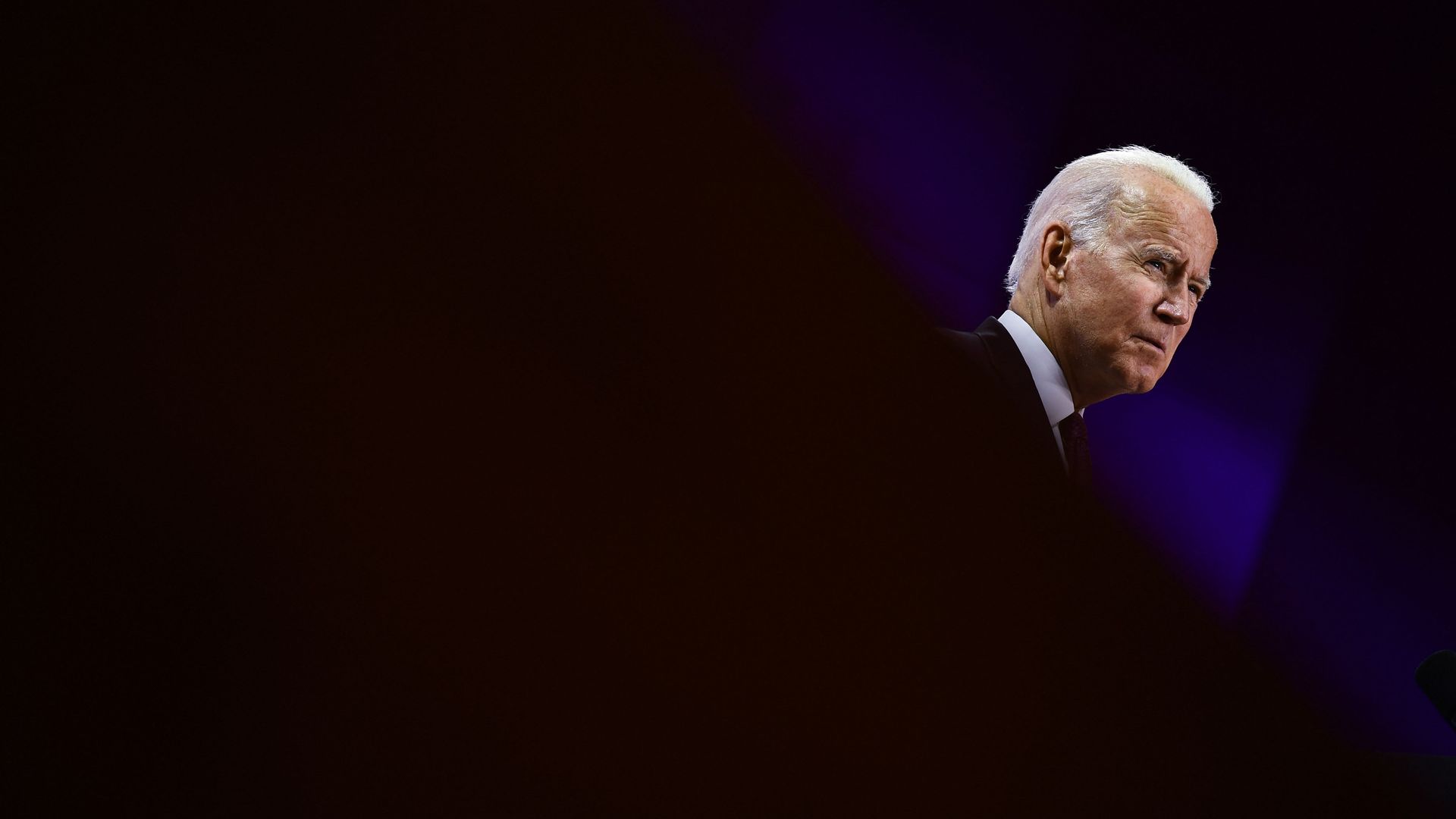 President Biden and congressional leaders are forging ahead with plans to have the House vote on his two massive spending plans, even while backing off their Tuesday deadline amid persistent concerns from key lawmakers.
Why it matters: For all their bluster, Biden and House Speaker Nancy Pelosi have failed twice to hold promised votes on the $1.2 trillion bipartisan infrastructure bill, which would pave the way for a $1.75 trillion social safety net expansion package. Missing a third vote is a major risk for them both.
The delays have undermined Pelosi, who famously never holds — or schedules — a vote she can't win.
Driving the news: House leaders gave themselves more time on Sunday afternoon by punting procedural moves they'd planned for Monday by the House Rules Committee.
That would have set up floor votes on the actual bills as early as Tuesday.
"We have made extensive progress on Rx drugs and other key initiatives, which were not included in the text posted to Rules on Thursday," a Democratic leadership aide told reporters.
"At this point, we will need additional time to craft language and get final agreement with all parties involved," the aide said. "We still intend to vote as early as possible this week."
Between the lines: Democrats in Washington wanted to hand President Biden a political win before he departs from the COP26 summit in Glasgow, Scotland, on Tuesday, but that's no longer possible.
Before leaving the G20 summit in Rome for the COP26, Biden still struck an optimistic tone.
"God willing, going to be voted on sometime this coming week," he said.
Over the weekend, Sen. Joe Manchin (D-W.Va.) stayed in contact with the speaker's office, and Rep. Pramila Jayapal (D-Wash.), chair of the Congressional Progressive Caucus, to explain his concerns.
Progressives have said they won't vote for the bipartisan bill unless the package to expand the nation's social safety net is voted upon simultaneously.
The big picture: Manchin still has concerns about the proposed revenue streams, and whether they'll cover the full cost of the $1.75 trillion package.
Sen. Kyrsten Sinema (D-Ariz.) is working on a compromise about how to include savings from Medicare.
They'd be gained by allowing the government to negotiate prescription drugs directly with the pharmaceutical industry.
Go deeper: The nine House moderates who've been demanding an immediate vote on the infrastructure bill have been relatively quiet over the weekend.
They've demanded 72 hours to read any bill passed by the Senate before agreeing to vote on it, potentially throwing a monkey wrench in Pelosi's schedule.
They've also insisted the Senate vote on the package first.
Be smart: Before the Senate can vote on a reconciliation package, it needs an official score of the bill's cost and tax provisions from the Congressional Budget Office.
Manchin and Sinema are concerned Biden's proposed revenue increases — including a new tax on individuals making more than $10 million — won't cover the full $1.75 trillion price tag.
An independent assessment from the Penn Wharton Budget Model estimates the total revenues at $1.5 trillion over 1o years.
Go deeper