Clyburn's closing argument for Virginia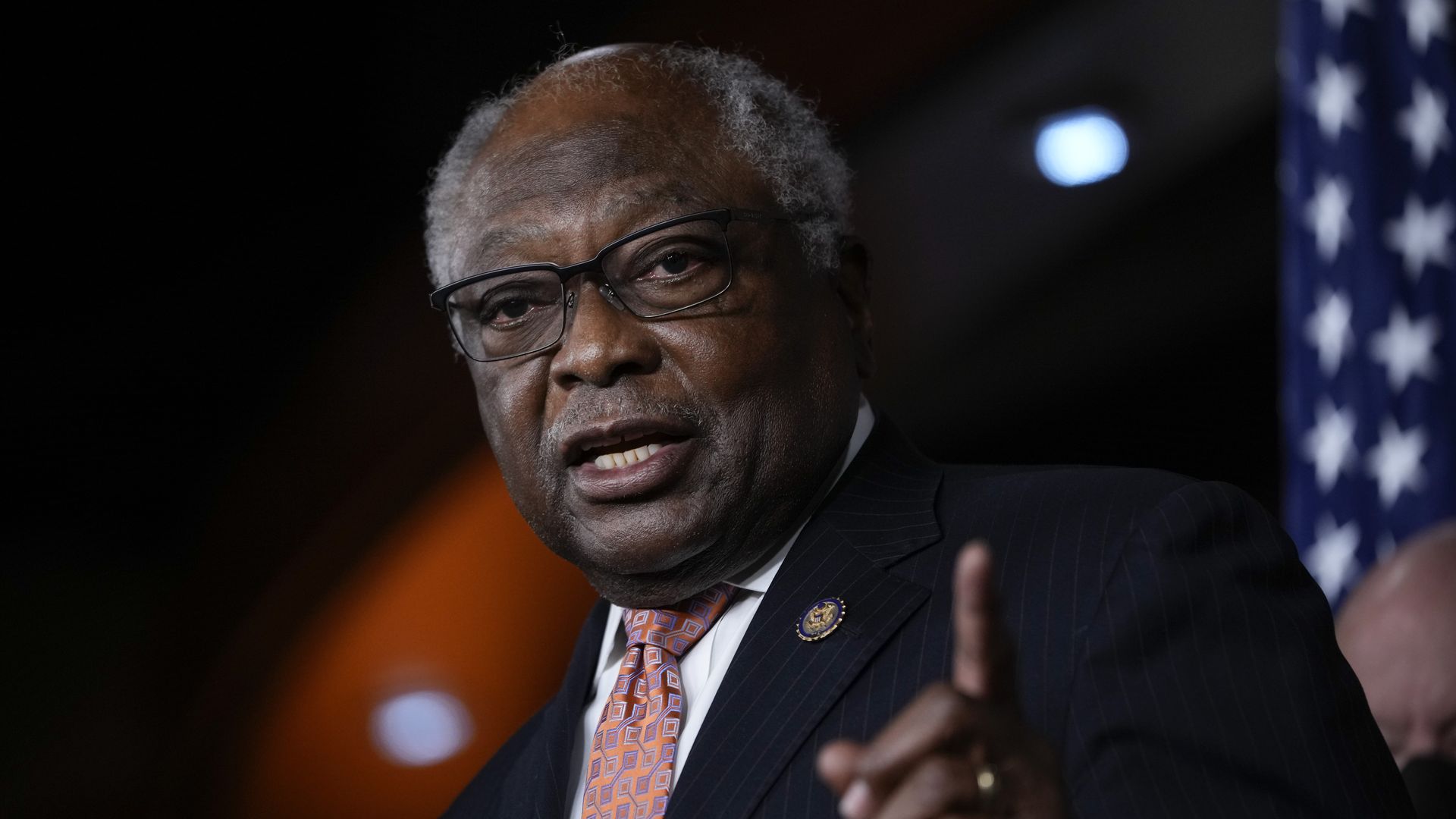 Rep. Jim Clyburn rescued Joe Biden's presidential campaign last year, turning out Black voters at a pivotal moment. Now, Democrats are hoping the sage from South Carolina can help pull Terry McAuliffe over the finish line in Virginia.
Why it matters: Calling in Clyburn as a closer ahead of Tuesday's gubernatorial election reflects his enduring status in the party — and Democrats' real worries about turnout despite Biden's 10-point win last November over former President Trump.
Hopes that a national $1.2 trillion infrastructure bill championed by Biden could boost McAuliffe were dashed this week when Democratic infighting over a separate $1.75 trillion social spending package delayed final passage.
Biden's sinking popularity and some suburban voters' frustrations over school masking and curriculum also have amped GOP enthusiasm.
Driving the news: Clyburn will participate in GOTV events Saturday and Sunday to make his case for electing McAuliffe, a former governor and national party chairman and fundraiser, over Republican businessman Glenn Youngkin. Clyburn's planned stops include several churches.
What they're saying: Clyburn, who is the House majority whip, told Axios his party has fumbled its messaging on the massive social and economic pandemic relief it's delivered already and is on the brink of delivering.
"You tell people what you're going to do for them, then you do it, and then you go back and tell them that you did it," Clyburn said. "We have not done a good job of that."
He said he'll offer a Democrat's perspective from Capitol Hill to help voters cut through the noise. "What I'm going to be talking about is, 'Here's what's in these packages, here's what we're going to pass, and when we pass them you need to have somebody in the governorship that's going to implement what we pass.'"
The big picture: Virginia's off-year race is being watched as a bellwether for the 2022 congressional midterm elections that will determine whether Democrats keep control of the House and Senate.
The bottom line: "People are beginning to see that this is a contest and it's not going to be a cake walk," Clyburn said. "You have to give your opponent at least as much credit as you give yourself."
Go deeper